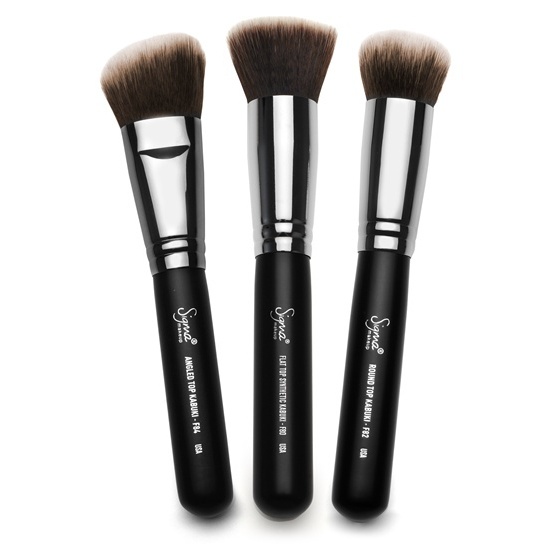 Rollover image to zoom
Reviews

Best foundation brush EVER!!!
I bought the 10 piece set which includes 5 large kabukis and then 5 precision kabukis. I use the large flat top kabuki to apply my foundation, I have tried other brushes but this gives an airbrushed flawless finish. The pointed large kabuki is great for blending in hard to reach areas such as round the nose and under the eye. I use the large angled kabuki to apply cream blushes and highlights. I use the smaller precise brushes for concealer and cream eyeshadow bases. Love them!!

Love these!
I have to say the roundtop F82 is my favorite for applying foundation. Everyone loves the F80 but I tend to find that it has to be washed much more often to keep its softness and texture needed for a good application. These are lovely brushes!

WANT AN AIRBRUSH LOOK?
amazing brushes. Every body who owns them love them. I use liquid foundation as i have a very oily skin. These brushes help my make up look natural. They are the best out there for a most natural look. They do an amazing job at blending and picking up product. They are also easy to wash. I've had mines for more than a year now and they are still amazing. They also never shed compared to MAC brushes. i think the face kit is around 50$ which is perfect for me. Totally worth the price. Also you have to wash them but they will stay soft.

I have the angled kabuki and the round top kabuki.
My make-up application has never looked better. I use a dampened angled top to apply my foundation and it looks amaaaazing. Seriously amazing. Covers so well with minimal foundation.
I used the round top kabuki to blend in my concealer. My foundation has never looked as flawless.
Highly highly recommend. Amazing product and amazing prices.
Great Quality!
These brushes are nothing less than amazing. They are sleek, dense and short. They have a very nice feel to them. They are extremely soft and gentle on the skin. I love how they give me a even coverage and don't soak up all the foundation. After using these brushes, I am in love and haven't found anything better yet.
---