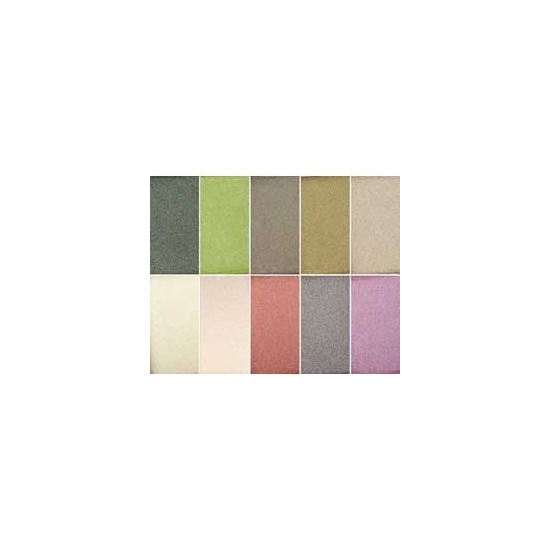 Rollover image to zoom
Reviews

Sophisticated, Cool Neutrals in Silky-Textured, Highly Pigmented Pans
Photos of this palette don't do justice to the colors and finishes I saw when I first swatched this palette. This palette contains 10 very different shades in a variety of matte, duo-tone, and gently shimmering finishes. I'm usually not one to wear cool-toned shades, but this palette contains some beautiful, silver-shifting blues and lavenders that make the whole palette worth the price, considering that usually these palettes are $10, making each shade about $1.
The palette itself is very simple and sleek, with an applicator I don't care for and a very large mirror on the inside. Application of the shades is effortless as the product is silky to the touch, and both brush and fingertip application deposits high-intensity color. The darkest shades, maybe 2 of the 10, are a little on the chalkier side as far as texture, but it's not a bad thing as these are great for layering over the lighter shades to create the illusion of depth without having to resort to another eyeshadow product.

Love it!
This is one of my favorite makeup items I own. The shadow colors are all wonderful and perfect for a casual look. Some are matte, and some are shimmery. I like that the shimmer is subtle and not obnoxiously glittery like I have seen with many other palettes. The shadows themselves are all very silky, pigmented, apply easily, and they don't produce much fallout, if any. I would buy this again but it has been discontinued.

These eyeshadows are a favorite of mine for personal use. For some reason I find the pigmentation and blending to be superior in the Runway Collection palettes to the single NYX shadows. The price can't be beat, the colors are extraordinary, and the packaging is very user friendly. I wouldn't use them on clients as the packaging is not kit friendly and I do have brands in my kit that I feel perform better. But I do highly recommend them either for personal use or a new makeup artist starting out.

A must have, especially for travelling
I currently own 4 of these in Versus, Secret World, Beautiful Green Eyes, and Champagne & Caviar (Now Caviar & Bubbles). I purchased Champagne & Caviar first as a natural palette. I think this is a great alternative to the UD Naked Palette, despite it being short a few shades. It has an awesome combination of matte and shimmery shades in browns, taupes, golds, pink, black, and white. I've used this palette almost every day for the past few years. The only downside is that I've had to re-purchase this because the pans break so easily. I purchased Secret World next because of the green shades and the gold/brown/pink shades on the top row. I use the greens frequently, but the gold/pink/brown shades on the top row are packed with glitter that just fall out all over my face. Next was Versus. The bottom row has all purple shades, which I use all the time. The palette also has some browns, taupes, and a nude shade. I love this palette as much as Champagne & Caviar; and together they're a great alternative to either UD Naked palettes. Last is the Beautiful Green Eyes palette. I actually regret buying this because I haven't really used any of the shades. There's 4 green shades, which don't make sense for green eyes. But there's a light taupe, rust, gray, purple, and two highlight shades. They all look really good, but I just haven't really used them. All in all, these are an excellent purchase if you want cheap eyeshadows in large quantities. They're great quality and good alternatives to more expensive palettes, but the pans break easily.

Love my (champagne) & caviar!
I really love the champagne colors in this pallet! This has everything I need to make a smokey champagne, a soft pink, and natural looks. Love the pigmentation. This and my Wet n Wind color icon "Walking On Eggshells" pallet may be all this gal needs!

This is an old love for me. The eyeshadows are creamy, pigmented, and a dream to blend. Even the matte white has great payoff, even though that is hard to find a lot. The only downside I find to mine at least is that the eyeshadows crack really easily. Other than that, I love this neutrals palette. I used it every day for three months straight. I definitely want to purchase more colors!
It's okay but can be better.
I think the colors in here are beautiful, I like the sleek packaging and the price of this palette is nice. It was about $11-13. However, what I found disappointing was that some of the eyeshadows weren't as pigmented as expected. Like Meg said, most of these colors actually turned out to look similar when it is swatched. Preferably, I think that they should have added some more warmer colors. I'm not sure it it's only me, but I found the eyeshadow to be too powdery/chalky. Nonetheless, I would still use this palette.

I absolutely adore this palette. I had the Beethoven palette by Kat Von D and was starting to run out of colors right before it broke :(. However, I went to Ulta before I went to Sephora and found this. This is the most perfect dupe for that palette, plus it comes with two extra colors. It is super pigmented and ideal for smokey eyes. I also own the Smokey Eyes, Champange & Caviar (aka Caviar & Bubbles), Versus, and Beautiful Green Eyes. All of the NYX palettes are perfection and so portable. Great for stocking stuffers or even a gift for yourself. Will definitely aim to get them all.

recommended by me!!
Ive only tried this in strike a pose but let me tell i was pleasently suprised. I didnt think that they were going to be very pigmented but to my surprise very pigmented and very smooth. These shadows are vibrant on their own but can only be enhanced by a primer. They last all day with a primer easy to blend and you get a good range of 10 colors. I have to say well worth the price and im definetely picking up some palettes soon. Way to go nyx!!

Let's make it OOMPH.
I have to say, I really love the colors! In addition, the pigmentation of the product is great! ♥ This eyeshadow palette is best suited for a dinner date. Not only because of its colors, but also because it creates a mixed meaning when used. The use of colors can be pertained to as sexy or can be mysterious.
---