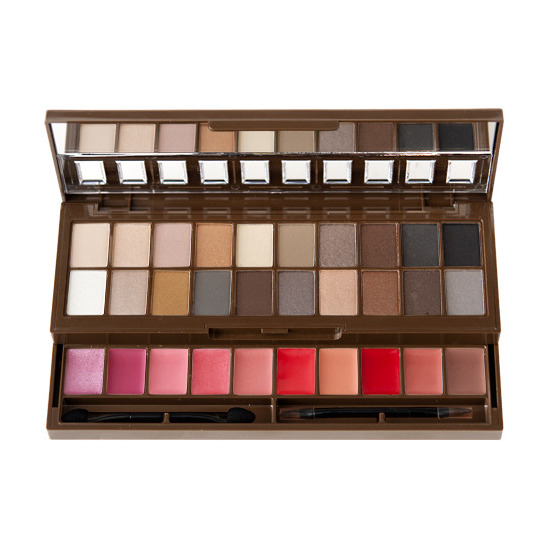 Rollover image to zoom
Reviews

A close dupe of the Naked Palette.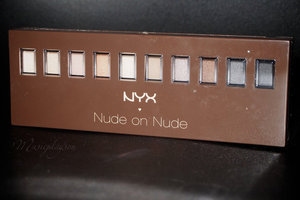 I'm actually quite impressed with the quality of the eyeshadows and lip colors. For the price, it's really worth it as we are getting 20 eyeshadows and 10 lip colors. I have swatches on all 30 colors on my blog.
Swatches on my hand: http://musicplayson.onsugar.com/NYX-Nude-Nude-Palette-Swatches-20823773 Swatches of lip color on lips: http://musicplayson.onsugar.com/NYX-Nude-Nude-Palette-Lip-Swatches-20827208

Love it!
I Love this! Seriously great colors and pigmented to hold all day the eye shadows are just lovely. The Lipsticks are so pretty and really compliment they eye shadows. I'm going to have a fun time making so many different looks. I would also like to note yes they are natural colors here but also amazing dark and sparkly shadows to use at night. I'm loving NYX lately!

Shadows are great, lip colors are not
I use this palette almost everyday. Its a great starter nude palette. I found the colors to be very smooth, easy and to blend. I wish the lighter shades were a bit more pigmented, but they are still workable. The lip colors aren't so good. They are like a gloss, that are borderline sheer. They are also very very sticky. For travel, I love this palette.

This little package is a best friend of mine. Even though I put professional makeup in my kit, I refuse to buy expensive makeup for myself. These are great quality shadows that I use for everyday use. They are pigmented and very creamy. The packaging I do not have a problem with, good for an overnight trip. The slide out lip gloss I am not a huge fan of, but it is still wearable from time to time. Overall a good alternative to an expensive brand. In Canada I payed $25 for this.

Very nice nude palette

This palette is a must have ! Love the colors and different textures. Some of the shadows are powdery but all are very well pigmented. I appreciate that the lipsticks are in a different compartiment so it does not mix with the eyeshadows. I did a lot of close photos of swatches and a comparison with the Naked palette here: http://www.justesublime.fr/nude-on-nude-nyx-naked-palette/

Good shadows but just ok on lip products
The packaging is hard plastic and chocolate brown in color. The mirror is a bit awkward spanning the top half of the rectangular cover. It's a waste, really. I would have preferred either a full mirrored top or a square mirror in the middle third. That way, I could use it. The way it is, I can only see my eyes. Below, the colors are arranged with the lip colors in a separate drawer. The drawer is a wonderful touch because it keeps them clean. There is also room for a small lip pencil and sponge tip applicator. I wish the small plastic separator for these implements were removed. That way, a person could have used the area for a brush or eyeliner. The price is also incredibly reasonable considering all that you get. I wish NYX had named it something else because there are other "nude on nude palettes" from the brand.
The actual shadows are above par and highly pigmented I wish the black was a bit darker. The white is truly a matte white but I believe more people will employ a severely matte black than a matte white. The shadows are both warm and cool with a variety of finishes. There is something for everyone in the eyeshadow part of the palette.
Unfortunately, the weakest link of the palette is the lipsticks. The pigmentation is lacking for what I would need. A person with less pigmented lips could probably fall in love with them.

50/50
I bought this palette because people said it's a dupe for the Urban Decay Naked Palette. I can see why they think that but for me the eye shadows are less pigmented and less creamy. I also find that the NP's eye shadows are more versatile and unique. Even though this palette has more colours, I notice myself using the NP more. They also include lip shades which include nudes to pinks to reds. They are very sticky and also sheer. I use them sometimes to get a very natural look. Overall I think this product is not really a must-have.

This one gets a pass......
I've had this palette for a little over a year. The packaging is a little bulky...it does come with a mirror.
The eye shadows are very disappointing. Most of the colors are chalky with quite a bit of fallout. The lasting power over a quality primer was about 3 hours before they started to fade. I had to layer this intensely to get a decent payoff. The colors are toned a bit more towards cool and there are really no standout colors in the palette.
I don't find myself reaching for this palette unless it's a very deliberate choice to see if there are colors I can't live without. I have better alternatives from NYX single shadows than what is in this palette.
The lipgloss is not even worth a mention, that's how terrible this stuff is....zero pigmentation and a funky smell to boot. Total waste of space in this palette.
This is by no means a viable alternative to UD Naked palettes.
---