Glitterati Glitter Cream Palette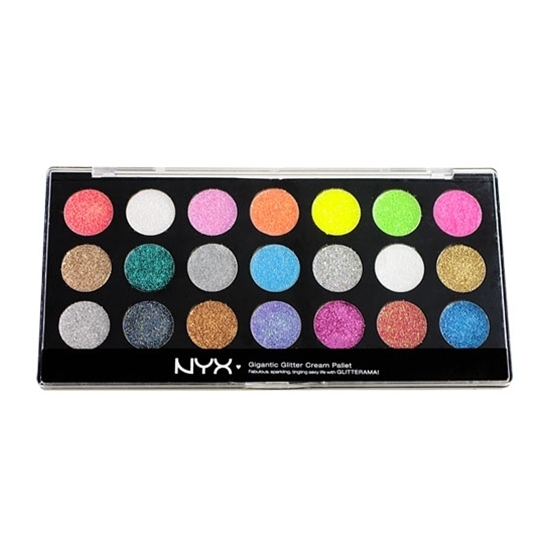 Rollover image to zoom
Reviews

Practical
Alright, I've heard lots of bad things about this product, but I generally find it to be a decent product. One thing I will say though, is that this palette is for girls that LOVE glitter. Some of the colours have really chunky glitters in them, while others have a finer milled glitter in them. I hear a lot about the consistency not being good, because it's not really creamy at all, only if you really dig your finger into one of the colours. The top layer is mostly just glitter, there's barely any cream in them. So yes, I feel it's quite a betrayal how the colours are not that creamy at all, and it's supposedly a glitter CREAM palette! BUT. If you're a person who just generally loves a bit of glitter, or shitloads of it, I say GO FOR IT! I will sometimes use the palette for the glitter over my eyeshadow to just add a little extra to my eyes, and for me, that works. As for how long it stays on, I wouldn't be able to tell, I haven't had the product for more than a week and a half. EDIT: Also, the glitter can be hard to wash off, maybe that's a sign it sticks to your eyelid and stays on? And like any glitter, if you don't control the amount and work with the product, it will be everywhere, EVERYWHERE.

Pretty...To look at!!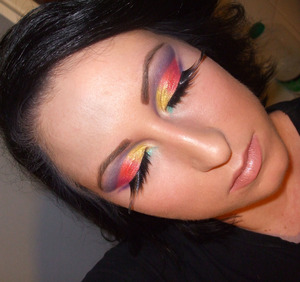 After a post I did 'My Mister's Gorgeous Sister' a lot of people started telling me about their bad experiences with The NYX Glitter Pallets so I thought I'd do a review. I'll be honest it's not the best or the easiest thing I've ever worked with, but weirdly I still like it...maybe it's cos it's just so darn priddy! The first buggit thing about this pallet is that I couldn't get in it!! I can only assume it's a one off flaw as I've not really heard anyone else moan about the packaging, so we'll let that one slide...even if I do have to open it with a knife every time I use it! When I do eventually get into it and swatch it on my fingers I'm mesmerised!! The colour selection is amazing, the colour payoff on my fingers is incredible, it's not even too bad on my arm. I can't wait to try it...and that's where the problems begin!! Try as I might I just can't get the same payoff on my eyes as I do on my fingers or my arm. Admittedly some colours are better than others. The density of glitter in some of the shades is a lot greater than in others and it tends to be these ones that have the better payoff. The others seem to have too much gel, which almost obscures the glitter!! This gets worse the more you touch it as well, as the gel starts to cream a little and goes opaque, then you can barely see the effects of the glitter at all. The swatches on my blog http://notdblog.blogspot.com/2011/04/glitterati.html are all done with 4 swirls of the pan and one swipe onto my arm so you can see the inconsistency. I've tried all kinds of ways to apply these to get a decent effect. Straight onto the skin, over shadows, with my fingers, with a brush. I've even tried the little foam applicators that come with it, and if that's not desperate I don't know what is. I don't think I've used one of these since I was about 6 and I used it to smear blue eye shadow all over my face!! That said, the little foam applicator wasn't too bad if you just want a light effect. The only way I can get the same effect on my eye though is to trowel it on!! No seriously, I spread it with a small pallet knife. But this in itself presents further problems as the product is too thick and starts to crease. I just can't win!! So I guess all in all this pallet is ok if you just want a light smattering of glitter and you're not bothered about the inconsistency between colours, but if your looking for a full on Drag-tastic glittery look this is not the product to go for. On the whole I do really like NYX products, some can be a bit hit and miss but most are good value for money. Given that the glitter pallet is not very expensive I'm glad I have it...even if it is just to look at haha! Honestly I think I will use it again. I'll persevere, cos if I can crack it I think it could be fabulous!!

Not that great..
This looked amazing to me online, and the price was pretty decent at only $13 from nyx's website, but once I tried it out, I had a lot of issues. These are super difficult to apply. You've got to use loads of it just to see the color, and by then it feels like sand on your face. It's not fun. I wouldn't recommend it to anybody.

AHA~
i have waited for this for such a long time because here in our country when you buy NYX it would take for a month and i was so happy to have it now! I've heard and read about bad reviews on this but for me it is the best i can't say i am in love with it but among other glitter palettes this for me is my match thumbs up for this!

Decent, not my favorite.
I have a love hate relationship with this product. I paid $25 for it at Hot Topic, and was expecting something better for the amount I paid. It's ok, but it's kind of a pain to use, because I find it difficult to use over eyeshadow because it can smudge. BUT I do like using it in the inner corners of my eyes for an extra pop, usually topped with some kind of translucent shadow or powder because if I leave it unattended it has a tendency to smudge. And I also love using it on top of lipstick, because there are some really interesting shades with some fun duo chromes. So check it out if you have a love for glitter like I do, and maybe you can find it somewhere a little bit cheaper than I did, because then it's totally worth it. :)

lovely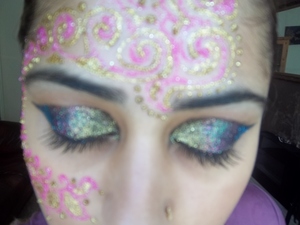 i like this :) i love the diffrent colours , you really need to use loads to get a good / decent result, but at the end its worth it , you also need to use some sort of primer with it as it dosnt apply so well without a primer, although its not as good as i thought it would be but if used correctly is can look very beautiful, this is me with it on my eyes :)

Great pay off, and stickt on your lieds until you wash it off. I especially like the glitter effect it gives your eye make up, when you put it on. I sometime use it over an eyeshadow to give more deffinition and this make the eye shadow stand out more, and the results are amazing.

Aasheianaa L.
Aug 27, 2011
I have the glitter cream pallet Royal violets 07 set of 5. They all look amazing however if you apply it without any eyeshadow on it does not last. It last a little bit longer with eyeshadow and even longer than tht with cream shadow. I love the color....they are amazing can't fault them but wished they wud last longer...Maybe im using them wrong.

I regret this purchase. :(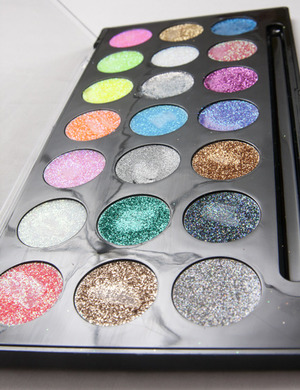 I was so excited to get this in the mail, but it serioulsy is a huge let down, especially from NYX, since their stuff is usually never a let down. its dollar store quality- like, literally. Stick with their candy glitter liners- those things are amazing. This isnt worth your money. :(
---