Glitter on the Go
Loose glitter to add perfect sparkles anywhere you want to shine! Apply to hair, face and body!
Polyethylene Terephthalate, Aluminum Film, Polyesters, Acrylic Copolymer. May contain: Red 101/77491, Yellow 42/77492, Blue 27/77510, Violet, 16/77742, Blue 29/77007, Green 17/77288, White 6/77891

Jun 04, 2012
Awesome!
I have a couple of these 'glitter on the go's'. I was just in desperate need of having some glitter for my eyes, and I love them! Of course, there is fallout (there will ALWAYS be fallout of you use glitter), but when applied with a glitter adhesive (I used Sally's) they definitely stay where you put them!
There are sooo many gorgeous color choices, it was nearly impossible for me to choose only a few. But they don't absolutely murder my eyes, which is great!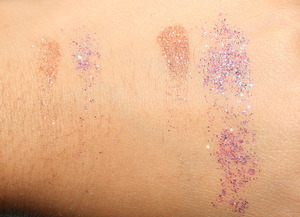 oooh~
The glitters are very pretty. They last quite a long time when applied with a certain medium (mixing medium, glycerin, aqueous spray). I bought two of these at ULTA, in the colors "Champagne Bubble" (a super-fine rusty bronze) and "Luscious Lavender" (a more coarse, light blue and violet combo). They look great alone or over other shadows.

The picture: The glitter powders alone are on the left, the glitter with MAC Fix+ Spray is on the right


Love but not the box
The glitter is lovely, it's a lot of colours so options and there for those who want it. The glitter isn't hurting my eye (at least for me, don't recomend glitter for those whit sensetive eyes) But one complain and why it does not have 5 stars. The box, I hate it. When you turned the top some of the glitter had fallen out on like the side so the cap isn't holding everything in which is a bumet .So I orderd from the craft store something to keep it in, works lovely - just a tip for those who might have my problem haha :)

Good luck all my glitter guys and gals <3