Box Of Smokey Look Collection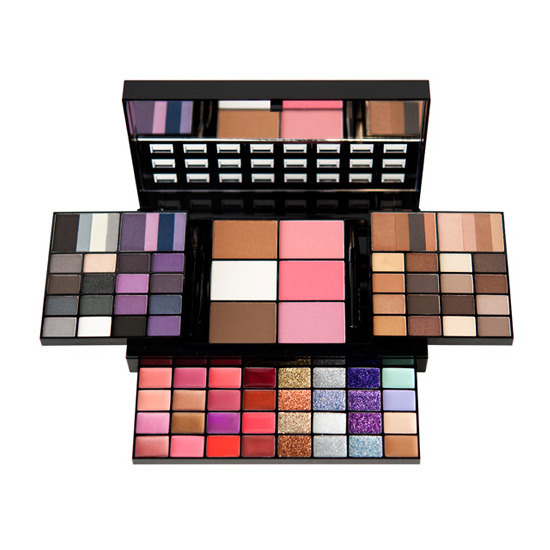 Rollover image to zoom
Reviews
Perfect for travel!!
I travel from city to city almost every weekend & this is ABSOLUTELY PERFECT for this! I can create so many looks w/ this - I LOVE neutrals, bronzes, blacks & purple so I practocally died when I saw this. I HAD to have it.
The shadows are great - Most of them are REALLY soft & pigmented. They blend well & most are not chalky at all. :D
The blushes are fantastic also. My fav is the top one, it's a pretty pink w/ gold specks of shimmer. So pretty<3 They're all very pigmented & you will definitely find one that goes well w/ your undertone/shade.
The lighter bronzer has a slight shimmery sheen to it while the contour is completely matte. The white is matte as well - all of these are SO SOFT & SOOO pigmented! I love them!
The lipsticks are ok. Some are very opaque will others feel more like lip gloesses. I don't use them much - not bc they're not good, but just because I'm not gonna take this everywhere for touch ups. The glitters are odd. Granted, they're pretty, but they're a little hard to work with & I haven't mastered it yet.
Overall, I LOVE this pallet. The shadows are fantastic & it has a good mixture of matte/satin/shimmer & full on glitter shadows. Very happy w. this product.

Stephanie M.
May 09, 2012
Great Collection of Colors!
This is perfect for traveling! It includes a wide assortment of eyeshows (mattes, shimmers and glitters), blush, contour & highlighter (both matte), a shimmery bronzer, lip colors, glitter and concealers. The only downside to this is that it seems to be hit or miss with some of the eyeshadows. The lip colors are nice but some aren't extremely pigmented. I haven't used the glitter or concealers yet. Best thing in this collection is blush, highlighter & contour and bronzer. I would recommend this to those that are looking to affordably add to their collection & try out NYX products.
---