neutrogena naturals fresh cleansing + make up remover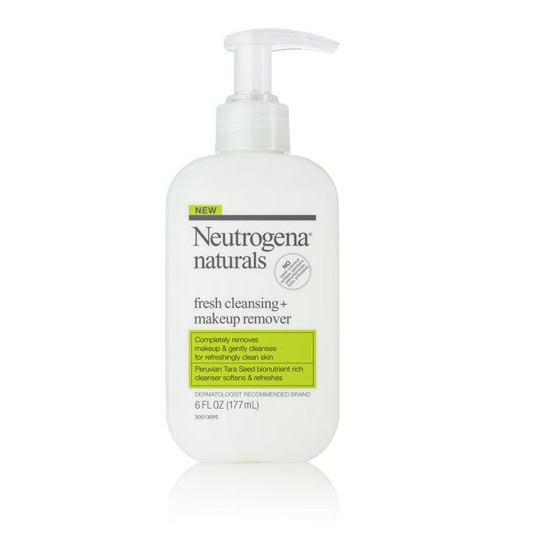 Rollover image to zoom
Reviews

Other product by same line
I have never used the cleanser, but I use their blemish cream and it works great! It is not harsh and does not smell bad like other creams. The great thing is about the cream is that it works really well and quickly, while still managing to be gentle on sensitive skin.

I liked it but...
I like the smell of the product and it really worked the first couple times I used it, then I began having an allergic reaction to it. My skin would get red and irritated and very itchy. I don't use it anymore, but I wish I could because it lefty skin feeling really nice and refreshed. (before my skin started getting irritated).

Autumn Hope F.
Feb 13, 2014
I love this cleanser!
Best drugstore cleanser ever. I saw major results within about two weeks, which is why I'm giving it 4 stars (way too long of a time). Anyways, cleared up my skin without drying it out. Perfect for all skin types.

My HG cleanser
Wow, I'm so pleased with this cleanser that I just bought my second bottle! I have hormonal acne-prone skin, so I can usually never tell when a product really works for me aside from it not worsening my breakouts, other factors, etc. This one has continuously kept my face clear and calm ever since I've used it. Now I only get a couple minor pimples during the time of the month which I can live with! I even tested its efficiency by switching to another cleanser that I used to use before it, and sure enough it didn't make my skin happy. Breakouts had returned! Switched back to this gem and they ceased!
The cleanser itself might not be suitable for those with dry skin types. Personally it does not leave my combo skin dry whatsoever, but from reading others reviews, the dryness is a common complaint. It is 86% natural and I like that I don't feel guilty using it on my skin unlike another type of cleanser with sulfates, pthalates, dyes, etc, too. To me, the scent reminds me of apples and its not bothersome. I don't see how it's "too strong" for some people; they must have very sensitives noses because its really not even that strong, especially compared to others on the market. What's more is it doesn't clog my pores, leave an odd residue, nor fail to remove ALL my make up! It removes revlon colorstay and waterproof eyeliner + mascara. That's a win in my book. I find that I get a great lather using a warm washcloth. My skin feels fresh and clean every time.

Works great
I have very sensitive oily/combination skin and I have redness on certain spots on my face that get very irritated with certain products and this doesnt cause and bad reactions. I like this product and I use it every night after I use my makeup remover to help take off the rest of my makeup and this does a good job of doing that. the only down side is that I notice that it doesnt take it all off which can be annoying but other than that it works great and doesnt break me out but Im not sure if I am going to keep using this or try something else since I do get acne from time to time

This product is GREAT!
I love love love this cleanser. I purchased it and started seeing results within a couple of days. I was using Murad before this and I started to see that it wasn't working as great for me as it use to so I decided to go with a natural cleanser to see how it would work. I absolutely love my decision that I made and I am definately going to keep using this product.

It works really well!
I like not having to use more than one product when I am doing my face wash routine, and this being a makeup remover and a face wash really has made my routine faster and easier. My only problem with it is that is feels kinda gunky and gooey sometimes. I've never encountered a situation where that has been a problem, though. I like how there's no scent, because I have sensitive skin. It's quick, it's easy, it works,

Alesliana B.
Jul 13, 2012
I absolutely love this cleanser! I have combination oily skin with a little sensitivity. I bought this after my Origins cleanser was running low and I just didn't want to pay $20 for a face was anymore so I tried this--fully expecting to hate it. I love that is has makeup remover in in, removed one step from my process. A little goes a long way. It took me a while to get used to the smelled--it surprised me at first but I've since begun to find it refreshing...
---