The Original Oil Treatment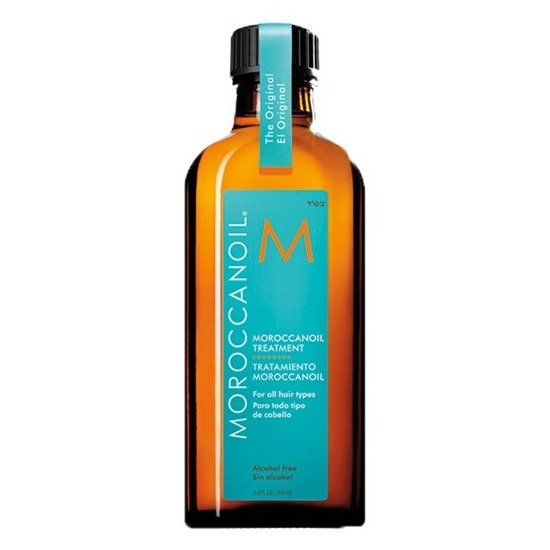 Rollover image to zoom
Reviews

Changed my hair!
One of my friends who is an aesthetician gave me a sample of this and I got hooked. That was almost two years ago! I have repurchased time and time again. Be sure to use a little because it goes a very long way! I actually find it cheaper to buy a giant bottle on eBay and that lasts me at least 6 months. Some people say it is pricey, but for the value and the amount you get I do believe it is worth it! The way I use it is while my hair is still damp I work in a pea-sized amount through the mid-shaft to the ends of my hair. After I blow out, my hair is silky, shiny, and smells delish! I, again, work in a pea sized amount as my "finishing touch". I promise you will not be disappointed!

The best hair treatment ever.
This is one pricey bottle of oil, that's for sure, but it is worth every single cent. I was skeptical about using this because of the cost and the huge amount of hype surrounding it, but I have very dry, damaged, chemically treated hair that needed some serious moisture. The first time I used it, I felt a difference immediately, before my hair had even dried. After my hair dried and I straightened it, I was shocked. My split ends seemed to have disappeared, my hair was smooth and shiny and looked healthy for the first time in years! I'm amazed by this product. It is a must have and I will never use anything else.

Moroccan Oil!
Hello my lovely guys and gals! This oil is so hydrating and wonderful for your hair! It helps to revive your hair, strengthen it and help damage over time. It has helped my split ends tremendously. My hair is very long and I blow dry it daily and straighten or curl. So there is a lot of heat damage to my hair, the ends of my hair tend to be dry and this has helped save it over time. I have read reviews of some women saying that it is too oily for your hair. It actually is not, you are only supposed to put a small portion to the middle of your palm, rub all over with both hands and work from scalp to ends. I have also read that some think its too heavy for your hair, and again it goes with the portion you are using, when I use the portion size to my palm, its not heavy at all. It smells amazing as well! Your hair will be soft after one use, and after about two weeks of time you will notice the your hair is more nourished and less dry. I recommend this for ones that color their hair and use heat. Although this product is quite well, the price could be nicer. The 3.4 oz retailed price is $32. It is pricey for you that are on budgets, and I actually recommend another oil that is only $8 that I currently use. The hydrating Macadamia Oil. I was going to do a review on that but I have not found the oil, only the cream, it is just about as good as the Moroccan Oil so you can try that out! Thank you for reading, hope it helps! :)

A little pricey, but I did notice a difference in the softness of my hair when using this product. I tend to use it every other time I wash my hair, just a few drops. The smell is nice and is not overpowering. The smallest size they have lasts a long time, so I would try it out before going for the big bottle.

Amazing.
The first time this product was used on me was in a high end salon in Chicago a couple years ago along with surf spray. It adds an amazing texture to your hair? It's difficult to explain, it just FEELS healthy. You know you're doing the right thing for your hair. Plus, it smells amazing. I just wish the bottle wasn't so small. I hate running out of it.

do it<3
literally this product saved my hair, as you can see i color my hair like crazy, my bleached out hair would have fallen out if i didnt use this as a treatment. It also works ten times better if you buy the rest of the set. All togther your hair becomes fuller, shiny, great smell, and increases elactistity 100 percent back to your natural hair. absolutely reccomended.

Claudette B.
Dec 07, 2011
I use this on damp hair after shower before blow drying. Sometimes I like to use a tiny amount when my hair is completely dry. My hair literally feels softer, shinier and healthier everytime I use this amazing hair potion! It's like magic in a bottle! I recommend you try this!

It is really good, I used to bleach my hair a lot so I had it all cut off and because I still dye it on a regular basis my hairdresser recommended Moroccanoil to me and I have been hooked on it since! If you have really dry brittle hair then I really recommend it 100% its a bit pricey but is worth the money!

Totally worth the price tag
I have been using this product for 2 years and I swear by it! I have all the products associated with it as well. I have the hair mask, oil, hairspray, shampoo and conditioner. It smells ahhhmazing and the my hair is much softer and healthier now. You can ever put a few drops into hair color to maximize color!
---