Volum' Express® The Rocket™ Washable Mascara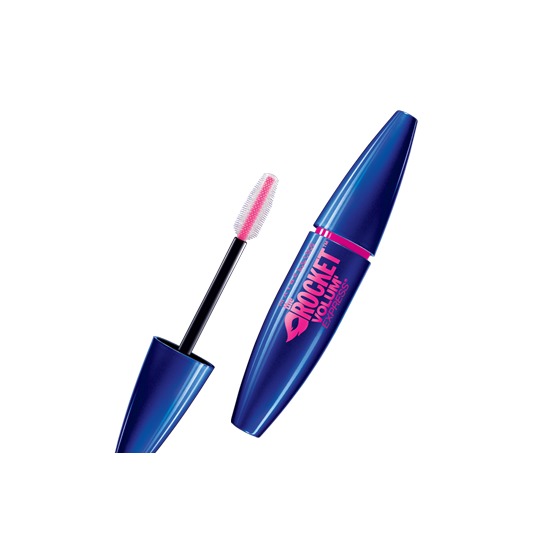 Rollover image to zoom
Reviews

Emma Kirstine K.
Mar 19, 2013
This should be so perfect, but was rouined by a detail... or a few.
I have naturally long lashes, and all i want is a bit of length, lot of volume and definision. Judging by the formulas texture, and the big peeeerfect brush, this should be it... But no... Two coats and i was ready to go. And it looked really good at first.
When i got to work an hour later... oh my... something had gone terribly wrong. 25 percent of the mascara had flaked and was lying on my cheeks, and it had worn of like a daark daaaaark shadow giving me artificial dark undereye-circles.
This should be so gooood, like the mother of all the Volume Express mascaras, and then this happend ? But why ? i could cry. And yes, i have checkek out, that it wasnt my undereye-concealer, that caused the problem.

Not my favorite Maybelline Mascara
I loved my VOLUM' EXPRESS MEGA PLUSH MASCARA, was excited to see another Maybelline mascara hit the stores. But have been a bit disappointed... Even though the brush is nice and think, the bristles are really sharp, I feel like I'm scratching my eyelids when I apply. One coat never seems to be enough, but then with 2 coats my lashes start to clump together. Not purchasing this one again

REVIEW OF SHAME
This stuff makes me mad so I'm just going to vent. I bought this because the reviews were great. But I kid you not, I can write sonnets in which this stuff is terrible. FIRST, the bristles feel like pine needle crap and they crumpled my lashes directly upon impact. I couldn't even separate them with my eye lash comb. WHAT THE HECK. AND ITS IMPOSSIBLE TO GET OFF! IMMPOOOOSSSSIBBBLEEEE. Not even Chuck Norris himself could remove this stuff. (And it wasnt even waterproof...) I USED THREE DIFFERENT MAKE UP REMOVERS, CLEANSED WITH THE STRENGTH OF GASTON, NEARLY DROWNED SPLASHING MY FACE WITH WATER, TONED LIKE OLIVA NEWTON JOHN IN THE 80'S AND STILL HAD GLOPPY CLUMPS STUCK TO MY LASHES AND PANDA BEAR BLACK STREAKS RUNNING DOWN MY FACE.
YOU KNOW HOW WHEN YOU GET A NEW MASCARA AND YOURE SO EXCITED TO TRY IT AND ONCE YOU DO THE HEAVENS OPEN UP AND LITTLE CHERUBS FLOAT DOWN ON PEARECENT CLOUDS AND KISS YOUR LASHES AND YOU FEEL LIKE YOU CAN DO PRETTY MUCH ANYTHING, EVEN BEYONCE HERSELF NODDED AT YOU AND WHISPERED "FEIRCE".
Using this stuff for the first time was like pooping in a public toilet.
Okay that is all.

This is literally my most favorite mascara. Many of the other reviews say that they had issues with it flaking or that it is too hard to get off, but I have never had an issue with that and I have been using this brand for about 4 months. I guess it just varies from person to person!

Charlotte F.
Aug 18, 2014
Can we please just take a moment...
This mascara is my holy grail! I previously has the benefit 'there real' mascara and I have to admit I would have the cheaper maybelline product any day.
I can apply as many coats as I feel like and it will not clump. Leaving me with natural looking long, fluttery lashes. A must have in my opinion!

LOVE THIS MASCARA👏
I've heard mixed reviews about this mascara but I purchased it anyway. I was using the Pumped Up Colossal one before the Rocket. The brush was way too big but it was a good mascara. But with this mascara, I can use it for my upper and lower lashes. My lashes are naturally long but I like to make them longer and give them a little more body. Overall, this mascara does that and it clumps a little. It's worth the price. I would totally repurchase it again!

Great DRAMATIC Mascara!
I used the waterproof one. Great volume and definition without clumps. It only gives a little bit of length on my medium lashes, but it holds a curl well. It is very waterproof and comes off easily with my Maybelline Clean Express makeup remover. The ONLY drawback is that the fibers sometimes get into my eyes in the middle of the day for some reason. I personally like the sort of "doll-like" look it gives especially when applied on the bottom lashes.

Wow!
I needed a new mascara about 1 month ago, and while walking through the makeup isle, I didn't know what to choose. Then, I remembered watching different product reviews and makeup routines on YouTube about "The Rocket" and I thought I'd give it a shot. It is now my all time favorite mascara from Maybelline. It's amazing at separating and volumizing lashes. If you're looking for a new mascara I highly suggest this one.
---