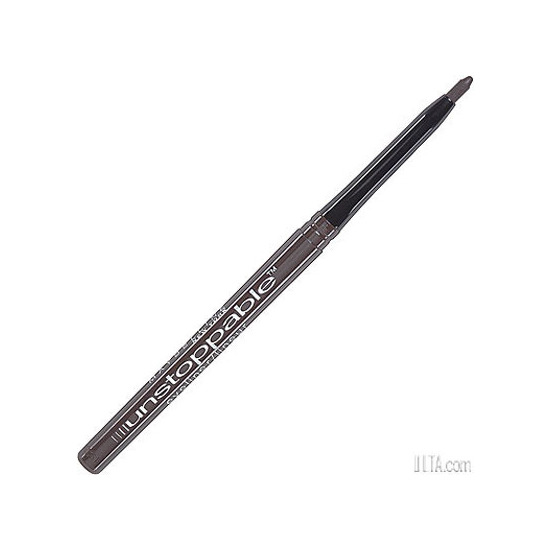 Rollover image to zoom
Reviews

lasts all day!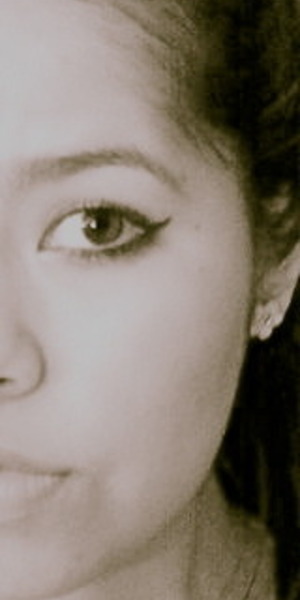 Since Maybelline Unstoppable has been out, I've been a fan & consumer. This was the first eyeliner I was loyal to during my high school years up to now in college. Has stayed with me even during swim practices!! Truly does last all day for me. Can't go wrong with this liner, I've gotten compliments on my liner thanks to its non-smuding/long-lasting results. Plus, no sharpening necessary!

Hands down the only black eyeliner I go out to buy! It stays long, applies dark :) And, it's drugstore brand. Super cool. I just wish it lasted longer because I use mine up (the length of the pencil) so fast!
It doesn't easily smudge or fade or smear. That's what I think most people are looking for in a black eyeliner!

My Go-To Eyeliner
I tried this eyeliner on a whim at age 15, without much thought involved as to whether or not this was a quality eyeliner (I was just getting into makeup at that point). Now, I am 20 years old and this is the only eyeliner I prefer to use. It does not shift or smudge unless I want it to and it maintains pigmentation all day long. I know for sure that, with Maybelline Unstoppable, I will never be breaking my bank on eyeliner!

Go on easily
I wanted to find an eyeliner that went on easily and gave me a great deal of precision. Often times, I have to remove all of my eye-makeup because I screw up on my liner and have to start over again. I love that this liner goes on so smoothly and is fool proof. After I have put on my eyeshadow , I gently take Maybellines Unstoppable eyeliner and guide it along my upper and lower and lash line. The liner precisely lines my lashes and gives them an instant pop. I finish the look, with two coats of Maybellines black washable mascara. I would highly recommend this liner, to those that are sick of screwing up on their liner and have a problem keeping their hands steady. I have tried Channel, Estee Lauder, Prescriptives eyeliners, but none of them have had the ease of application, as Maybellines unstoppable liner. I love that the liner doesn't smudge and is long lasting. I will continue to buy this product because it is inexpensive, smudge proof, and easily applied.

Mary Anne M.
Sep 01, 2012
Wore This Running Through a Rain Storm—Still There at the End of the Day
I have purchased this eyeliner twice because not only was it affordable, easy to apply and manipulate, and convenient on the-go, but it was also effective at holding up against a variety of wet conditions including surf and salt water, monsoon-like rain storms, tropical humidity, and—dare I say—long, adventurous nights in the bedroom. I have worn this on my oily lids without primer and have never experienced fading or smudging.
I purchased this liner in Onyx, but it also comes in a few other dark colors that, as of this review being written, I have yet to try. This is nice for those who don't like stark black liners but prefer dark liners with a hint of warming or cooling color. Otherwise you don't have a whole lot of color options for these babies.
The ergonomics of the product are standard as well; you twist to expose the eyeliner. I have actually never experienced any breakage, as I twist up only a little and apply conservatively. The packaging of this eyeliner does not include a self-sharpener so crisp lines can be difficult to achieve upon application, but this formula applies creamy and is pretty forgiving, as it does not set to dry right away. You have about a minute to smudge, sharpen, and manipulate the shapes you draw before the eyeliner sets and becomes waterproof.
To make application easier, it is good to have waterproof makeup remover and cotton swaps handy for shaping, or to have a smudging eyeliner sponge or brush, such as e.l.f.'s Smudge Eye Sponge.
But if those are not handy, once again, this eyeliner gives you enough time to shape it even with just your finger tips before setting, which is nice when you're on the go and don't have a full dresser at your disposal. I find this to still be an easy formula to work with and can still achieve the cat eye look, with or without any other tools.

A staple of mine
I have seriously grown to love this product! It's creamy and pigmented with the perfect shade of brown. Not too dark, not too light. Perfect for defining the lash line!
However, on the very first swipe of the product on the back of my hand, the tip broke off entirely! I was initially really taken aback for the seemingly poor quality of the product but I have never experienced this again even after using it almost daily for the past half year.
Also, this product is definitely not smudge proof. It come off when I accidentally rub my eyes, but it never smudges on normal occasions (eg. slight rain and normal blinking).

This Is a Very Good Drug Store Affordable Eyeliner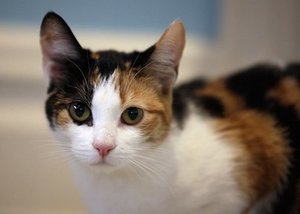 I recently bought this very good Maybelline Unstoppable Eyeliner in Espresso and I put it on only my right lid to test how long it would stay on without fading and or smudging and after 8 hours it was still totally the same,I even slept with it on and only after 12 hours did it smudge slightly. The color is a great black brown especially for those of us with light,warm toned skin,and even though it doesn't have a built in sharpener and or smudger,I use the ones from my Rimmel Exaggerate Eye Definer,which I also really love but they unfortunately don't have a black brown shade.
Also I don't understand why some women say that you can't apply this eyeliner on the lid in a precise line without intentionally smudging it.
Definitley smudge and water proof!!!
Okay well i tried this as soon as i bought it. And i put a swatch on my hand. i went to wash it off. it wouldnt cone off. i had expierience with so called water proof eyeliner before and it came off with rubbing my eyes. But this i tried scrubbing and it wont come off. I recommend this??

Katherine L.
May 30, 2014
Didnt Like It At First... Now My Fave Liner!
When I bought it, I was looking for an eyeliner pencil that can line my waterline. I made some mistakes - 1. this is definitely not for your waterline 2. I got the grayish black shade while I wanted the black 3. I didn't know it didn't have a sharpener
But guess what! After a few trial and errors I have fell in love with this eyeliner. Why? Because I have discovered something its better at: smudging.
You can't create a clean line with a gray pencil, that's for sure, but what if you smudged it? Even though the product dries really quick and after it dried it wouldn't move, you have around a minute to smudge, correct and fix any mistakes.
What I did was I lined my upper lash line and outer corner with this and then smudged it with a qtip. It looks like the subtlest smoky eye ever! I'm in love with the effect it creates.
Amazing product overall!
---