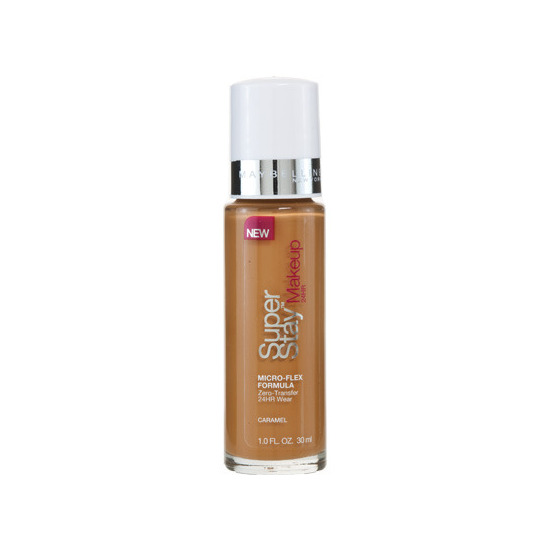 Rollover image to zoom
Reviews

kkeepn mind, I have extremely oily skin. pros: full coverage long lasting flawless finish doesn't shift/stays put
cons: not enough shades (I tried 3 different shades and couldn't find one that matched my undertone. I'm a nc35 in MAC and 128 in MUFE HD foundation) my oil seeped out about 2 or 3 hours later. however, the foundation didn't move, it just looked really greasy. I don't like this, but it could easily be fixed with some blotting or powder.
I love this foundation, I just wish it had more shades. it might be better for someone with combo skin to use during the summer, but for me or someone with severe oil, it would be my winter foundation.

love this so much💕✨
I love this foundation. best drugstore one out there in my opinion. last all day. medium coverage. it's perfect! the only reads on I don't give it 5 stats is because it's not as good of a coverage I'd like (not completely full). and it doesn't stay matte all day-it doesn't claim to do this but it does stay matte for a long time on my skin (:

Kind of good
It is a good foundation but it is not a good quality coverage. It does not spread evenly and makes your face turn a little orange or a little pink. Depending on which colour you choose. This would not be my first choice. If you do use it make sure to use a very good powder over it.

DEPENDS ON YOUR NEEDS...
...if you want pretty much full coverage, that stays all day - it's for you. I love it. But it makes me look very flat, so I can't use it if I'm tired. Also it oxides A LOT. Turns not even orange, but like coral shade on me after a few hours. But I mix it with other foundations for staying power. It's pretty much waterproof. Use this when my skin feels normal to oily. Can cling to dry patches.

Great for dry skin!
I have really oily skin, but during the winter around my mouth gets dry and flakey! This foundation will take care of your dry skin, and make your face look really dewy. This foundation is very high coverage, and you can build it up. I have acne, and it does not break me out or clog my pores.
The only thing I have to complain about is the color range and how it sets. They don't have a big range of colors, I'm very pale and the lightest shade is too dark for me. I put it on and it look likes it matches, but later after the application it gets darker, a little orange too. So I have to mix it with a really white foundation to even it out. Thats all I have to complain about! Love it!

Mary Anne M.
Aug 05, 2013
Confirmed 10HR+ Staying Power, Medium-Full Coverage, Matte Finish, Feels Like Bare Skin, and Wears Like It's Waterproof
I have been rotating this foundation in 50 Nude (a strongly yellow, light-medium shade) with several other foundations for months. I have not worn this foundation for a full 24 hours and don't think I ever will, but I can certainly say that it holds up for an incredibly long time, with a staying power that I'm sure could breach the 10-hour mark (which is the longest I've worn it for).
I have combination oily skin, and this foundation is oil-free and leaves my skin with a nice, matte finish and non-transferable, medium- to full-coverage for almost a full 8-hour work shift, though some oil starts to seep through after that. Its oil-control properties are one of the best I've seen in any foundation, and it is probably the most durable foundation I've ever used, as even a Clinique beautician had trouble removing it before performing a color match with one of their own foundations. Surprisingly, for the coverage and staying power this foundation has, it feels incredibly lightweight; I napped in it for 4 hours and woke up forgetting I still had it on. It has a non-sticky finish so it felt like bare skin, so it's very comfortable to wear.
Recently I read from various blogs that this foundation was waterproof, although Maybelline does not seem to claim that it is. I was intrigued and wanted to try it out ever since getting back to cardio swimming, so just for kicks (and with a raised eyebrow from a male friend wondering why my face was done up), I wore this foundation to the pool. 2 hours later, even after wiping my face several times while in the pool (again forgetting that I had it on), I came out of the pool with it still on and fully intact. I used a makeup-removing wipe before taking a shower, and sure enough that wipe was covered in that foundation even after hitting the water so much. Maybelline may not have marketed this as a waterproof foundation, but it wears like one!
At around $9 for 1oz of product I think this is a great foundation whether I'm wearing it to work or to the pool, or even if I'm wearing it for a special occasion. The product wears comfortably, has great coverage with a natural finish, lasts through sweat and soak, and stays on long after the work day's over. This may just be the best foundation from Maybelline (and I've tried their Dream Matte Mousse, Dream Nude Airfoam, Fit Me, and Mineral Power Powder foundations), and is definitely one of the best I've ever tried.
---