Pure Stay Powder Foundation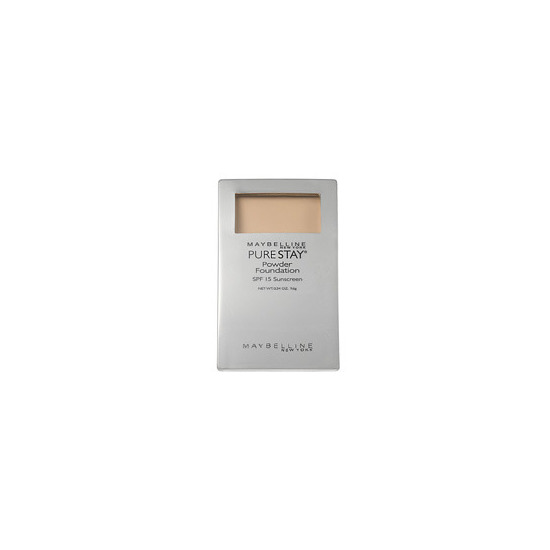 Rollover image to zoom
Reviews

This is a great powder foundation. I use it for setting my liquid foundation and concealers, I have this in shade 220 Nude I believe. However, it does have some good coverage by itself. I use this I'd say 5/7 days a week and I will definitely be repurchasing! Hopefully they don't discontinue this product!
very good
i am a powder foundation type of girl, and this is one of the best ones i have found so far, especially for the price. it gives good coverage, doesn't clog pores, lasts all day, and they always have it at the grocery store! plus the spf is a great addition. i think it does its job quite well.

Maybelline Pure Stay Powder Foundation!
Ok my Lady and Gents! If you want a great foundation for a great price, here it is! I have tossed and turned on drug store foundations and this is the one that lasts the longest in my opinion. Of course I love Urban Decays powder foundation, as well as Sephora's, but sometimes the budget just cant fit that in! I actually found this at my local grocery store and I heard about it and I said why not haha! I fell in love with it. It lasts quite long for a cheaper product, and I never have to reapply as much. It is not harsh on your skin, it blends very easily and the powder is not flaky nor crushes easily. I go through powders like no tomorrow, and this powder has lasted me for a while now. It lasts me for about two months, and there is not a full circle of product inside. You get a small mirror and an applicator sponge brush. It gives great coverage and is not bad at all. It also has an SPF of 15. The retail price averages on where you get it. Normally its around $7.29-7.59. Its worth it and lasts long! The only Con about this product I would say, is the small amount given, and if you are more on the pale side like me, the nudes are quite bright even when close to your skin tone. Hope this helps! :)

this is an average product...it gives good coverage but i do find it to have a fine line of where the product ends and starts, but this is good for traveling...my mom keeps this in the car and if she sees any blemishes or any flaws she likes to put it over the area that needs to be covered...i think this product is average, i wouldnt recommend it but i wouldnt say it was bad.
---