Line Stiletto Ultimate Precision Liquid Eyeliner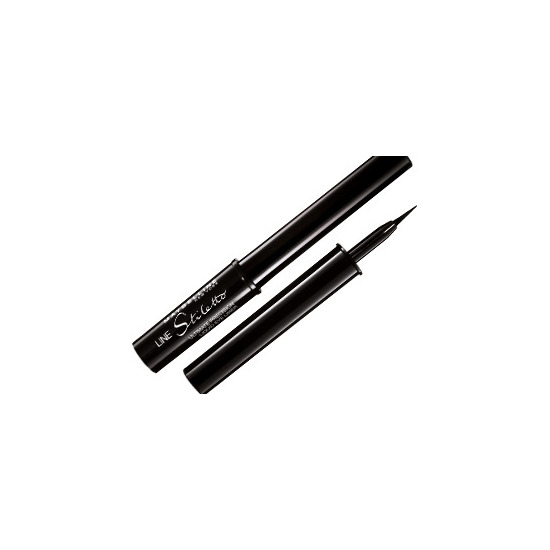 Rollover image to zoom
Reviews

Great liquid liner
You can't go wrong on purchasing it...the pigmentation is great..really black and it's so smooth on your lids...but also very easy to control.One con about it is that I do have to touch it up during the day other than that great product. Definitely repurchasing

Great liner!!
This is one of the best liners i have ever tried in my life. It is easy to apply and the formula stays put quite well on me. I love how rich and black the formula is. I always repurchase this liner and also the maybeline master precise and the covergirl inkit liners. They are my three bests as of now

This eyeliner is so black!
I thought just because this eyeliner was felt tip it would be easier to use, I was wrong. The actual felt tip like the top of it didnt even have that much product so you have to constantly dip it back for more product. Its a good formula and its really black but the applicator just doesnt work that good. I heard good things about maybelline master precise so that will be my next purchase!

This is by far the best "drugstore" liquid liner that I've ever tried. It's super dark and I don't have to go over it tons of times. It dries fairly quick too. The tip of the brush thing makes it really easy to control the thickness of your line. It also gives great control and is perfect for wings!

LOVE IT
This eyeliner is awesome. It is very pigmented and so easy to use. I use it every day and it's the perfect addition to my eye makeup. Definitely recommend it :)

Works great for the price
I bought the darkest one they had.
It is easy to apply, gives a good amount of the liquid eyeliner, looks as dark as its suppose too, doesn't wear off to much through out your day (unless its a super hot day I don't need to reapply) under $10 at Wal-Mart.
Compared to other liquid eyeliners I've tried this one works the best (works better than MAC's version) I highly recommend it!!

Best Drugstore Liquid Liner!
I've been using this liquid liner for over a year now and I really love it. Since I don't have a steady hand, I usually stick with eye liner pencils or gel liners but this product is perfect for a klutz like me. It goes on really easily and smoothly to create the perfect wing. The only problem I have is that the waterproof version isn't waterproof enough for me, especially around the inner corners of my eye. It'll be fine for about 4 hours but after that it starts to migrate into my eye and burns so bad. When my eye starts burning like that, I have to take off my eye makeup, which sucks because I spend a lot of time of my makeup. I'll still use this product if I'm wearing it for a short period of time. This is definitely a drugstore dupe for the Lancome liquid liner pen.

Favorite go-to eyeliner!
I tried this eyeliner about a year ago and hated it because i thought it wasn't matte enough and in the sunlight it looked shimmery. Then I ran out of my other eyeliner and used this one for a back up and fell in love with it. Advice: Shake it before you use it, just to get the liquid on the applicator, I think that's why it was so dull for me the first time i used it. This is defiantly my favorite eyeliner <3

Favorite liner.
This is my favorite eyeliner. Though I've tried many others, I always come back to this. This liner can stay without primer on oily lids all day and never disappoint. Not to mention, the pen design makes it super easy to get a precise line in any shape you want. There's a ball inside that makes noise when you shake it (similar to a spray paint can) and it works well at letting you know when you're running out. Great stuff!
Edit: They are discontinuing this and my life is over.
---