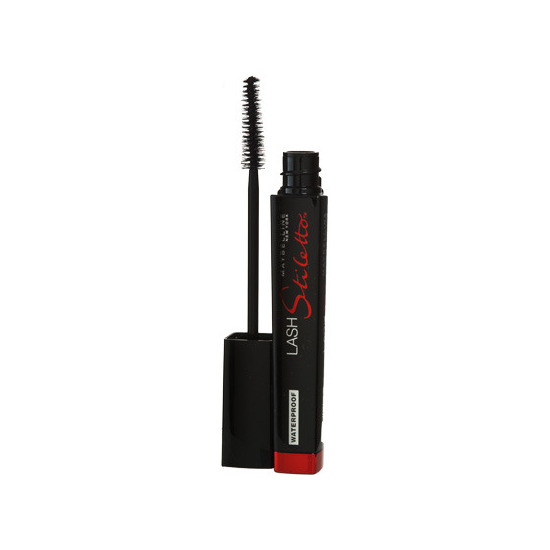 Rollover image to zoom
Reviews

LOVEEEEEE
Maybelline Claims: Does For Lashes What Stilettos Do For Legs 55% LONGER LASHES, shiny patent finish Waterproof I am very scared when it comes to trying out a product that I cannot return or exchange with a breeze. I'm also not the biggest fan of waterproof mascaras. The reason being is that most waterproof mascaras tend to get hard, flaky and end up leaving specks all over my face.
The reason that I decided to look for a good waterproof mascara is because my bottom lash area tends to get very watery and other waterproof mascara seemed to always smudge. I was on the hunt for the perfect waterproof mascara that I could use on my bottom lashes. I wanted to look for one that wouldn't run down my cheeks. I spoke to a friend of mine and she recommended the Lash Stiletto Ultimate Length Waterproof Mascara. We ended up at the store the same night and I decided to give it a try. I tried it on my bottom lashes and was satisfied with the fact they didn't smudge. I decided to go that extra mile and see what this mascara did for my top lashes. Needless to say, I don't think I can ever look at another waterproof mascara the same way. This mascara accomplished everything that I was looking for in a mascara. It gave me length, volume and kept my top lashes curled. Keeping my lashes curled is something that I've struggled for quite some time and I think I found my solution.
Although this mascara does everything my other mascara haven't been able to accomplish, there is one down fall. It's almost impossible to remove with eye make up remover. I feel like I have to rub my face for ages before it actually comes off and still manages to leave some residue.
Although it is a pain to take off, I always reach for this before anything else in my make up bag. This mascara is truly amazing. I guess now I shall be on the hunt for a perfect eye make up remover.
Pros: Longer Lashes Thicker Lashes Volumizing Smudge Proof Waterproof Keeps Curl
Cons: Hard to Take Off
http://makeup4men.blogspot.com/

Love it!!
So I was looking for a great mascara because by the end of the day all of my other mascaras were all over the place with speckles and smudges everywhere and these were all waterproof. Also wanted length because I have very very short lashes so I decided to try the maybeline lash stiletto in water proof. I LOVE IT! It gave me the length I wanted it doesn't leave speckles and doesn't smudge and it also has an amazing brush!!! I am going back to buy this for the 4th time 5 stars ladies I really recommend this!

Stephanie G.
Jan 20, 2014
Holy Grail!
I have tried them all, high end and drugstore. I always go back to this. The only problem is I can only find it at Ulta now. Hoping the aren't discontinuing it. Nothing holds my curl and gives me length like this mascara. I am all about the length because I have short straight lashes. It is just amazing.

my holy grail drugstore mascara
I've tried this in both colors and I love both! This is the only mascara that I can keep going back to and buying because IT NEVER FAILS ME. It always lifts, curls, holds the curl, and plumps my lashes. My lashes look longer and fuller. I also like that I can build it up. I love the brush a lot too because of the way it's tapered at the front to get the lashes at the front base of my eyes. I also love the spiky head of it because it gets all lashes that I mightve crimped all retarded.

LO-OO-O-O-O-VE
This mascara does the impossible for my lashes! I have really short thin typical Asian lashes and this mascara actually makes my lashes visible and amazing looking! One coat gives me great length and volume but still looks natural and more coats of it makes it a lot more dramatic and long. I just go ahead with one or two coats because the more coats you put on, the harder it is to remove.

My Favourite!
A girlfriend of mine that wears falsies on the regular actually asked me on two occasions if I was wearing false lashes. I was happy to report I was only using this drugstore brand mascara. It's my absolute favourite. I have achieved the most length with this product than I have with any other product. It lengthens and separates so you can still look very natural. You can add another coat or two if you want to thicken it up. I have small asian eyes. This waterproof product holds curl and can open up your eyes really well.

FAVORITE Mascara!
I absolutely love this mascara! It gives me so much length it's crazy! I don't have a problem with clumping either. I usually use this over another mascara. My favorites to use it with is either Maybelline's Define-A-Lash, Maybelline's Falsies, or Maybelline's Collossal. This is definitely my all time favorite mascara and I will definitely keep repurchasing it.
---