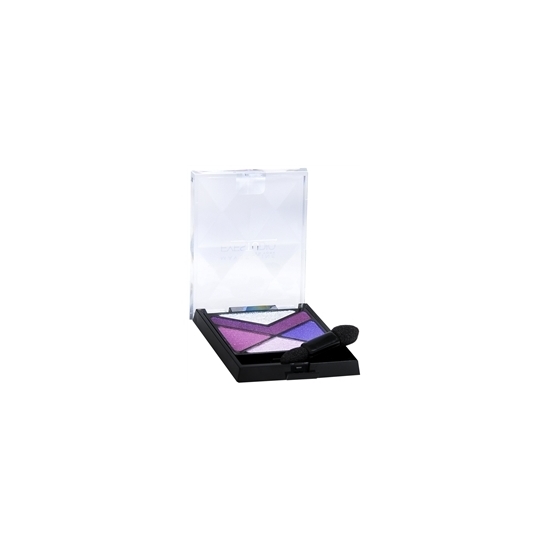 Rollover image to zoom
Reviews

Exactly As Named; Boldest Blues with a Silky Texture and a Matching Luminizer
My first impression of the Color Explosion palettes wasn't great--25 Pink Punch was a very neutral, unexplosive combination of colors with a forced luminizer. However, 05 Caffeine Rush was much better, though still neutral, because the luminizer was gold-toned, bringing out the warmth and depth of the neutral browns from day- to night-time wear.
20 Blue Blowout is the 3rd I've tried of the 5 Color Explosion palettes, and so far its pigmentation was the most impressive I've seen (worn with an eyeshadow primer), and is alongside 14 Forest Fury in terms of widest shade range offered in a single palette from this line. The silver-toned luminizer is suitable to the shades of blue in this palette, which include bright, sky and neon blues, a subtle shimmering denim blue, and a deep, bold, royal blue "liner" shade.
I usually hate the color blue but the pigmentation is so impressive and the texture of these eyeshadows is surprisingly silky, that this palette is a keeper and a must-have for those who love saturated blues. It's pricey at $8-$10 each, but I did get this at Ulta on clearance for $3 and it's among the greatest deals I've found for how great the product is.

Perfect palettes!
I love how all the colors in the palettes go so well with each other and how perfectly pigmented they are. The pinkish shade is nice and vibrant just they way I like it, and the silver does an excellent job at making the colors pop. I'm thinking of buying the green palette next.

PURRFECT FOR MY HALLOWEEN COSTUME
For the Halloween that just passed, I was a cat, and I was looking for something that would give me the 'myseterious green cat eye' look, so when I found this, I absolutely fell inlove. The colours are gorgeous and dramatic. I like how there are several shades of green that I could play around with to make the perfect look. The only downside I found is that the sparkly white colour it came with was very flaky and didn't adhere too well to my eyes, even with primer. All in all, I really liked this product... great for oober dramatic eye looks.

I own Forest Fury and my mother owns the purple and blue ones (unsure of names) and we love them. They're extremely pigmented, especially the pastels. I always find myself reaching for this when I want to do a green eye. They're very soft and blendable. The top gold glitter is extremely sparkly with great staying power. The dark green isn't the best simply because the pan makes it a bit hard to pick up. The neon green is my one of my favorites. Very bright, sparkly, and neon. My other favorite would be the mid-toned green. I've never seen anything like it! It's sort of the effect you get putting a matte topcoat over glitter nailpolish in an eyeshadow, and it's extremely deep. The bottom shade, finally, is a nice gold highlight. For the price? Not so much of a value, but as a drugstore palette, it's impressive.

Colors Pretty In the Pan, But Luminizer Should Be a Primer Instead
I'll be honest, I really only wanted these because for drugstore eyeshadows, the packaging is absolutely gorgeous and comparable to the packaging designs of the far more expensive Japanese brand KATE eyeshadows. Actually, although a lot of people criticize the Maybelline eyeshadow packaging as "cheap" and "flimsy," I've found their packaging to be even more stable than the KATE eyeshadows from Japan, where the lids feel like they'll just fall off at any moment.
I got my first Color Explosion eyeshadow palette in a swap and tried it on, both with and without eyeshadow primer, and both with and without the glittering "luminizer." I found myself preferring to use this without the luminizer at all, because although the luminizer does intensify the eyeshadows a little more, it's not by much. In fact I spent too much time catching glitter fall out from the luminizer on my lids while applying eyeshadow, that ultimately it wasn't worth the slightly better saturation. But by themselves, the eyeshadows appeared really sheer no matter how much I tried to layer it on.
I tried the eyeshadows on again using Victoria's Secret VS PRO Lasting FX Eyeshadow Primer and it worked wonders for these eyeshadows—colors were more opaque and saturated and I spent less time trying to pack the colors on. It worked much better than the included luminizer, so I generally end up just skipping the luminizer, which is a bit of a waste for how much this palette runs for!
If I could suggest anything, the "luminizer" should have just been a highlighter shadow color instead of a pan full of glitter that's difficult to control both under and over the eyeshadows. Otherwise I would have given this a rating of 4. Overall, this isn't a bad eyeshadow palette and it's packaging is very pretty for a drugstore eyeshadow, but their Color Plush Eyeshadows are better than these for their wider color variety, lower prices, and comparable silkiness and opacity.
If you're in on Color Explosion just to collect their packaging, great! Because I love the packaging too. But if you really want more for your money, skip this. There are better-value drugstore eyeshadows.

I have Blue blowout , Amethyst Ablazed , Forest Fury all great
i have all the intence pallet schemes Blue blowout , Amethyst Ablazed , Forrest Fury . All have really nice pigment , my favorite is the left on Blue blowout the matte blue and in amethyst Ablazed on the left the purple/pink with gold undertones . The green/lime color in forest fury on the left too is really pretty and pigmented .

LOVE THESE!
i usually love most of maybelline's eye shadows, for the price, and this one particularly blew my mind! the colors are amazing, quite a bit of fall out during application but i can work around that...the pink has a dusty texture to it, almost like a semi-pressed pigment (which is kind of strange) but i love the shimmer and glitter in all of these colors, perfect look in a small palette.

I must say, it was great!
I own my favorite in Amethyst Ablazed & Pink Punch, both shadow palettes were great to work with! The colors attached smoothly to my brushes, which isn't the case for most drug-store brand shadows, and the colors were so vibrant! The main reason I don't usually like the drug store palettes is because they're usually so packed up tightly near one another, it's hard to use my professional brushes because I'd accidentally dip one half in the color I want & the other half in the shimmer next to it. So I get some color mix up, but usually, it all works out fine! I really enjoy this shadow palette!

Average!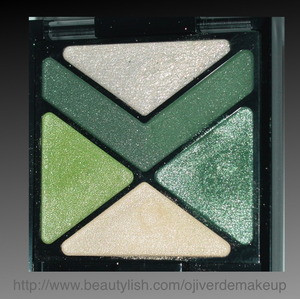 I love green eye shadows, the ones in this palette are really pretty but as soon as I used them, it seem that the beautiful golden shimmer/glitter was gone.. I enjoyed more the yellowish, pearl and light green colors then the darker ones. Also the shape of the pans makes it difficult to get the product and for the price i really don't think is worth it...
---