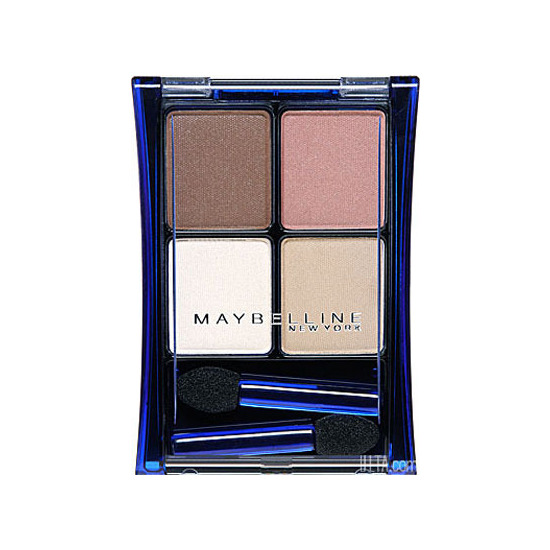 Rollover image to zoom
Reviews

Mary Anne M.
Oct 14, 2012
Sheer, Neutral Pigmentation, Great for Beginners & Daytime/Office Looks
I purchased the newer version of this quad (long liner pan, large base pan, smaller eyelid/crease pans) and I have noticed that the pigmentation in the newer versions of this quad are a bit chalkier and lackluster compared to the formulas of the version before (all pans were the same size). I have not tried the earlier version of Designer Chocolates though so old/new versions aside, I found this product to be so-so.
In their pans the colors for Designer Chocolates appears intense and are beautifully coordinated, but on application the pigment is chalky and dry, making them difficult to lift from their pans and even more difficult to build the intensity on the eyelids. Granted, Designer Chocolates is intended to look natural so this is probably why the pigmentation is so sheer. But I really appreciate the rosy-pink crease color as this significantly brings warmth to the eyes that's actually noticeable. I recommend this be worn with a primer, as otherwise you will probably not notice any color.
This is a great starter palette for beginners; you can't mess up. It's also a good everyday quad for day wear and for office looks, and it's very affordable at $4–$5. I personally would not repurchase this as I prefer stronger pigmentation and easier application. I am absolutely in love with Maybelline's Eye Studio Color Plush Quads, which are twice the price but softer/silkier in texture and better pigmentation, and with their Eye Studio Color Tattoos for their waterproof formula and shade intensity. But for those who just need the bare basics at an affordable price, Expert Wear quads are good enough.

Use Primer for Best Application
I usually have bad experiences with drugstore eyeshadows so this was the first time I tried a drugstore eyeshadow in about 6 or 7 years, and thought maybe it won't be so bad after hearing that Maybelline raised the quality of their eyeshadows.
I tried this eyeshadow quad in Amethyst Smokes out first without primer, and applied them with my fingertips. I found that it's hard to load product on dry fingers, and as a result the application of the eyeshadow turned out to be a little sheerer than I was hoping for. The highlighter applied best, but the lid shade—the vibrant purple—took a little work to build the opacity. These shadows wipe off really easily too, so I imagine staying power is horrible and the fallout is a mess, especially since these are a little shimmery.
Next I applied the eyeshadows with eyeshadow primer, and the results were INFINITELY better than without primer; I imagine these are generally best applied wet! The colors still require a little work to build up opacity, but hardly as much work as without a primer. The shades were easier to apply with precision and control using the primer. I don't understand why drugstore brands don't really sell eyeshadow primers!
The packaging is okay, it's cheap plastic and doesn't make me feel guilty about throwing it in my bag on the go. The applicators are ok if you prefer clean fingers but otherwise they're useless. I get better application with my fingertips. Overall this quad is an okay product for the price (about $1.25 per color, not bad). I will continue to use it but probably won't be repurchasing it.

Don't waste $5!
The pigmentation of these is pretty awful. The only color that showed up pretty good was the pale off white one. The other ones barely show up. I have tried other Maybelline eye shadows and they all had horrible pigmentation. I wouldn't waste the $5...I would spend less money and go with the new Wet & Wild palettes. Their color pigmentation is incredible! I couldn't believe Wet & Wild made eye shadows that incredible.

expert eyes takes the prize
PROS: I love buying quad eyesadows because you get four colors that you can either use all together or mix-n-match. Maybelline, in my opinion, has the best drugstore eyeshadow. These quads are $5, which is absolutely the best deal you will be able to find with the quality of this product. The pigmentation is amazing, as well. I recommend these quads for anyone who is a beginner with eyeshadows and smokey eyes, because this product comes with step by step instructions for the best results. I use "Time For Wine" and "Sunlit Bronze".
CONS: You do have to use a primer for this product to make the colors strong enough for a dramatic effect. The brushes that come with this eyeshadow are really awful, they don't do any good, and they're cheap, so you really have to have your own brushes in order for these to work.

Horrible
I bought this on a whim and I was highly disappointed with the end result. I purchased Sunlit Bronze and it did nothing but sit flat on my lids. The shades didn't pop and at the time of purchase I wasn't using an eye primer so after a few more tries I actually ended up tossing it out of disgust.

bang for your buck
this is great for those getting starting with makeup and budget conscious gals. The eyeshadow goes on smooth and blends well, its pigmented and the colors really pop especially when you use it with primer. This is perfect for regular daytime looks and you can amp it up later on for night outs! small and compact, very easy to bring with you for reapplication.
---