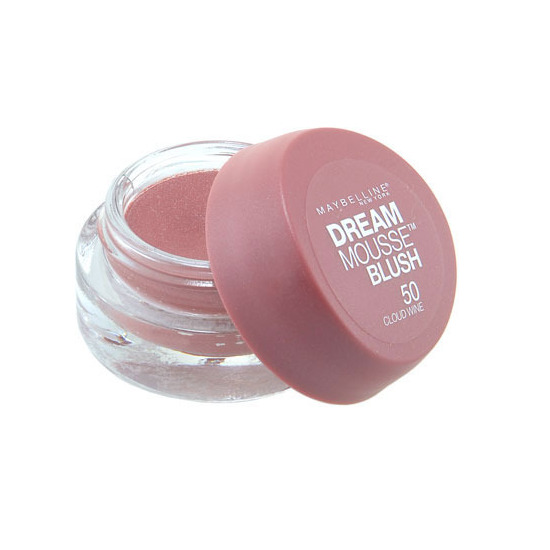 Rollover image to zoom
Reviews

I use this blush everytime i put on makeup.....Love the texture and colours....I have few of them.......It works on most skin tones, had no problem......TIP...What i always do, if i want to achieve that staying power, i apply maybelline mousse blush first then i apply my powder blush on top....It will stay there all day......Beautiful........On it's own, it fades quickly...

Sojourner W.
Dec 24, 2011
I'm Obsessed With Mousse Products!!!
I just did a review on the Dream Matte Mousse Foundation, but now I'm on to the blush because the blushes started it all! I bought these while they were on sale for $4 at Walgreens and the two I bought were Peach Satin and Coffee Cake. I had never really tried peachy blushes before so I was super excited...I am obsessed now! Peach Satin has an amazing texture and can also serve as a highlight (for darker skin tones in my opinion). It's very light weight and very shimmery so if you don't like shimmery blushes, then I don't reccommend this. For me however it gives a gorgeous glow that just glistens in the sun. I own Coffee Cake as well and that is a gorgeous, glowy brown shade that is perfect for WOC as a blush and highlight who are my skin tone or even darker. If you are a fairer skin tone then it could serve as a contour or bronzer maybe. Overall I love the glide on, smooth texture and I'm so glad I picked these up!
Pros:
- Price - Availability - Texture - Blendable
Cons:
- Shimmery - Sheer (if not applied correctly)

So nice!!!
I love this blush a lot. So natural, pretty and easy to apply! Very blendable and it also works good over powder, which is nice! I really like using this as a sort of blush base, too! I apply this and then top it with a powder blush for longer wear and more color. Anyways, GREAT blush!

Great base for powder blushes!
I actually received this from a friend who didn't like it who received it from another who didn't like it. At first I thought I didn't like it either, and understood why they didn't want it, however, lately more and more of the youtube gurus I watch have been recommending to apply cream blush before a powder blush to help it stay put- which is great for me because normally my blush seems to slowly disappear or even spread out on my face, making my complexion look overall a bit shimmery or pink, but still one color (the opposite of what we want when we apply blush!)
I've also started applying this higher on my cheekbones and closer to my temples (it's just more flattering for my face shape). Lately, I love the way this illuminates my ELF and NARS blushes; it amplifies my cheekbones and actually helps them to stay on! For how affordable it is, I definitely recommend to anyone who has problems with blush soaking into their skin, or, if you've purchased this and are disappointed with it, try it again as a primer!

Different..
I had never tried I cream blush before or a cheek stain, but I found this very interesting. Because it is a very thin texture, it is easy for it to sink into your pores so I would recommend a face primer. Apply a primer that will help minimize your pores, apply you foundation and then apply this whipped blush. It is especially nice if you apply a baked blush or a mineralized skin finish by MAC over top.

hummmm
Ok these have an awesome texture and the colors are pretty enough but they blend out until you almost cant see the color at all and to top it off they are very shiny looking. Not like the good glowy type but almost oily... I dunno. If they blend out right they are a good base to blush but I would never wear them on their own...

Sounds good in theory.
Maybelline had a good idea when they came out with the mousse foundations and blushes, but it they didn't execute it well. Application of the blush is a pain, the color settles, it looks a little oily on the skin, and feels heavy. The only place where it is appropriate to wear blush with this much glitter is at a rave.... ew!

Amazing!
This product is literally the best blush I've ever used. It's pretty pigmented so you only need to use a bit, and it lasts forever. It's so shimmery and pretty, and it stays on all day, and it's a bargain! It comes in a variety of shades, all of which are really nice, and it glides on so well and looks gorgeous, 5 stars!

Love it! But does it still exist?
This was my ONLY blush for the longest time, and I suddenly can't find it anymore! I used the Soft Plum shade, which was perfect on my fair/cool-toned skin. I loved the creamy texture. So easy to blend and natural-looking, and because it had a matte finish, the color stayed put all day, even on my oily skin. Dream Mousse Blush, where did you go??
---