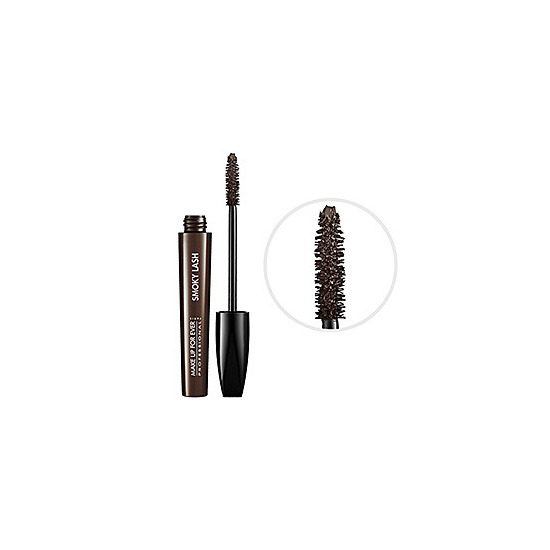 Rollover image to zoom
Reviews

Makeup Artist Essential
This mascara is an essential piece to my makeup kit. I have both waterproof and original in black. It is the most perfect formula and doesn't flake. I recommend this to every bride that I work with and swear by it. I love it because it hold a curl all day and give you the longest most sexiest lashes even without a lash curler. I recommend this to my Asian babies too since this can keep a curl on even the most stubborn lashes. For stubborn lashes that don't like to curl I find that the waterproof formula has bulletproof staying power for fabulous lashes all day and night. Two thumbs up!

My favourite mascara EVER!
If you want fuller, longer and darker lashes this mascara is the perfect fit! I love the carbon black colour of this ultra smooth formula. To be honest, this is the darkest mascara that I have found, that doesn't clump or end up flaking off by noon. It's hard to believe that one product can give you length, volume AND drama, but believe me when I say that Smoky Lash does just that!

hands down best mascara out there
I've tried drugstore brands, fig, bad lash, christian diorshow...let me tell you, this is the best hands down. My eye lashes look fake when I use this, the mascara does not dry out, also it lasts all day. You must try this to believe it.

Great mascara
I am a true fan of Lancome's Definicils. I always try new mascaras, but always go back. While I love this product, I am not saying that it will replace my long time fave. But I will say that when I want a little more drama than Definicils gives me, I will use this. It thickens, lengthens, and has the perfect consistancy! I will keep this mascara in my rotation.

Great but $$
I'm going to start by saying, I really wanted to hate this mascara given the $22 price tag. However, after my first use I realized how amazing it is. One of the key elements in this mascara is the wand, I am not a fan of plastic bendy hard fake brissles so the fact that has natural hairs is awesome and makes it so much easier to apply. The effect this gives my lashes is incredible, they look super black, long and thick. I did not notice any flaking, but as my tube got older the formulation seemed to clump a bit. I didn't really mind so much because the results were worth the extra effort. I've since finished my tube and have not yet repurchased for two reasons: 1) I no longer live near any Sephoras (so sad!) and 2) I really can't justify the price tag, given that there are so many other wonderful mascaras for half the price. A great alternative is Clinique's high impact mascara ($14.50) which has a similar wand and gives great natural looking lashes. Drug store options include Loreal Voluminous (beware of clumping!) and Maybelline Full n' Soft (one of my all time favs). If price isn't an issue for you though, then I highly suggest this!

I have two holy grail mascaras and this is one of them. I have long lashes so I look for volumizing mascaras, not lengthening. I heard good things about and I was so happy with it. It does not flack and it real tries voluminize. When I wiggle it in the roots it does it's magic but without making it look clumpy.

Love!
This is probably my favorite mascara! it's a bit pricey but I purchased it in a makeup eye kit from sephora. Everytime I wear it, I get asked if Im wearing falsies! I recently ran out, so i have to get a new one asap!

LOVE
THE BEST MASCARA I'VE USED so far...I work at Sephora and I've tryed them alllllllllllllll...I'm actually out and must buy!!! It gives me everything...length, volume, fullness, big fat lashes without the clump!!!! Ahhhhh omg I love this site already!!! I have so much to like and DISLIKE!!!!!!! Yay!!!
---