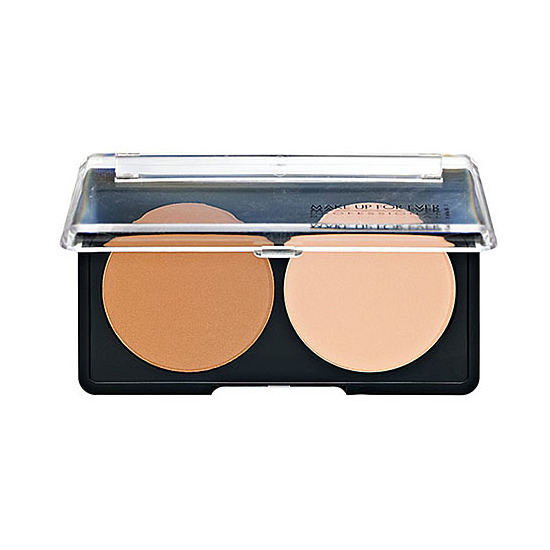 Rollover image to zoom
Reviews

Jacqueline H.
Dec 31, 2012
Kudos to Dany Sanz
I love these Sculpting Kits. These kits are comprised of two complimentary micronized powders that you can use to contour, sculpt and correct/change a face shape. In my opinion, contouring is an art unto itself, and there really are a limited amount of products out there that concentrate on this specific area of application. Sure, there are different colors and types of loose and compressed powders that are used, but I haven't come across a good set of complimentary compressed powders before Make up For Ever came out with these kits.
I own all of the sculpting kits and I use them each and every day. You can create a very soft sculpted appearance or you can use these powders to create a more intense and deeply chiseled contour. These kits save me a good amount of time. Why? Because the powder is so finely milled, wonderfully pigmented and easy to blend. Even the heaviest handed individual would find it hard to apply too much of this product: It's so wonderfully lightweight and blendable.
The only possible drawback, it's a bit pricey: $45. In my opinion, it's worth every penny. I have yet to come by a Make Up For Ever product that wasn't phenomenal. I firmly believe that this is probably one of the best all around makeup lines on the market today. With Make Up For Ever, you really can't go wrong.

Amber Does Nails x.
Sep 11, 2012
perfect!
If you know me you know I love highlight only slightly more then I love contour so anytime I can have them together in a sleek little package is a win/win for Amber! Not only is duo convenient, but HELLO! Its Makeup Forever & how often do they miss the mark? Hardy ever! This sculpting kit is easy to blend, stays in place & comes in a gang of shades. You also get a good amount for the price...... probably why I picked up 2 ;-) Buy this now or regret it later!

works like magic xx
I was first introduced to this product at a photoshoot I was a part of. The MUA said it was her best kept secret, and now I know why. It contours perfectly. The powders blend beautifully into the skin, it's almost as if it melts into my skin. I have struggled to find good contouring kits, but this one works perfectly. Not to mention it's almost hard to take "too much" because the powders itself are so finely milled. It makes such a difference. The only negative is its price. I freaked when I saw it was $50 damn near... so instead I search around for samples and those seriously last me. I also only use it for days when i'm going to be in front of the camera all day, or on date nights with my fiance.
xox rica www.LaBellaVitax0x.blogspot.com

Great Product!
I absolutely adore this product, I use it on pretty much all of my shoots and it just amazing. It has great pigmentation and it blends in very easily so there are no harsh lines. I recommend this product for makeup artists or anyone that is looking for a great sculpting powder.
---