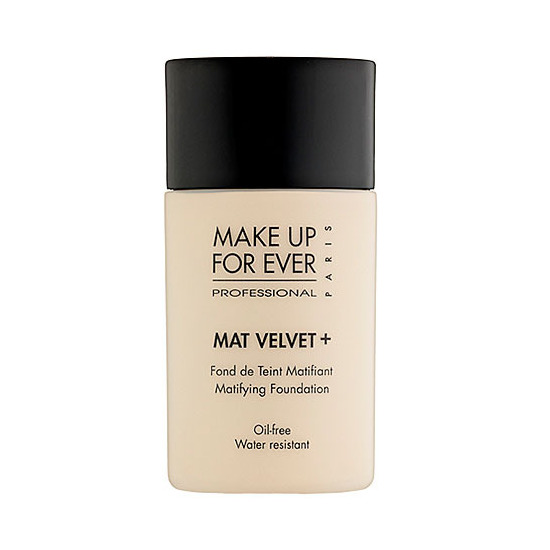 Rollover image to zoom
Reviews

I love this foundation! It works so well! It's worth every penny. I usually get so oily with other foundations, but this one stayed matte. It gives you great coverage. You really don't have to use much of it so it lasts you a long time! It looks great in pictures. I will definitely purchase this foundation again!

I'm really impressed with the color selection this line has. I've always had trouble finding the right shade that didn't make me look orange and this shade was just perfect. My only problem is that it's supposed to make my skin matte but it just glides off my oily t-zone after a few hours, but that can easily be fixed with a little matte pressed powder.

MY GO TO!!!
I've been using this product since 2013 and I must say it is the holy grail of foundation for girls like me with oily to super oily sensitive skin!! I can't say enough about this product! After not being able to find an exact match in MAC, I ventured to Sephora and was introduced to this product. As I stated previously, I have oily skin. When I wake up in the morning, there's oil on my face. I also have very sensitive skin that is easily irritated. I'm lucky not to have many pigmentation issues or bags under my eyes, but when I do get the occasional blemish, this works wonderfully. I use shade 70 which has a warm/yellow undertone. In the winter, it's a perfect match. In the summer, it's still a match but I use a NARS bronzer and contouring with LA GIRLS concealer to make it a smidge darker. I always use a milk of magnesia primer. Some say it's not healthy, but I've found it works for me. I wear makeup from 5 am to 6 pm and if I do have to blot, it may be one to two times on my nose if it's humid or summer time. I live in Houston, TX so 100 degree temps and high humidity are normal. During the fall and winter, I can go a whole day without blotting. The consistency of this product is between a liquid and a cream. It's not as runny as liquid. I apply with my fingers. I find this application warms the product and allows it to melt into my skin. Once you cover your face, you have a nice matte velvet appearance just like the name implies. I love full coverage, so if you prefer a natural or skin like finish and you don't have oily skin, this product is not for you. If I had normal to dry skin, I'd probably use a less thick foundation like NARS Sheer Glow. Because I have oily skin, after an hour or so, I have a nice light dewy skin finish. Not oily. This stuff stays put all day and does not budge. I have been caught in a rain storm with this on and after I got inside and my face dried, my makeup was still flawless. This foundation will stand up to perspiration as well although I don't go outside much. When I wear this foundation, I get tons of compliments. People ask me if its airbrush. They say my face looks beautiful and flawless. They always want to know what brand I'm using. Foundation also does not settle into lines and covers any imperfections you have. I do set mine with the Make Up Forever Duo Mat powder but it's totally a preference thing. I just like a polished finish. It's definitely not needed. Oily girls, try this! Women of Color, try this. Lots of shades to match.

Love
I have always used mac foundation I switched because the foundation wasn't don't nothing for my oily skin it started to cake I felt more oily it was just uncomfortable to wear after a few hours .. By reading so many reviews on makeup this had the best review for oily skin ...I'm so happy I bought makeup forever my face feels like I'm not even wearing the foundation my face can breathe its doesn't make me feel more oily and it doesn't break me out!!!! I would totally recommend this foundation for oily skin

i went to sephora one day to get my makeup done for a party and the lady used this foundation because i have very oily skin and acne. from far away it looked great and full coverage but up close it was horrible. extremely cakey and emphasized my acne. i figured it was just the way she applied it so i bought in anyways. so i tried it the next day and it was still the same. it may have been just me but i really didn't care for this foundatiom at all.

Pretty good
I like this stuff for a few reasons, biggest one is that it doesn't make me break out. I like the amount of coverage and it is mat without looking super dry or sucking moisture out of my skin.
Pros: Good coverage Doesn't bother my very sensitive skin looks natural if not applied too heave
Cons: Can look powdery if too much is applied 15-alabaster is the lightest shade and still slightly darker than my natural skin color :/

Great!!
Great foundation...i can not example how much i love this. It stays pretty matte for my oily skin with the help of a translucent poweder. Not really full coverage but it is buildable it you have blemishes and acne scars like me. Fits my skin tone perfectly and does look like i have foundation on. Its very light weight also. It is a bit pricey but it is totally worth it!!! I definitely recommend this if you are looking for a good foundation

Wasted my money! :(
I was so excited when I ordered this online and got it in the mail! I had read so many good reviews! I also read some bad reviews that I just ignored. I wish I hadn't ignored them though. pros: • nice packaging because you can squeeze the amount you want out • very thin • lightweight Cons: • NOT full coverage, for me it was sheer to medium coverage • kinda chalky-hard to explain that one lol • even though it's lightweight and thin its not very build able so you can't really get more coverage • the packaging is SOO SMALL! like seriously when I got it I was like "umm what the heck is this?" lol. it's supposedly 1fl oz but I don't see how since the packaging is soo small! • way too much money for a low quality product • not that matte
---