Ultra HD Microfinishing Powder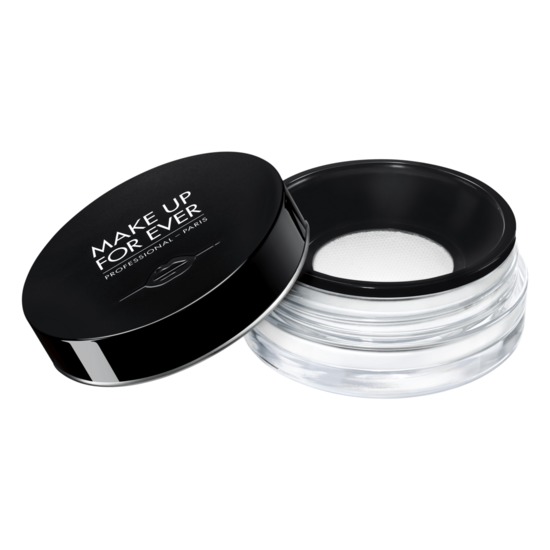 Rollover image to zoom
Reviews

basically: only buy if you're self-employed, and MUA, or the employer, but do NOT use for seeking employment
Own a 1g pot of this, which I received in the mail as a sample (full disclosure: NOT to review).
First I should mention this product is silicon-based, so if you're skin is acne prone, this is bad news. I had it on for about 6–7 hours one day to shoot a Vimeo/YouTube video and it looked AWESOME (to be fair I also used The Body Shop's Tea Tree Pore Minimiser as a primer AND candle light for lighting and my iPad camera, so that also probably contributed to the look). It doesn't look funny, no white-cast mask-y look that I initially worried about (although Mother still complained that I look like I "have too much makeup on") and my skin did NOT break-out after shooting the video.
So, I assumed that this was fine for acne-prone skin. WRONG! The only reason why I didn't break-out was because the room was air-conditioned the first time. When I took this out and I had to wait in equatorial-humidity for ~3 hours, I broke-out the following day (seriously, do a proper test-drive).
It DOES look really good, to the point that it can be slightly misleading and borderline deceptive. So, I would NOT recommend wearing this to on-camera auditions, just because if they hire you because your skin looked great at the audition and their MUA doesn't use this product and can't recreate the look, they're going to wonder what went wrong, they won't want to hire you again in the future, and you're basically screwed (think about it: There's a good reason why some casting directors don't let Asian girls wear too much eyeliner at auditions).
However, if you make vlogs/your own web series that you're in control of yourself or you're an MUA, you TOTALLY SHOULD use this. Because I did literally look like a live-human version of an air-brushed photograph in the mirror.
FTR: I applied with a blush/Kabuki brush (have no idea what it looks like applied with a powder puff).
Anyway, I don't know if commenting on customer service is allowed for product reviews on Beautylish, BUT I will comment on it just because it does have an impact on my decision to purchase a full-sized version of this product: I find sales assistants at professional brands (MAC, MUFE) really snooty/unfriendly compared to the much kinder/friendlier SAs at consumer brands (YSL, Clinique, Dior, Khiel's). It seems if I don't show-up at their counter in full clown makeup, they treat me like I'm sub-human, like I'm below them, and that ALONE makes me reluctant to get a full-sized version of this. And then what if I've developed a habit and have to deal with their SAs every time I need a fix? NO.
IDK, I just can't justify buying this. I don't understand the rationale behind spending that much on something that's obviously bad for your skin (silicon-based makeup) when you could be investing in something that's GOOD for your skin in the long run (like good skincare). Especially if the former could jeopardize your work prospects. It's just better, long-term.
Bad investment. BAD.

INVISIBLE
This powder sets my makeup after applying my setting spray!!!!! It doesn't seem like I'm wearing powder and it eliminates every single shine in my face!!!! For those who doubt about the color of the powder I just can say no one would notice about!!!! It doesn't matter the color of ur skin, u won't vet white-like-a-ghost if u wear this, promissed!! Hope this helped :)

I like this powder as a finisher: it can add that coveted polished and perfected look one may desire. Secret: ELF powder has the EXACT same ingredients for something insanely cheap, like $3. So while I like this product and brand overall, I can't justify paying so much more for something that performs the same.
---