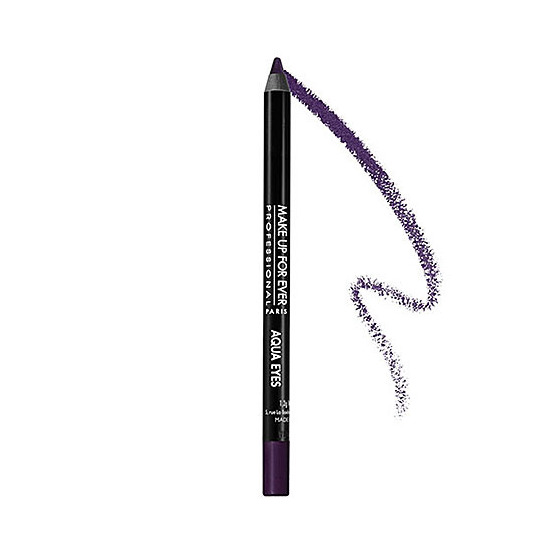 Rollover image to zoom
Reviews

Medium shimmery muted green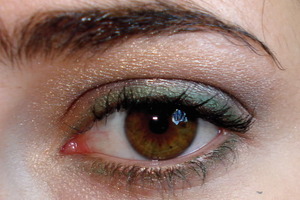 I tried Green 16L, which is a medium muted green shade with yellow undertones. It's not quite olive, but it's getting there. This makes a surprisingly great neutral on my brown eyes, and brings out the green and yellow tones in them. I love wearing this on the lashline with a khaki taupe shade (MAC Sweet Sienna pigment is the perfect color to match, wearing it in photo on the lid). I usually wear Green 16L on the upper lashline and apply generous coats of mascara to give it some contrast, otherwise it wouldn't contrast my eyes enough.
Make Up For Ever makes some of the best products on the market today, and Aqua Eyes is no exception. These liners are really rich in pigment and smooth in texture. They don't tug on the eyes have really amazing lasting power - even the darker shades. For $17, you get .17 oz of product. That doesn't seem like much, but these are probably one of the highest quality pencil eye liners you will ever meet, and they don't smudge!

Most versatile product <3333
While I LOVE all of these pencils I am reviewing the champagne color specifically because it is the most versatile product in my entire makeup collection I think! Of course, it's a gorgeous eyeliner - it gives a subtle brightness to your eyes which is really gorgeous and not obvious, I use it for work on days when I'm super tired and it makes my eyes look bright and awake! And it doesn't require any touching up either :)
But the real reason I love it so much is that I keep finding new uses for it! I also use it as a brow highlight, just a thin subtle line under the brow, and I notice I always get compliments when I do this. Plus, it also works really well as a nice thin line of highlight along the cupid's bow (the M shape at the top of your lips) - it makes your lip look fuller and is the perfect, no-glitter, highlight.
If you're going to buy one product on your next trip out - I suggest this one!!!

Most used and favourite eyeliner for daily basis!
This is the first MUFE eyeliner I have ever used and I am so happy to have had my hands on this. This shade in particular gives your waterline a subtle luminosity which I love. It is not stark at all and looks very natural yet brightening at the same time. If you are not big on black liner or bright coloured liners, then you should definitely get your hands on it - you will not regret it!

instant love
By far my favorite eyeliner. It comes in so many shades, blends well, and stays put. I absolutely adore it, and keep one in my makeup bag, in addition to the small collection I have going at home!

A great variety of colors
These eyeliners are super silky and very easy to use. I have always had trouble with applying eyeliner, but for me, these just worked. I love how many different colors there are to choose from. I really like the blue shades, because they are something you just can't find anywhere else. There are kind of expensive, but I really do think they are worth it. I use this product everyday and it's something I recommend to friends.

This is the only pencil liner that doesn't run down my face or irritate my eyes. I was really apprehensive about paying $18 for a pencil liner. But I heard great things about this pencil and was tired of constant itchy eyes. No running, no itchy eyes and no touch-ups needed. This stuff lasts all day long!!

New Favorite!
I have been a fan of the Urban Decay 24/7 pencil eyeliner for a long time. I swore by it. I still really like it, but this is 10x better. It does not budge unless, you go in with some makeup remover. Its a very intense black, and is very smooth. Not as smooth or creamy as the Urban Decay though, but that doesn't mean it doesn't tug and pull. Its just if your gonna switch from Urban Decay to Makeup Foever, Its going to feel a little wierd at first.

My go to pencil liner. I'm a liquid pen liner kinda girl cause i don't like the idea of tugging and pulling pencil liner cause.
the MUFE aqua eyes is one of the best pencil liner I have every used its dark and a true black ( not one of those liner that are a really dark blue)
I use it for tight-lining and on my waterline. It stay on all day however it isn't as creamy as other liners it s a bit more dry formula that require to be warmed up to go on well..
Over all a great liner that stays on all day doesn't smudge and is well pigmented.

Goes on smooth & is gentle on my sensitive eyes
I love this eyeliner it goes on so smooth and rich! I have very sensitive eyes and most eyeliners make my eyes too watery to wear make up often but this one does not. I got this from my Sephora points one day and I have been in love with it ever since! It's now a staple for me.
---