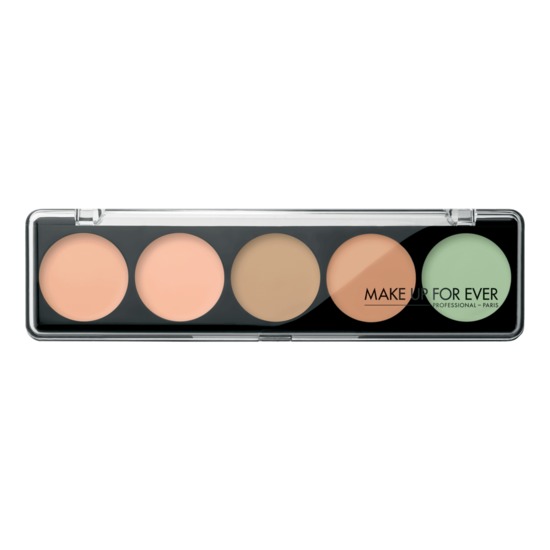 Rollover image to zoom
Reviews

Quick and Easy
This is in my Kit for all kind of exergencys. Your Model got a pimple? The Actor has a little tattoo? Your celebrity client had a partynight and has to look amazing? This little think will cover every inperfection. You have to think about complementary colors: So for red spots you use the green concealer, for tattoos a white and then a more peach color on top and to give the face a fresher look use the purple colored camouflage. Also because of the sice very handy for the pro-kit. Highly recommended!

Christina T.
Dec 09, 2011
This is the only concealer I like from Make Up Forever. I love how creamy and blend able it is, and the way it covers. I like the variation of colors, and especially with the No. 1 palette, all the colors work for me because I have a fair complexion. I'm currently obsessed with this.

This palette is great however I only ever use the last two colours - the green and peach/orange colour correctors. The 3 other colours would be great if I had a lot of time to mix my makeup while getting ready or was a makeup artist. A little goes a long way - the peach is amazing for correcting darkness around the eyes and is a light but effective formulation. The only way this would look unnatural is if you are applying too much on. The green is a little harder to use (but I find this with every green corrector i've tried) and the best way is to take a bit with a brush and gently pat it on your skin then go over it with your regular concealer using your fingers to warm it up and blend.

save your money unless..
you are a makeup artist or know how to work with colors LOL bc I got this when I was first really getting into makeup & this did nothing for me. Idk if I got a bad one or what but the texture was so extremely thick I couldnt even blend it out on my skin!

Beautiful Coverage !!! Worth the price!
I've had this for 2 years now and it's a miracle worker. It easily melts which makes it perfect for blending into my skin. The concealers are amazing. Does an amazing job at concealing any imperfections you may have. I really love it. A little bit of products goes a long way.

By far, the best concealer I have ever used. I am a big fan of cream concealers and this had exceeded my expectations. I like to use the first shade to highlight, second shade to cover any blemishes (when I don't wear foundation), I don't use the third shade, and the green shade I use to also cover up blemishes under my foundation. This is truly an amazing concealer palette and a little goes a long way. If you're willing to splurge for your concealer, definitely recommend this!

this palette has made my life!!!
i have super oily skin and i have been searching for a good concealer to cover a few acne marks on my cheeks and chin while i work on fading them away. i don't wear liquid foundation very often because i hate the heavy feeling on my skin so i normally wear only powder and concealer where i need it. most of the concealers i had tried either didn't cover enough or changed to an awful ashy gray once the oil from my skin hit it. i was so excited when i tried this and it actually worked for me!! it gives me a flawless coverage and best of all it doesn't change colors. i also like that i have a few different colors to work with so i can blend the perfect color for my skin!! i can't believe i waited so long to buy it but i'm sooooo glad i finally took the plunge : )

Makeup Kit Must
As a Makeup Artist I need to have a wide range of color options for my kit. It's difficult to find a concealer palette that will work on darker skin tones. This kit works extremely well. I've even used it as a full cover foundation. Aspen is correct, you must set the powder.
---