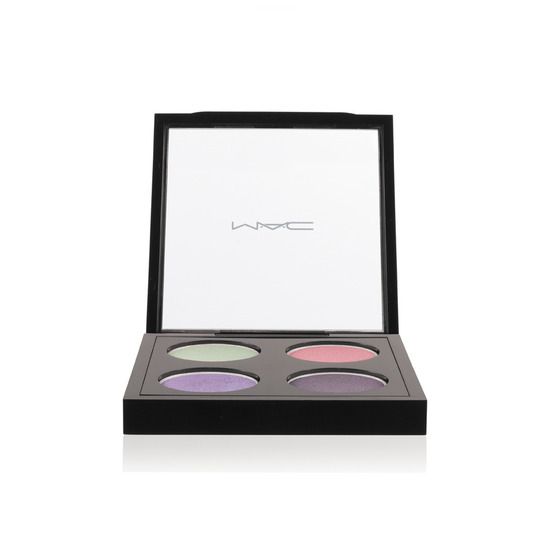 Rollover image to zoom
Reviews

The colors were really pretty of the Mac eye shadow quad I had, they last long and it is an overall good product. I have used it many times, my only problem with MAC products is how expensive they are. It is understood, though, by how well their product is so it is not too bad.

M.A.C Cutie Eyeshadow Quad
MAC Quite Cute Cutie Eyeshadow Quad:
Come on, get happy with Eye Quads in fancigul, fun and flattering pastel shades with completely, contagiously cute names like Goody Goody Gumdrop, Boycrazy, Azuki Bean & Moshi Moshi! Say "yes!" to everything adorable!
MAC Moshi Moshi! Eyeshadow Moshi Moshi!: According to MAC this color is a pale white green gold - but to me it looks more of a creamy pale yellow. This color is very pale and you cant really see the green-ness or the yellow-ness of the color. At first I thought it was lustre finish but when I read the back of the quad - IT WAS A FROST :o Its does have silver specks of glitters which will result in fallout. This color can be used for a highlight.
MAC Goody Goody Gum Drop Eyeshadow Goody Goody Gum Drop: Its a toned down cotton candy pink with a pretty sheen to it. It is a satin. As compared to the other colors in the quad this one does have a slightly better pigmentation. Its good for the everyday sweep of color for work, school e.t.c
MAC Boy Crazy Eyeshadow Boycrazy: It is a pale lavender color with silver shimmer to it. This color was a big disappointment because of its low pigmentation factor. I don't really have pretty lilacs or lavenders in my collection so when I saw this color I had pretty high expectations. This color is so sheer that you really need to pack about 7-8 layers to get a good payoff. It is a lustre finish.
MAC Azuki Bean Eyeshadow Azuki Bean: This color being the darkest is the most pigmented color in this quad. Its a mid-tone dirty violet. It has a frost finish.
My Thoughts: In my opinion this quad does have a good selection of pastel shades but the downfall is that they have poor pigmentation. Some even have fallout issues but pigmentation is the biggest problem of this Quad. You really have to pack the color on and on and on to get the shade you want. This quad I would not recommend to people with medium-dark skin tones. I think this would work great on lighter skin tones. The lighter the skin tones the better these colors would appear.
Hope you guys like the review. xoxo -Maheen Shoaib
---