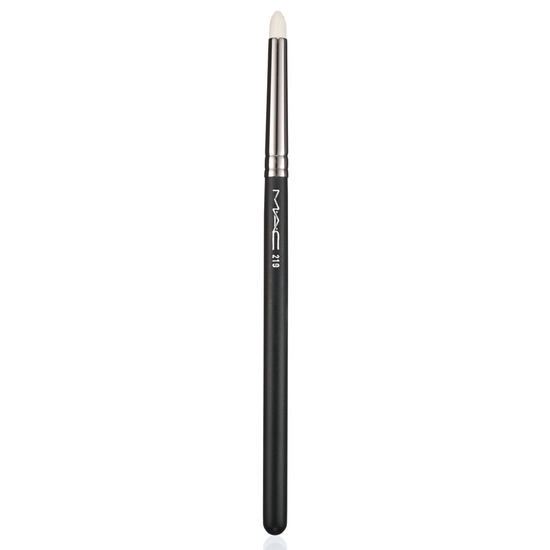 Rollover image to zoom
Reviews

Good product, kind of expensive.
This is another great brush to have in your makeup arsenal. It's VERY densely packed so it can pack on heavy color, smudge/smoke eyeliner and eyeshadow, and place eyeshadow precisely in the crease to blend. That said, it's a bit costly at $24.50 when Sephora's #12 brush is a great duplicate at $15. http://sephora.com/browse/product.jhtml?id=P188207&categoryId=S4906&shouldPaginate=true
If you're kind of OCD and need to have all the same brushes, then go for the MAC at $9 more. These brushes are high quality and WILL last you if you take care of them properly.

My HG brush
The MAC 219 is my most favorite brush out of my whole collection and out of MACs collection of brushes. I use it to smudge eyeliner and also for contouring the crease and for applying eyeshadow at the outer V. I know there's lots of dupes out there at Sephora and Sigma etc but i know for sure this one works and i know how good quality MAC brushes are so after much deliberation (by much i mean a couple years lol) and much attempts at using substitutes or getting by without it, i decided to repurchase this brush (b/c an old friend of mine stole the first one i got from me >:( ) and now i'm complete :)

This brush is awesome and I don't know what I would do without it. It is so versatile because it does so many things. I use it for smudging eyeliner, cutting the crease, applying eye shadow on top of liner, for a smoky effect, to apply shadow on my lower lash line, inner tear duct, etc.

Amazing! Firm and easy to use!
I bought this brush to use with MAC's fluidline gel eyeliner in blacktrack and I could not be more impressed! It makes my eyeliner glide on easily. It's a very soft brush but it isn't not flimsy. It is firm and gives you the perfect amount of control. It allows you to make thick or thin lines. I love it. Couldn't have asked for a more perfect brush.

So good, I want more MAC brushes. More interested in MAC's blending brush now.
This is my first MAC brush. When I got it I was torn between getting the blending brush or this. So I chose this. I've gotten a lot of use out of it and its been my most used eye brush! Its a great pencil brush for precise shadow application on the lash line, but it makes a great all over lid shader brush, inner corner highlight, and crease brush in a pinch. Its great for making soft cat eyes with darker shadow. It blends beautifully and I love the thick, tight bundle. However, I'm more than ready to transition to the blending brush. I've been using the 219 for more than its intended use (which is great) but I'm ready to use the blending brush for its intended purpose, and not have to always use the 219! MAC brushes are notoriously expensive so I wouldn't say this is a MUST have, but you're paying for great quality and its a great brush to have. I find myself gravitating to this more than my other smudger/detail brushes but that might not be the case for you. There are plenty of comparable brushes for wayyy cheaper.
---