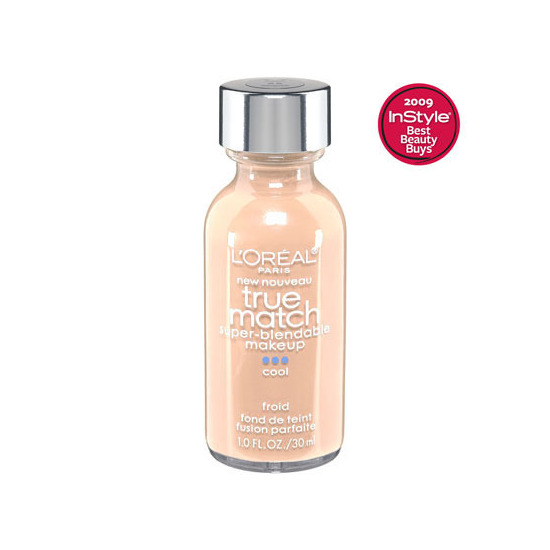 Rollover image to zoom
Reviews

I love this! It's suuuuuuper blendable! Sun Beige is a tad too little dark for me, but once blended out - it totally works and blends into the color of your skin! It's lightweight and it's super smooth, it applies like a dream with your fingers!
Medium-full coverage: definitely buildable! And lasts all day for me!
Only downfall is that it doesn't have a pump! :(
Note: I have normal to dry skin so not sure how it is for combo/oily skin.

Sculpt and Highlight.
I love using the L'oreal True Match foundation to sculpt and highlight. I like that it blends easily and there are lots of shades to choose from as well as the 3 different undertones. (Warm, Neutral, Cool) Another reason why I love it so much is because I only usually have to pay around $4 - $7 for the foundations and at places like target, walgreens, and CVS/Rite-Aid you always find a Bogo50.
One of the downfalls to this foundation is the lack of pump. It becomes a bother to have to try and pour foundation on the back of my hand without getting too much or too little.
My recommendation is to try it out for yourself.

Perfect & Affordable
I have been using Loreal's True Match foundation for years-years meaning all throughout high school and into college. This is a great drugstore foundation that is very affordable (around $6-8, depending on sales and where you get it) and gives you great coverage. In high school, when my hormones decided to pop out and surprise me, this foundation saved me from having lots of blemishes and acne on my skin. It was my life saver. It blends in very easily and the bottle, although small, can last for a long time. It doesn't break me out and it makes me feel like I'm not wearing makeup since it is so light. I recommend using a flat foundation brush though just because the application of the foundation won't end up super messy on your hands. Applying any kind of liquid foundation can get messy without a brush. This foundation matches the performance of my MAC foundation but only costs a fraction of what I would pay for MAC. I definitely recommend this to anyone and everyone!

LOVE IT!
I love going to the drugstore and trying out different foundations and this one has quickly become one of my favorites! I've already bought it a couple of times and it blends so great! I've even let my girlfriends use it with completley different skin tones and it somehow even blends on them too. Such a great foundation even when I went to have my make up professionaly done in South Beach the make-up artist used this foundation on me and I couldn't beleive it. When I asked her about the foundation she said its simply the best!
xo

Wonderful!
I have a hard time spending lots of money on foundations when they're so unpredictable...I don't know if the color is going to turn out right, if it's going to make my skin look or feel yucky, etc.
This product is so good for the price. Dita Von Teese says she wears this foundation so I thought I'd check it out. I have very pale skin and I was worried the color matching I did online was going to be wrong. I went into the store and their color swatch card confirmed the same shade, which looks great on my skin. I'm honestly stunned their online shade-finder was correct. I like that their shades correspond with other products like concealer, blush, etc. making it easy to quickly grab something that isn't going to be too dark or overpowering.
I just dab it on with a clean sponge and it smoothly balances any weird coloration that I might have, it blends well, and works nicely for covering under-eye darkness as well.

Good, light foundation
I have used this foundation for years now. It is my go to foundation. It lasts all day on my skin (I have more dry vs. oily skin) and lasts even better with a primer under and a powder to set. The lasting power really would just depend on what type of skin you have. It is really blendable, and evens out the skin very nicely. Just a very small amount is needed. It is really light and is buildable on spots with more discoloration. The only thing that I don't like is that it has really subtle sparkles in it. They are not very noticeable for the most part but I still don't like that. I noticed that when I wear a face primer the sparkles don't seem to be as obvious, and also in the sunlight it is more apparent. But don't discount it because of that! It is still a great foundation. The color range is wide as well. I use a few different shades, that depend on the time of year and I am always able to find a good skin match.

GREAT FOR CONTOURING.
After watching one of Kandee Johnson's videos on using two different shades of foundation to achieve a more natural looking tone, I purchased this. I usually use Almay TLC foundation, and then apply True Match in small dots on my cheek bone and up to my temple and blend. Apply powder and blush and a gorgeous, natural looking glow is achieved!

I actually found out about this product from Kandee Johnson, YouTube's makeup guru. I was looking for something affordable since I was a broke student. This foundation actually works really well. Not a fan of the packaging but I found a non-messy technique. I was a bit nervous matching my color from a bottle but the color turned out perfect. and the best part........
SPF!!! :)
---