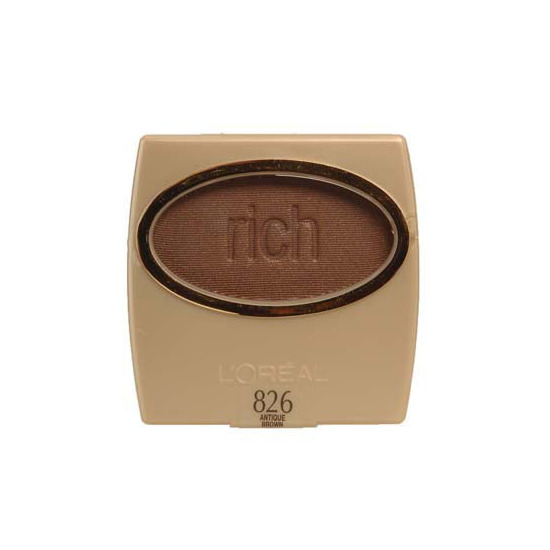 Rollover image to zoom
Reviews

A great highlighting eye shadow
I love Loreals compact, individual eyeshadow's that can go with you everywhere. In particular, I love the Gilded Bronze shadow as a highlighter. I use Loreal's Frosted Icing shadow as a base shade that I lightly apply to my entire eye with a medium sized brush. Thereafter, I use a smaller brush to highlight the crease of my eye, with Loreals Gilded Bronze shadow. I would also recommend, highlighting the apples of ones cheeks with a bronzer and adding a gloss to the lips to give oneself a natural, polished look. I recommend using the Loreal's Gilded Bronze eyeshadow to those that want to highlight their eyes, without using dramatic colors. This shadow looks great on those with olive or tanned skin. This shadow helps to create a monochromatic, polished look. I much prefer the Loreal compact shadows to those of Revlon or Maybelline. Loreal's Gilded Bronze shadow glides on seamlessly and creates a highlighting effect of ones eyes; it does not clump or look cakey. .

Frosted Icing is a great color to awaken eyes
I have always been a fan of shimmery shades that add a little edge to my eye makeup and brighten up my eyes. I like this eyeshadow because it blends on smoothly and can be used as a base to your other eyeshadow or can be worn alone with mascara. For a day look, I use a medium sized shadow brush to apply a thin layer of the shimmer shade to my whole lid.I use a thinner shadow brush to add a small amount of shadow to the corner of my eye and below my lower lash.. I take a medium size shadow brush and sweep bronzer across the crease. I finish the look with one coat of mascara. For evening, I start with the same frosted Icing shadow . I use a thinner eye shadow brush and add Loreal Glistening Sea shadow to the crease of my eyes. To give drama to the look of my eyes, I line top and lower lid with, Loreal infallible black liner. I also add two coats of Maybelline mascara. I recommend the Frosted Icing Loreal shadow to those that are trying to look more refreshed and modern. This color is a great staple shadow and can used by itself or added and mixed with other shadows to create smokey eyes. The packaging of these shadows is convenient for those that don't want to lug around a big shadow case ; the shadows can easily fit in a small purse. I like that Loreal has eyeshadow's that are reasonably priced and that offer the modern woman a multitude of easily blendable shades. In comparison to Revlon and Cover Girl, Loreal provides a great amount of colors that go on smoothly and don't clump.
---