True Match Super-Blendable Crayon Concealer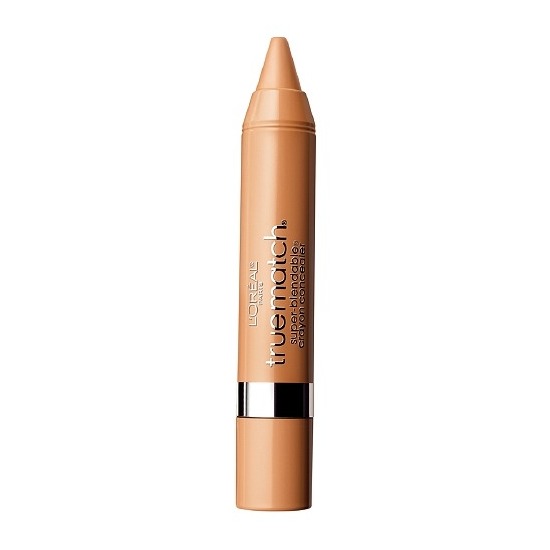 Rollover image to zoom
Reviews

Shades?
It's not a bad concealer but, they put shades n 1-2-3 together but the thing is 2 and 3 are darker than one, for the L'oreal true match foundation my shade is 3 it's similar to 2 and 1 but slightly darker. So if they put 1-2-3 together it turns out too light! It's light for 1-2 but for three it's a bit light!! I have to mix it in with a bit of moisturizer..BUT it works great as a highlighter.

Go-to, my love for it might be waning.
I was in the market for a new concealer a few months ago and already had a few in mind, this being one of them. I've been using this solely for awhile now, but might be getting hooked on something else (always happens before I ever finish something). I like the crayon shape and the fact that its twist up- you get a lot of product. I like the blush in the True Match line and have wanted to try the face powder for eons but opted out for another. I think this is super blendable and creamy. Sometimes I feel like it takes a little while to really blend it in, but it feels creamy and looks matte, covers pimples and dark circles very well and the shade matches me perfectly. There was one time I had trouble blending it in because it did not react well with the foundation I was trying out, but this works great with my current go to. I even think it has a subtle highlighting effect to it. I wouldn't recommend trying to use a brush or sponge with it- its best to draw it on and blend and pat with your fingers- they will warm it up. If anyone got a bad one, it might because it dried out and got too flaky. This is also good for brow highlighting, it emphasizes them well and blends out nicely. The main con is when the point gets dulled down. I don't know if I have jumbo sharpener, and I don't want to risk it breaking. I'm starting to get interested in the Maybelline age rewind dark circles corrector, but I don't want to abandon this yet, as I often do! The liquid-y Maybelline one feels even easier to blend and has similar coverage, plus I like the sponge, as "unsanitary" as it is! I keep thinking its starting to drag a little when blending but that might just be me. I would recommend this, although I might have a new fave concealer on my hands.

Okay...not a great concealer but AMAZING highlight and contour
I find the coverage of this product is not the best. If you have severe acne or depigmentation, I would recommend using a different product. However, the blendability of the product is beautiful and it does not settle into pores or crease during the day. I purchased the lightest and darkest shades and find it is a phenomenal product for contouring and highlighting.

Not Worth it!
I needed a new concealer, and I have heard really good things about this concealer, so I went ahead and bought it. When I applied it,it had a crusty texture, and looked extremely Chalky. I don't know if it was just the one that i got, but i'm not buying it again.

Very surprised!
I got this part of a buy one get one free deal, and I have to admit I'm really surprised how much I like it! This is perfect for on the spot, or covering up a little redness, or under-eye darkness. It goes on smoothly, feels great, blends nicely and holds really well when set with powder. The chapstick tube thing it has going on is really nice, so I don't have to mess around with over sized sharpeners if I'm getting ready/touching up in a hurry. It's a great drugstore buy!

Perfect, easy to use concealer. It doesn't clump or smudge or give my face that cake look appearance. Best results to use after applying foundation than set with a light powder or highlighter. Use a concealer brush to blend into your skin tone. I would compare it with Nars concealer, only cheaper!
---