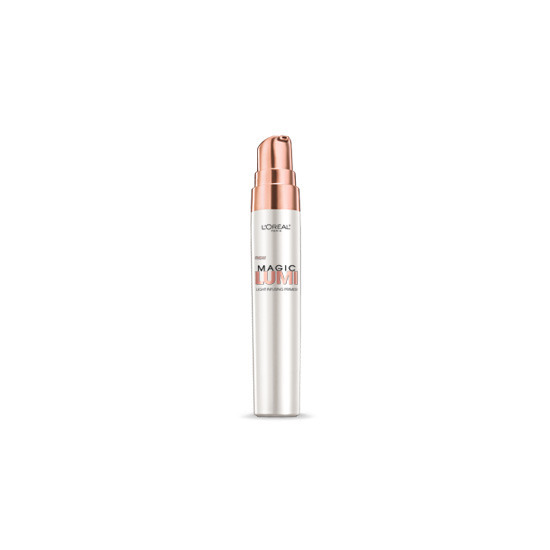 Rollover image to zoom
Reviews

Nice on the eyes!
I use this strictly for an eye primer and I love it. No creasing and the color stayed really well, and even gave a little more highlighted look. AND I feel asleep (I know, oops!) With my make-up on, and surprisingly my shadow looked awesome when I woke up, still no creases and almost as bright as when I first applied.

Arettlsar T.
Jan 09, 2013
It does what it say it should.
It does what it say it should and that is make my face look very soft and creates a sculpted look on my face when using It I fond that I really liked it big time. It is Perfect even by its self. I say I am around gald to buy something like this wonderful Product that works just like magic on my face. I love love love it'''!

Ehhh, Not great.
Its very greasy and makes you look shiny. It made my makeup not last as long and it made my pores look huge. I use it over my makeup now as a highlight. Its decent, but I would recommend buying it for that. Not recommended. There are way better drugstore primers out there. Including some others by LoReal

Average
This product is just average. I don't notice that much of a difference when I wear it. I use it with my Revlon Colorstay Whipped Foundation. I apply this product by dotting it on my face along with my foundation and then buff it all in with my elf powder brush. I don't think I will be purchasing this again. There are much better products out there that can do better than this one.

Irritated my skin
I do not have sensitive skin at all. When I put this on it it made my skin feel irritated and like it was burning a little. Kind of like razor rash. It took anlon time to rub/blend in and didn't leave any kind of luminous effect. Just kind of made me look sick and pasty. When I tried mixing it with my foundation it had a greasy effect. Not for me. I'm bummed. I was hoping this would help with the loreal true match liquid and make it less dull and dry looking. I love the packaging too. The pump works well and I love holding the bottle in my hand. It's cute and slender and pretty. I'll probably wash it out and use it for something else.

Violet likes DM S.
May 23, 2012
Tried it and I really like it!
In the latest issue of Allure they have a sample of this little gem. It also comes with a $2 off coupon. I tried this primer this morning and I am really liking it. What I like is the healthy glow it gave my skin. I will be purchasing it soon but most likely using it mixed in with my foundation or as a highlighter. I get pretty oily in the summer so I need a really heavy duty primer on my face. I don't think this will do by itself.

Not the best primer in the world but great when mixed with foundation!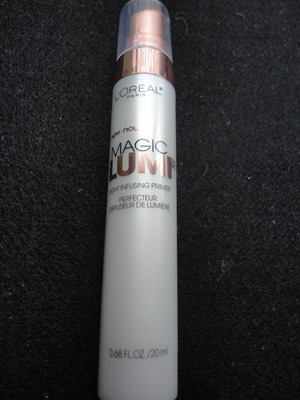 I don't know what it is but I am obsessed with obtaining a nice "glow" when doing my makeup. I used to really prefer a matte finish to my foundation but now I find that I want that nice, dewy finish because there IS a difference between greasy and dewy.
When I heard about the L'Oreal Magic Lumi Primer I thought it might be a great way to get a nice, healthy glow with my normal makeup routine without using too much shimmer or shine. It seems that finding the perfect highlighter is a ton of work! Or maybe that's only me, lol.
I finally got my hands on this "primer" and I use the word primer loosely because I wouldn't consider this a primer at all. It does nothing to smooth out my skin or prep it for foundation and is really, in my opinion, a liquid highlighter (but there's nothing wrong with that!)
As far as packaging goes, the "primer" is packaged in a narrow tube with a pump at the top and I LOVE that! I am a sucker for any product with a pump so naturally I got all sorts of excited when I saw this. The bottle is tall and narrow and doesn't come with a ton of product (20ml), especially for the price. I've seen this online for anywhere between $10-13 so for a drugstore product it is on the pricier end.
Right out of the bottle it does have a white cast (similar to NARS Copacabana Illuminator) but after being blended in doesn't leave the skin looking chalky.
When applied to my skin as a primer I don't notice any "glowing" going on so I have been alternating between mixing this with my primer, my foundation, or using it strictly as a liquid highlighter. Obviously I don't do all these things every time, haha! I have not been very impressed with the results after applying this as a primer and then using foundation all over so I've been alternating more between mixing it with primer or foundation or using it as a liquid highlighter.
THE BOTTOM LINE:
Would I repurchase? Right now I'm not 100% sure. I like the idea behind it but I am not sure that for the price that it's completely worth it. I think the next time I'm in the market for a liquid illuminator I might go with NARS Copacabana because it reminds me a lot of the L'Oreal Lumi Primer and you get a LOT more (although it is more expensive).
Who would this product be good for? I think this product would be great for anyone who, like me, wants a glowing effect with their makeup.
Who would this product not be good for? People with oily skin might want to shy away from this as the "glow" could draw attention to a normally shiny face.
Do any of you have this primer? Do you love it or hate it? Any other highlighters I should check out?
Until next time :)
---