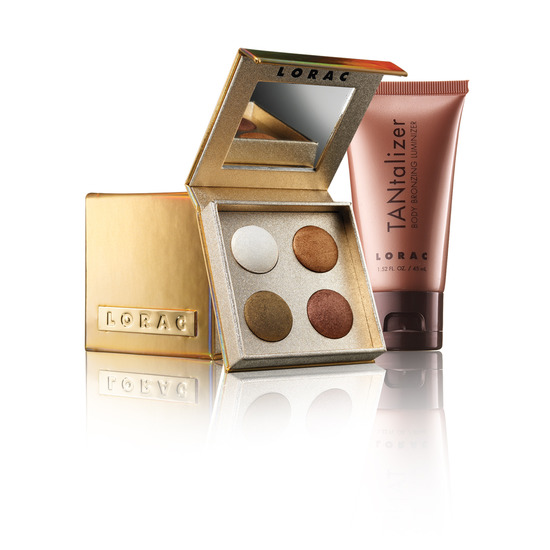 Rollover image to zoom
Reviews

PERFECT for Summer looks!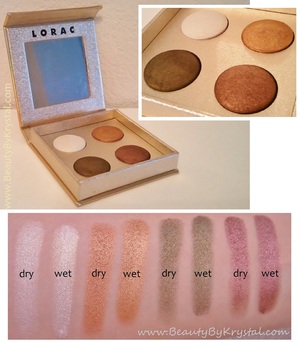 The packaging is a golden, shiny, magnetic closure box with a medium sized mirror (which I don't use because it tends to get scratched up somehow). The tray that holds the eye shadows has tiny walls about a 1/4" tall, and each eyeshadow has a dome top. There are four baked eye shadows; a frosty white with a gold sheen, a shimmery gold, a deep olive green with a slight golden sheen, a shimmery wine.
When applied dry: - very smooth - very pigmented, I only had to dip my brush into the shadow a few times to get it as opaque as it is in the palette - a bit powdery but patting them on during application will reduce fallout - easy to blend out or into each other - long wearing, they lasted up to 6hrs without an eyeshadow primer before any fading or creasing began to show - applied on top of an eyeshadow primer they lasted up to 12hrs before fading or creasing began to show
When applied wet: - very smooth - extremely pigmented, I only had to use one swipe to completely fill my lid with color and to have an opaque or painted on look - you can wet your brush first and pick up shadow directly from the palette without ruining the shadows consistency by sealing - extremely long wearing, they lasted up to 12hrs without an eyeshadow primer, and might have lasted longer had it not been time to remove my makeup and go to bed - applied on top of an eyeshadow primer or base didn't really change the shadow's effects or color pigmentation, but it did prevent creasing throughout the day

So Pigmented!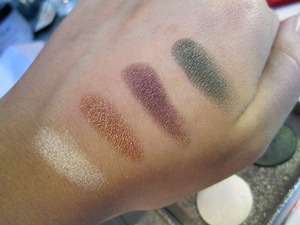 I've only tried the palette (not the luminizer yet) and I am blown away!
The colors are SO pigmented and the eyeshadow texture SO smooth. They literally glide on to your lids. Very minimal fallout as well. The eyeshadow itself comes in pretty sizeable rounds and I reckon I can use this palette for a long time before it hits the pan.
I usually pair the metallic gold with the glittery olive green, or the gold with the rusty red-brown. And use the shimmery white as a highlighter. You can get really sultry, bronzed-goddess looks from these combos.
I've also attached a photo of the swatches - this was taken under natural light, swiped on lightly with fingers and without any primer underneath.

Outstanding quality! A real value!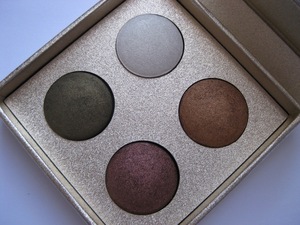 LORAC certainly didn't skimp on product size! The shadows are about, if not exactly, the size of a U.S. Quarter. LORAC's website says the palette includes 6.4 g. of shadow, which is comparable to four individual MAC eyeshadows, or a bit more than a MAC Eyeshadow Quad. The shadows are described as a White with Gold Pearl, Golden Bronze, Olive Green with Gold Pearl and Shimmering Garnet. I couldn't agree more! Those descriptions are dead-on accurate.
Each shadow is incredibly smooth and super pigmented, both wet and dry, which isn't always the case with baked eyeshadows. Unfortunately, a lot of baked/mineralized eyeshadows need to be applied wet to really bring out the shade, but with LORAC's TANtalEYES Palette the shadows are outstanding either way! None of the shadows applied chalky and I experienced little-to-no fallout.
The highlight shade, the white with gold pearl eyeshadow, isn't your average highlight shade, as in it isn't just a run-of-the-mill white shadow. I was very surprised to see how it can be used alone for a nice sheen, but when applied on top of the other shades, you can create a totally enhanced version!
In conclusion, the LORAC TANtalEYES Palette contains some of the best quality eyeshadows I have ever tried! I am very impressed with the performance of the shadows, but I do feel the particular shades seem a bit more "Fall" than "Summer". Either way, if you're looking for superior quality shadows at an extreme value, I would definitely purchase the LORAC TANtalEYES Palette while you still can! I feel strongly you won't be disappointed.
---