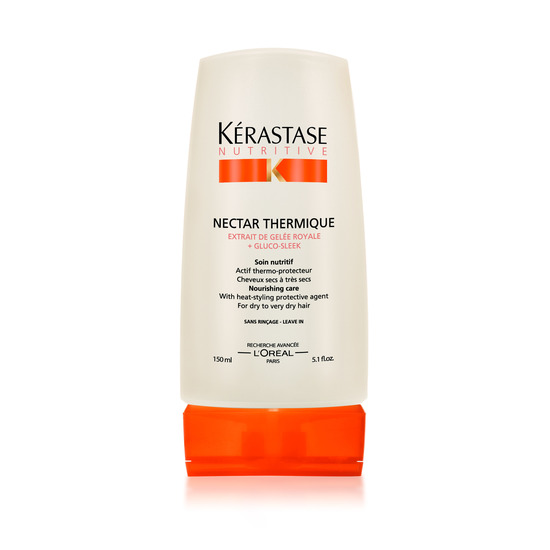 Rollover image to zoom
Reviews

Best heat protectant I've ever used!
After reading an article on Beautylish, I was extremely curious about this particular product. I have very dry hair, and I'm very weary when it comes to putting heat on my hair. Regardless of how much heat protectant I use, I always notice that my hair usually looks fried after heat styling. With this product, I no longer have to worry about heat damage. After I use this with my flat iron, my hair is smooth, silky, and straight. It's astounding, and what surprised me the most about this is that my hair actually looked healthy. This is my new HG heat protectant.

Amazing
Kérastase Nutritive Nectar Thermique claims to add moisture, smoothness and shine, protect your hair from heat, improve styling and drying performance and make hair soft and supple, to my delight, I can agree with these statements. It has now officially become one of my holy grail products. I use a small amount after washing my hair, work it in to the ends and use the product left on my hands through the rest of my hair and fringe. With this product I noticed straight away that my hair dried a lot quicker, straighter and softer from the first use, with or without heat. As I have wavy, frizzy ends I thought this was the my hair behaving because it was a new product, but, months after it still works just as well. I love how soft and manageable my hair looks when I've used this. Normally after my hair dries, especially after using heat, it becomes frizzy and has a 'bitty' texture at the ends but this product isn't phased by this. There is only one down fall to this product, the price.
---