 Rollover image to zoom
Reviews

Yes.
I have three of these beauties- Cathedral, Prayer, and Lovecraft. The packaging is gorgeous and well made. As for the lipsticks themselves, they are my favorites. I'm not sure I've used many of my other lip products since I purchased them (I've had Prayer and Cathedral for about a year and Lovecraft since February). They are opaque and the ones I have are mostly matte or satin, but don't uncomfortably dry out my lips. They last like they're getting paid for it. Even if I don't feel it on my lips any more, I usually can still see the color. As for the individual colors, I use them all regularly. Most of the time I have them all with me because they're just so easy to wear, they go with whatever I'm wearing and the rest of my makeup. Lovecraft is the perfect natural color for me- it's literally the color of my natural lips, a natural rose-pink, with the boost of a lipstick. I usually can't wear pinks because I have very light skin and they wash me out, but this one is perfect. Cathedral is a terra cotta redish brown swatched and in the tube, but it pulls more brown on me. I can get a different effect with both Cathedral and Prayer- a dark red with a hint of brown-burgundy- by dabbing it on my lips and building the color instead of swiping it on. I find that they last even longer when I do that. My only small gripe is two out of three of the ones I own have broken, more than once. It's fixable, but it's messy and makes them look messy.
I definitely want to purchase more of these, they're my favorite lipsticks that I have tried!

So so good
I love these lipsticks. I bought the Spellbinding Lipstick set a while back, and fell so in love. I love having a variety of colors to play with, so this was so perfect. The colors that I fell most in love with, luckily, come in full size versions which I plan on buying when I run out of the small versions. They are A Go-Go (true orange), Backstage Bambi (hot pink), and Lovecraft (perfect pink nude). The others that I loved that sadly do not have full sized versions are: Vampira (dark brown red), Thin Lizzy (super cool metallic reddish-coral) and L.U.V (cool true purple). Amazing color selection aside, the formula on these is fantastic. They last a long time and they're super pigmented, without being drying. What more can one ask for?

Nancy-Lee C.
Nov 21, 2013
Underage Red is creamy.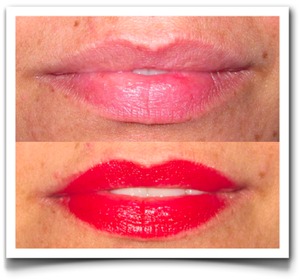 A more vivid red than I am used to wearing, it has a pin-up feel to it. Bright. Attention grabbing. A bit daring. This is a shade you have to wear for it could easily wear you. The blue base makes my teeth look extremely white. Now let me be honest, my teeth are bleached so they are hella white but if you look through some some of my other lippy swatches you will see the difference this shade provides. My teeth aside, this shade stays tube-true and does not turn pink, a problem I tend to suffer more often than not. I do not experience any shade change, it does not feather off of my lips and stays comfortable the entire wear. What I like most about this formula is, it's quite forgiving to dry lips while maintaining moderately full coverage. This lipstick would look so hot with a golden gloss on top. YUM! I achieved the coverage I was looking for with 3 swipes across each lip; Once to the right, to the left and back to the right.

Awesome Lipstick
I purchased the Kat Von D Spellbinding Lipstick Set at Sephora. It brings 10 of her lipsticks and brings 5 that were never before seen. They are as follows: Backstage Bambi, Lovecraft, Thin Lizzy, Underage Red, Ritual, A Go-Go, Mau5, l.u.v, Bachelorette, and Vampira. They go on so smooth and last a really long time. The colors are very bold, and I believe they look good on all skin colors. They are mini lipsticks, but I'm sure they'll last pretty long because they are so pigmented. They are absolutely amazing.

Nothing negative to say!
I have this in the color 'Lovecraft' (which isn't listed here for some reason), and I absolutely love it. It's almost a dusty rose pink color, absolutely gorgeous. It goes on smooth and opaque, and doesn't dry out my lips like crazy. This color has become my everyday, staple lip color. There's a great range of colors as well, and the packaging is gorgeous and very high-end looking. I will definitely be picking up more of these lipsticks!

STAYS ON!
If you're looking for a lip color that's going to last you all day or all night, Kat Von D got your back ;] I first tried this on at Sephora while doing Holiday shopping. My friend and I wanted to see how long it was going to last so we set out to do the rest of the shopping. I have a habit of always licking my lips especially when the cold weather makes them chapped so I didn't have much faith for it but after 6 hours and a stop at the food court it was still bright and vivid. Go figure :] Kat Von D makeup overall stays on really well :]

Vampy/goth look!
I have the homegirl lipstick. It is very opaque and deep color, like a burgundy-plum color, it looks similar to cyber from mac. The texture is very good, you can use alone and get a very vampy look, or apply on another lipstick to create a deeper color. Perfect for fall!

Ah-May-zing!
I absolutely LOVE this lipstick! It was the first lipstick I bought about 3 years ago when I first began my obsession with makeup & it's been my go-to red ever since. It's super creamy, but not buttery & has so serious staying power; especially with MAC's Cherry lip pencil underneath. A definite must!

Mikkipants V.
Jul 24, 2012
Love it!
Now, I have been DYING for a bright pink lipstick with a hint of milkiness to it. This is IT!! I absolutely love it! I personally love the drying effect it has on me because I like my lipstick to feel like it is barely there. This lipstick gives off a Barbie vibe to me. My ONLY complaint is that my whole lipstick came apart. I lost my receipt. It only took my lipstick a week to crack and it came out of the container it was in. I can't raise it at all. It sucks that I have to throw it away and buy another. I love the designs on it, however! :)
---