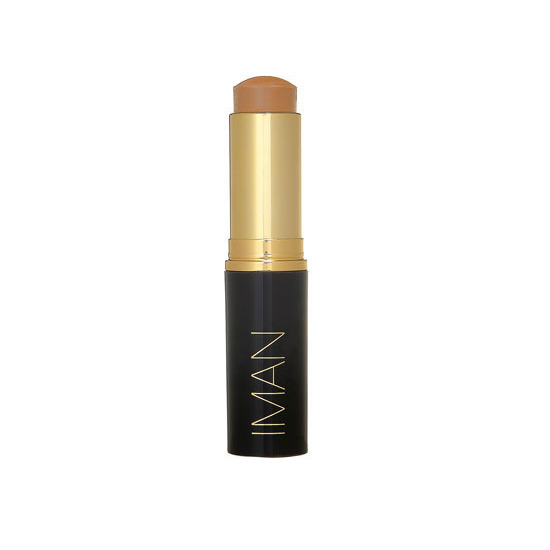 Rollover image to zoom
Reviews

LOVE
I love Iman's foundation! This used to be all that I bought before I moved on to try Black Opal. It offers full coverage and is a good consistency. My face has gotten clearer since I stopped using this, so I need to re-match myself with one of her shades. But this is such a good foundation it leaves you with a flawless finish. The only downside is if you have really oily skin, then the oil will seep through the makeup.

Unlike the Black Opal, Napoleon Perdis, and Bobbi Brown Stick Foundations that are really creamy, the Iman Stick Foundations truly dry down to a powder-like finish. Great for anyone who has acne scars or hyper-pigmentation and really wants to cover. Because it is a bit dryer in consistency, you want to make sure you really exfoliate because it could accentuate any dryness you may have.
Wear I live, it's really hard to find though which is unfortunate.

NC45
I was very impressed by this foundation stick!!! I had been sleeping on this because I was so engulfed in thinking "More expensive=better quality/results." That was not this case this time! It matches PERFECTLY and gives a natural look. It's buildable and blends well. If you are dry, use a moisturizer or primer beforehand to prevent patches. I usually apply and then buff in with my blurring brush. I'm in love with it!

Wish I had this sooner
Love this foundation. I ran out if concealer and ran into Ulta to pick one up but they didn't have my color and, amazingly, there were no other conceal eras for my shade in the entire store. Really?! So the sweetest associate named Emily went and got me a few foundation sticks to try instead and this was one of them. It's full coverage without being heavy and cakey., My skin still shows through. Totally buildable. And what I love is that I can just use this one product instead iof having to conceal with something else. Oh yeah, cheap too. : )
---