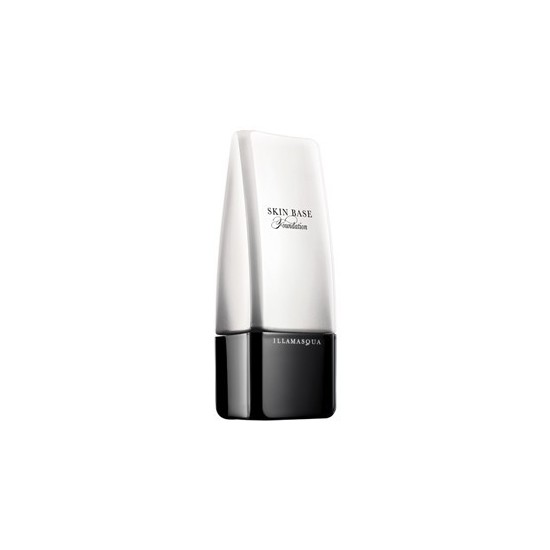 Rollover image to zoom
Reviews

Huge Fan!
I was desperate to try an Illamasqua foundation after a makeup artist I work with raved about hers and suggested I give it a go. A lovely lady behind the Illamasqua counter at Sellfriges was nice enough to spend time with me to go through a series of swatches, after a lengthy consultation on my ezcma, occassional breakouts, and difficulty in choosing the correct colour. Its the first time ive actually purchased a non-high street branded foundation, and Im so glad I did! The foundation is amazingly easy to blend, immaculately colour matched, and very light on the skin. One of my biggest pet hate is foundations either sliding, or becomming chalky over time, this foundation does neither. There is no 'fake' appearance either, a small amount is all that is required for a natural yet flawless dewy look. It does not aggrevate my eczma either! I tend to mix it with the Satin Primer for a more natural look, or over the Satin Primer for a more fixed coverage. Definately an Illamasqua convertee <3

HD ready, flawless natural looking skin with exceptional coverage and perfect for all skin types.
Skin bace is a HD foundation that is sylicone based, this means it is vertualy undetectable on the skin's surface and the sylicone smoothes out the apearence of the skin thereore giving a more naturaly flawless apearence. The finnish of this foundation is Semi-matte with a glow, Natual looking.
It has a wide range of colours that go from white to almost litural black, they are also sorted by undertone them being pink, yellow, neutral, pink and yellow-which basicly is neutral. Incase you were wondering i am SB (skin bace) 03 which is the palest yellow based skintone.
This product is deffinatly for anyone who wants a medium, bulidable coverage, long lasting and easy to work with foundation. It blends seamless into the skin and sets quite quickly, but not to quickly so you have to put it on like a race!
Now, Alot of review's i have seen on youtube ect do not talk about SKIN TYPE! and good god is that the main point of any foundation on weather it will work for YOUR skin, Because of this i braught this foundation at my own risk, I myself find it hard to find a foundation that suits my skin type. But this foundation i have to say works on all skin types, I myself have very dry skin and my friend who braught this as well has very oily skin and we both adore this foundation.....and god have we tryed many before.
Overall, Deffinatly worth the money, A little go's a long way and the product its self if amazing, the pacadging is sophisticated and beautiful. I Love it!!!

Beautiful for HD and any or every application
When David Horne sent me this foundation to test out I was so excited to see something new that a friend had helped to design but I was pretty set on what I was carrying in my kit...enter Illamasqua Skin Base and que up the romantic music because it was love at first sight. This new must have kit essential is my go to when I need skin that needs a product that is easy to bland and gives me a perfect complexion every time. The colors are rich and deep and have the nuances of skin and the camera loves the,. Definitely worth a look.

holy grail foundation by far
for the longest time mufe hd has been my absolute fav holy grail cannot live without foundation. till this baby came by. it is a hair better... just ever so slightly more natural looking and skin-like. and just that tad more coverage it gives. very very water resistant. i wore this in direct sunlight for 2 hrs straight at 30 degrees heat and was riding a horse sweating all over and it stayed INTACT. i cant love this more <3

Love!
My last high end foundation was The mac studio sculpt SPF 15. I loved it for a good while , but then I noticed it made me feel like I was constantly sweating, and no matter how much powder I applied, it always felt a tad clammy. So when me and my friend leila v ( check out her channel, and her comment below) went to selfridges , we felt the need to try this foundation. As we both suffer from eczema we needed a good foundation that wouldn't aggravate our skin. What a good choice, I love this foundation! It blends to give you complete coverage, but it looks and feels like your own skin. It gives a finish that varies between matte and dewy, so your skin has that perfect glow, and you only need to apply a small amount ! Love love love!

Your Every Day Foundation
When looking for the perfect foundation, what qualities are we looking for? Good coverage, even skintone, lightweight application, dewy/matt or satin smooth complexions. regardless of the finish you hope to achieve through your foundation, it is almost guaranteed there is a product in the market that is capable of meeting your needs.
In this past year, I have made an amazing product discovery that has fastly become a revelation within the Make-up and Beauty industry...
On the 23rd of June 2011, Skin Base Foundation by Illamasqua was released into the market and has revolutionised the way we look at our Make-up. Skin Base was the first Beauty Balm and Foundation combination available on the market and really lives up to the expectations of it's name. Suitable for all skin types; it acts as a skin primer, a concealer and a foundation all in one. With it's easy blendable formula; Skin Base glides onto the skin covering all pigmentation, imperfections and tired/sallow looking complexions. Finally, Skin Base provides you with both a Natural and HD coverage with it's Buildable formula and leaves skin feeling radiant and fresh, for Matt coverage also try Illamasqua powder foundation: http://tinyurl.com/7b4hnh9
With all the great benefits of this product and the price being a mere £25 in the UK market, I can proudly say that this Product is my every day foundation.... will it be yours?

(Shade 7) The Best Foundation ive used
So.....This foundation is amazing it has to be the best i have ever used and i have used a lot of different foundations
-cut scene- DadaDahhhhhhhhhhhh! "The Quest of a 1000 foundations has been completed"
Right so this foundation is a Semi-Matte finish so it wont give you an overly shiny finish but will give a little "glow" to the skin, i have used a Buffer Brush (MAC 182), a Duo Fibre Brush (MAC 187) and a conventional Foundation Brush (MAC 190). I found that when trying all of these that the 190 did the best job as it got into the skin and spread out evenly without streaking as this foundation tends to dry quite quickly, so when using it dont place it all over and then go back, i usually start on the right and work over to the left doing my forehead last
This foundation is HD Ready and it is truely buildable, it start maybe a medium coverage and looks really nature and blends like a dream but you can build it up without it going cakey it will just go to full coverage but i wouldnt use it like that because your using more and more product, so if you want full coverage then go with the Rich Liquid by Illamasqua. The texture is so soft and creamy and a little goes a long way, as you dont get a big container for a reason as it goes along way i have had mine since June and it doesnt look like ive used it. Skin Base has 18!! different shades ranging from Pure White to Deep Dark ((Dark Chocolate Colour)) with a range of undertones:
Pink Yellow Neutral Pink/Yellow Olive Red

Matte Medium Coverage Foundation with Great Colour Choice
There was a lot of buzz around these Illamasqua Skin Base's so I bought a few in the range. For shoots they are really great as they have no SPF and work wonderfully under studio lights, however for day to day wear the product does not last on the skin for more than a couple of hours and it is quite dry.
All in all a great product for makeup artist - the colours are easy to blend and mix. But for a customer/client I probably wouldn't choose to use this over other foundations.
---