Rollover image to zoom
Reviews

Beautifully Pigmented
I bought this blush in "Excite" on a whim because I was on a hunt for a bright coral blush. I'm very glad I picked this product up!
In the swatch here, "Excite" looks like it would have shimmer but it does not. It's definitely a matte finish. The swatch also does not do the shade any justice! It's a beautiful bright coral/orange color. This would look fit any skintone, especially darker tones. It really packs on the color with ease, so be sure to have a very light hand when applying it.
The packing isn't that great. The shape is unique but it feels a little bit cheap for the price but for $24, it's worth the pigmentation.
I definitely want to check out more shades, nonetheless!

Best Blush....ever!
this blush is super pigmented like majorly they in my opinion are better then MAC as MAC is more expensive and not as pigmented you really just need one tap and youve got more than enough i give this product a 10

The Best Blush!
I own 3 Illamasqua blushes: Naked Rose, Unrequited and Tremble and all are of superb quality. The pigmentation is beyond compare, they blend and apply like a dream and the color choice is to die for. And I particularly like the fact that most of the shades are matte. I have oily and uneven skin and shimmery blushes tend to accentuate my pores and some acne scarring. Matte blushes, however, blur the unevenness ever so slightly. These Illamasqua blushes also stay on for quite a long time and are relatively cheap compared to other high end/designer brands (e.g. Chanel is double the price for the same quantity). I think it's safe to say I've found my holy grail blush and unless they change the formula, I'll stick to these until the end of my days.

One of my favorite brands for blush
First off, they smell amazing. Secondly, they're amazingly pigmented and very smooth. They blend like a dream and they're matte which is amazing for my super oily skin. They last quite awhile on my skin and I love the color range. I just got one that's Limited Edition that has shimmer on it....and it's still amazing! LOVE these blushes these are my favorite right next to NARS.

5 STARS!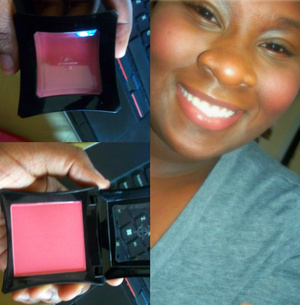 This blush is perfect. I've used blush from NARS, Stila, Tarte, YSL etc. and have never quite found the one I wanted until I purchased Hussy. A little goes a long way and for the price, I'd day this is a perfect choice. I've seen it on light-to-dark complexions and it has looked great on every skin tone. Bottom line: everyone should own this blush!

LOVE THESE!
While i am less than impressed with the eyeshadows (can you say Kryolan) i love love love the blushes. Its great to be able to find a large shade range of blushes that are completely matte. The pigmentation is great, the colour payoff is great, loads of bright options for WOC and best of all - they smell nice. And i normally hate smelly makeup!
Me likey.

Best everrr!!!
Powder Blush in "Lover" (Retails $24) It's very smooth and easy to apply. Described as a vibrant soft apricot, orange color. It is a Matte finish so it would look beautiful on any skintone. It's just perfect enough to create natural everyday makeup. It has nice color pigmentation. I would recommend using a light hand with this blush. Always remember LESS is MORE I've been glued to this blush since I got it. I would definitely put it in my list of Obsessed products.
Beauty Channel: http://www.youtube.com/theshells23
Beauty Blog: http://theshells23.blogspot.com
Sweet tweets: http://www.twitter.com/theshells23

Honestly, I bought this blush to use as a shadow, since finding a good red shadow is close to impossible. Hyper-pigmented and easily blended, I'm pleased with the formula overall.
I was a little hesitant for the price, but you really do get a rather large pan. And unless you use this every day, you'll probably never use it up.

Phenomenal😍
These blushes are highly pigmented that have a natural look in the cheeks. They have a nice feeling whenever you swatch them which believe it or not kind of feels like butter! I highly recommend this blush if you want to try a more expensive blush, this colour unrequited is a beautiful pink shade
---