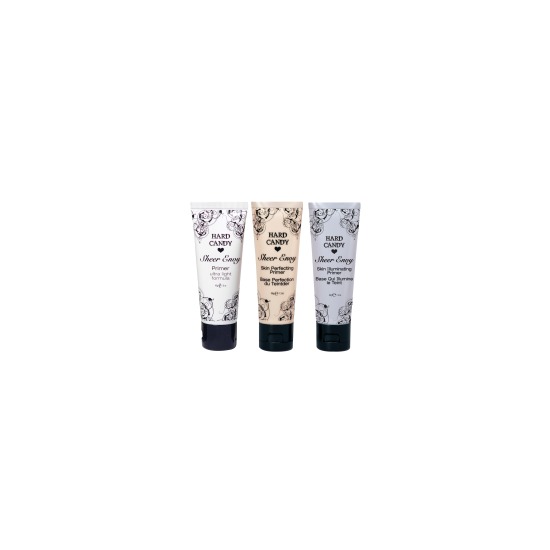 Rollover image to zoom
Reviews

An affordable, working alternative to pricier primers
It works on my oily skin. Coupled with my Revlon ColorStay, I gave up the need of blotting in the afternoon. The application gives just the right amount of slip for me to use a very little bit of product. My makeup truly lasts all day with this primer. The packaging is fantastic. I can control the amount of primer as well as get every last drop. The 1.6 oz is incredibly generous considering the price. I also appreciate listing the ingredients on the packaging. Hard Candy also does not test on animals. I do have some trouble in finding the clear formulation at stores. On the white packaging, I do not see writing alluding to SPF 15. I'm not sure of the pink or purple bottled primers.

AMAZING!
These primers are absolutly amazing in every way! the texture of the product it self is incredible! just like silk! Ive been using these primers for about a year, and id never use anything else! I have huge deep pores that dissapear with a little dab of this product, again AMAZING! they make my skin so soft i dont want to stop touching it, i even use them aloan sometimes if i dont have time for my entire makeup rutein. but when i do use them under makeup, it lasts all day!

These are absolutely amazing. It makes the rest of my makeup go on smoothly and last so much longer. I have pretty dry skin during the winter and most primers dry my face out even more, this actually helps the damage. I am completely satisfied. This is the best primer that I have ever found. I recommend this to people with dry skin, it will work wonders I promise.

Nice Smooth Primer
Of this collection, I have only used the regular primer. The texture is very nice and smooth - you should not use too much otherwise your face will appear oily and it will take longer to dry. It definitely holds the face makeup well and gives the skin a nice dewy glow without making it look oily. And for the price, it's a really good deal! My sister actually has the smashbox photo finish primer and prefers this one instead! I've tried the smashbox primer too and must say that this primer is more effective, in my opinion at least.

Make sure you skin is in top condition.
My skin is really sensitive, especially on my chin and right on my cheek bones. When i first started using this product I wasn't to fond of it. It felt heavy on my skin and seemed to only make me break out. SO I did a little experimenting :). I did some research on the internet and found that oily skin is actually your skins natural response when your skin is to dry. I haven't used soap to wash my face in years (everything was to harsh and really irritated my skin) but even just using hot water I was taking to much moisture from my skin. I started applying lotion with vitamin E to my face after getting out of the shower. It helped a lot and I noticed that I was no longer breaking out after using the Hard Candy Primmer.
Also, giving the primer time to dry a little before applying any concealer helps to keep it from muddling up or setting into any lines.
Really liked what it did with my eye make up. It leaves the skin looking and feeling smooth, and really take hold of the shadow pigments to help them last longer. It also seems to be sweat proof, as after a hard days work, there was only a little bit of a smudge on my lower lash line, but nothing that as disastrous.
I recommend it, but only if you are willing to take the steps to keep your skin in top condition. One missed day of moisturizer is all it takes for this product to misfire.

This is a very unique primer. The texture almost reminds me of whip cream or something like that. It almost and feels very velvety to the skin. I let it set in for a little and proceed with the rest of my makeup routine for the day. I was very impressed with this primer as at the end of the day, my makeup looked as fresh as it was when I applied it. I notice that it comes out best when you shake it a bit to make sure it isn't too oily. I didn't break out, but I do rarely get acne.

Not my favorite primer.
Before I use this primer, I have to shake it up a bit because although it's supposed to creamy, some of the product comes out muddy with the liquid inside. When I take it out, it looks sort of like cottage cheese. It is ultra light, like it says, but what I don't like is that it goes on a little too smooth. It feels as though I'm putting grease on my face. It made my skin even more oilier.

Sucks!
I bought this awhile ago thinking it would help with my dry areas. I have oily combination skin so my T zone is oily and the outer areas are dry and sometimes patchy. I thought this would help even that out and help my foundation last longer. Well it doesnt do that at all, its too silky feeling and doesnt sink in to ur skin no matter how long u wait. once i applied my foundation it seemed to just slide right off my face. it was only half way decent when I used my Mary Kay medium coverage foundation because it absorbs excess oil on your skin. The ELF mineral face primer in my opinion smashes sheer envy. Dont waste your money!
---