Hide & Glow Cheek - Cheek Tint Duos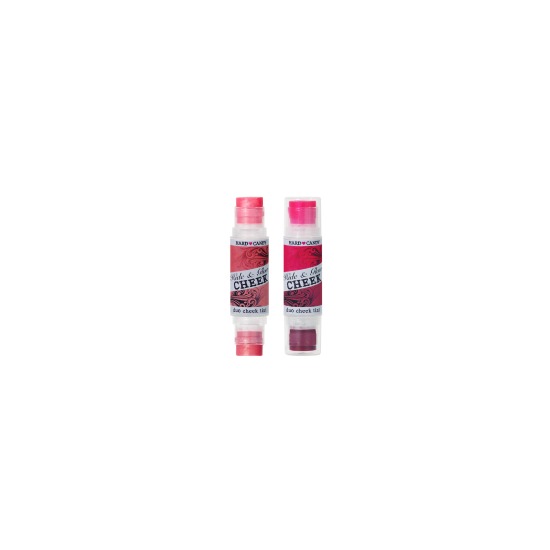 Rollover image to zoom
Reviews

skip this product!
I was really excited to try this product. I have never been so disappointed in the lack of pigmentation. I had to repeatedly rub the applicator, but very little pigmentation showed up on my face. I do not know why this product is labelled as a "cheek tint" when it did not even show up on my face! I also think the packaging is horrible; Hard Candy could have added more product to the packaging but also improve the product itself! I got the shade "in love" --- but I'm definitely NOT in love with this product!
I have reviewed this product fully on my blog here: http://laceysmiles84.blogspot.com/2011/06/hard-candys-hide-and-glow-cheek-tint.html

Bianca Nicole C.
Jun 07, 2012
I loved it.
I bought these for the winter and they give me a very nice sheer coverage and I very light so you can see these on me like color on paper. I was happy with the product reasonable price and comes with two colors. I bought the ones above and I love them so much.

SierraLeo M.
Feb 12, 2012
I love this blush duo. It worked for me really well and i would definitely recommend it to my friends. It lasted all day at school, comes off easy, and didn't feel sticky or heavy. It gives a great flush of color when I'm in a hurry in the morning and I use it almost every day.

I am in love with in love.
This a creme blush made from the brand Hard Candy, you can purchase this at Walt-Mart or Online.It's an over all very good cream blush. The pigmentation is great and it's not too streaky, it's very easy to apply and blend without any problems. On the site it claim to : A cheek tint that brightens cheeks for a just pinched natural flush. Lightweight formula blends evenly into skin and lasts for hours! Two perfectly coordinated shades - wear alone or blend together. There are too different colors on the stink a lighter or darker shade. I only own one that's in the color in love wich is beautiful pinky shade and nice bronze shade.I don't use the bronze shade because i have a very light skin tone sometime I will use it as highligter and i give me very nice glow. The pink shade is very nice and my skin tones and I think it would compliment any skin tone in general. I usually set it with another blush that is pretty similar just to make sure the blush will stay put. It usually last all done me and i have normal to dry skin and I think this blush would do well on oily skin also.

AlmostStylish X.
Feb 27, 2012
Its just alright
I was looking for a cream/gel type of blush for the winter since I feel that powder can be a bit drying during those months and can look lackluster.. This looked like a good option and I like the daul color options but its a bit greasy and can be awkward to apply.. Not bad pigmentation but I'm going to keep looking...

This is an okay product. Note, there is a trick to applying it that takes some experimenting to discover. I don't use it often, but when I'm in a hurry and want to add some color to my cheeks this is what I use, it is quick and simple. If you know how to use it properly it can work wonders. (I have a tutorials of all sorts of makeup tricks you can use.) I would recommend this along with a quick tip of how to apply.

faded within seconds
These are not well pigmented, I am very fair skinned and it took several swipes to show on my face. When there finally is enough to do something it does not last very long at all. The applicator was also a problem for me. Because you slide it on your face then blend it out, it is hard to judge how much you have on and you have to keep reapplying. I will admit that I am used to using powder blushes and I might just not be used to this type of blush; however, if this is the standard for blushes similar in consistency to this one, I will stick with powder.

Disappointing. =[
http://www.youtube.com/watch?v=r831RAmsHsc
I did a video review of this product but I thought I'd type it out as well. Pigmentation: Not great. The brighter side was alright but the lighter colour had NO pigmentation. Blending: It is smooth and easy to work with after it's applied. Texture: Greasy Longevity: Lasts maybe 30 minutes alone and about 1 hour if set with powder blush. True to package: Neither of the colours showed up as they appeared. Also, the packaging is deceiving. There isn't as much product as it appears to have.
---