Glamoflauge - Heavy Duty Concealer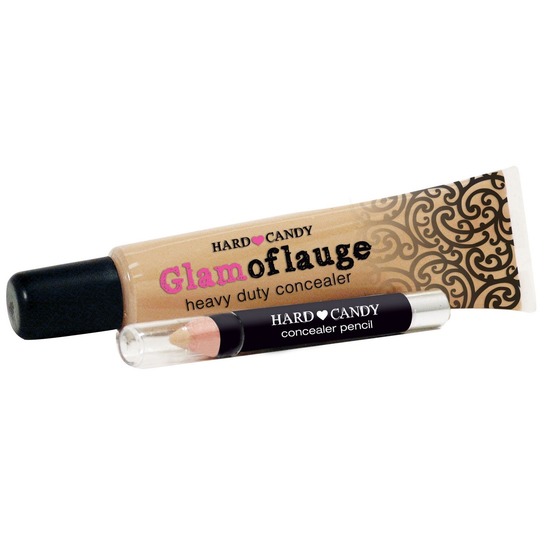 Rollover image to zoom
Reviews

No Longer Available D.
Oct 18, 2011
MY HOLY GRAIL CONCEALER!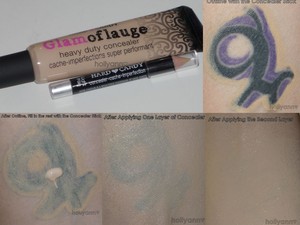 Ever since I got this months ago, this is all I use!! I use it to conceal dark circles for those days where I didn't get much sleep or on pimples that I get once in a while. A little goes a long way and this tube will surely last you a very long time! You have to be careful when applying because it will look cakey and we know that's not pretty! I've even covered a tattoo and it covered it very well. I was surprised! I love the concealer pencil on my waterline when I want that bright eye effect! For the price and the quality, I'd say this is one amazing concealer and is my HG!! The few cons are that it's only available at Walmart. If you don't have a Walmart, you will need to order it online through their website. The last con would be that it only comes in 3 shades. You may have to mix to get your color, which might be a hassle for some when you don't have too much time. But I would still recommend you try this concealer!

I really like this
I have some major acne issues sometimes and i'm so glad that I found this. The coverage is amazing! I use the tiniest amount for all of my blemishes and I'll still have some left over.
The consistency is a little strange though. It's very creamy, but a little powdery when it dries. I would recommend a different concealer for your under eye circles if you have any type of wrinkles though. I have some squint lines and if I'm not careful I will notice that this concealer will glob up in them.
The color selection is not very good at all. I was able to find my color and it matched perfectly but anyone who has a very dark skin tone will not be able to find a color in this.
I really like the pencil too. I wish they made a jumbo pencil in this. I would definitely buy a million of the pencils if they ever made them a full size item. I'm still hoping that they will.
This is totally unrelated to the quality of the product but I love that this company does not test on animals! I love love love it! This is why I keep trying so many of their products.

The coverage for this is beyond any Mac, Kat Von D, $5000000 "chanel whåtevêr"! It is extreme coverage that will wipe away blemishes, redness and acne scars. I'm so glad I found this product. The trick with this is to use very little and blend extremely well. If you use even a little too much it will definitely come off a little cakey and thick. But overall I love this so much!

DUPE FOR AMAZING COSMETICS AMAZING CONCEALER
this is a drug store dupe for the amazing cosmetics concealer. i recently got the amazing cosmetics concealer and it is heavy duty. and the hard candy is just as full coverage as the AC. its not too thick. it covers all day and a little goes a long way.

In love with this product!
This is one of the best concealers I've ever tried! It's super pigmented, with extreme coverage- A tiny bit really goes a long way!
It's very blendable, and helps to create a flawless face.
I use the small pencil is comes with as a highlight under my brows, sometimes!

Christine R.
Mar 15, 2012
Awsome!
My new FAVORITE concealer! I first heard about this concealer here on beautylish in the talk section, someone recommended it and showed a before and after using the product, and it look really good. I couldn't believe that a cheaper brand concealer had that great amount of coverage and looked very creamy. So I decided I should go to WAL-MART and pick myself up a tube. When I got there the first sign that this product had a chance to be amazing: there was only one left on the shelf ( luckily in my colour) I got home and tried this; OMG! It is amazing. And the price (5.98) totally worth it. I am so glad I picked this up, its my new favourite, covers my under eye circles perfectly and blemishes too. I'm in love <3 =D

best concealer i ever used!
This concealer is just amazing!! I have terrible dark circles so I'm always on the hunt for a good concealer and this concealer ended it. This concealer actually can be a bit drying but a little moisturizer could fix that.I use the concealer pencil to line my lips when I wear a bold color. I don't recommend this to people who have wrinkles though since it will exaggerate them. I got this for $6 at walmart..pretty cheap and you get a lot of product too! You don't even have to use a lot of product. I purchased this in the shade medium (i am about nc25-30). The only downside is that this comes in only 3 shades but lucky for me medium matches my skin perfect :) I actually like this better than my other concealers and those cost me $20 each!!

amazing results!
I absolutely love this concealer!! It's amazing how much coverage it gives my dark circles with just 1-2 small dots. & not to mention I love how budget friendly it is! I'm glad I found out about this one before I went and tried to purchase Kat Von D's tattoo concealer! Check out my pic of my eyes one with and one without this concealer here: http://lifebeyondbase.com/?p=1225
---