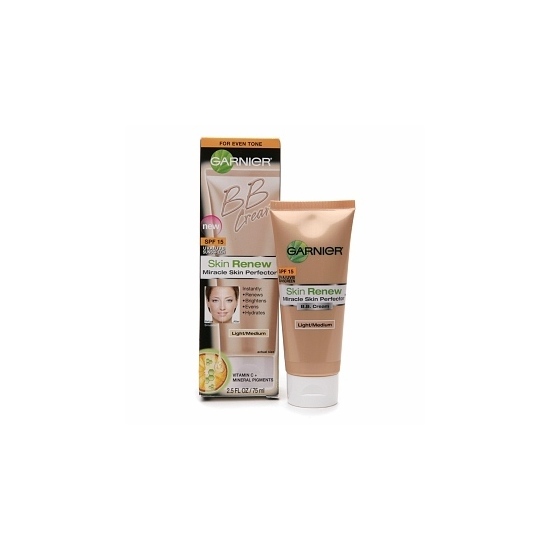 Rollover image to zoom
Reviews

No Longer Available D.
Feb 02, 2012
My NEW Love!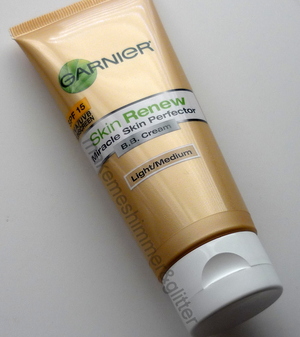 I am in love with this BB Cream. This is the first time using such a product. This product is great for those days where you don't want too much coverage. I've always wanted to try it and when I received it in a swap I was so excited. Loved it from the moment I put it on. I either apply this with my fingers or my CS duo fiber powder brush. Most of the time I use the brush though as I hate applying any foundation with my hands. This product seems to be like a tinted moisturizer. It's on the thick side. I don't need to much when I use this. I love that it comes with quite a bit of product. I also like the fact that this doesn't feel heavy on the skin. It really does even out my skintone. Leaves is looking amazing! There is a scent to this which it doesn't bother me but those who are sensitive to scents this product may not be for you as it may be a little strong. But it doesn't stink. It has a fresh smell. I have used this with a powder and without. I love it either way. It doesn't leave my fave feeling greasy or looking greasy. I love that it has SPF in it, this is going to be great for the summer. I know some products that have SPF in it can leave a white cast on your face. With this, it doesn't do that. I have pores but not huge and this really minimized the look of it. I feel like this products hydrates my skin so well. It has made my skin look and feel smoother. I love how it brightens too! I would definitely recommend this product! I will definitely be buying this product as soon as I run out of this one. You can find it with the rest of the Garnier products in the stores. It's not in the makeup section but in the skin care isle.
The down side, is the color selection. I've only seen Light/Medium & Medium/Deep. So not much. I found that the Light/Medium worked out great for me. I am a 125 in the MUFE HD foundation for reference.

Absolutely Love this-Dry Sensitive Skin
I have been using this for about three weeks now, everyday, and I love it. I find the best way to use this is to put a moisturizer first then apply one layer with my fingers and another layer with a flat top brush. It gives very nice medium coverage and I always set it with a translucent powder. I don't recommend this for people with oily skin as it is very dewy but for those with dry skin its a wonderful product.

My First Review - How Exciting!
Hello Beautylish! This is my first ever review of.. well, anything! So apologies if it's sssshhhhocking and I promise I will never write one again. :)
I've been using Garnier's BB cream for a few months now and I can honestly say that I couldn't live without it and it has become one of my essentials, I've even replaced my regular facial moisturizer with it and I use it as a primer, I just think it's fab! As an ex-acne sufferer I am very self-conscious when it comes to my skin as I was left with a lot of scaring on my cheeks, so I would never have dreamt about leaving the house without any foundation on what so ever, I mean I even use to apply it when the only place I was heading to was the gym.. I know right? But what I love about this cream is that even though it's so light weight that it gives me the feeling that I'm not wearing any make-up (so I no longer have to feel silly about putting it on before going to the gym or nipping to the shop!) it's still enough to give me the confidence to just apply a quick, thin layer of it and feel like my imperfections are covered up enough for public display, while giving my skin a nice healthy glow! It also leaves my skin feeling soft and hydrated without being the least bit greasy, so please don't hesitate to at least try this product, I promise you will love it, you have my word!
Thank you for reading! :) Simone Kelly x

Great first BB cream
I have been really into the idea of BB creams for awhile now, looking up brands and researching them, via internet. I knew this bb wouldn't be as amazing as some of the Asian BB creams, so I wasn't starting out with the highest of expectations. When I purchased this, I realized how small the tube was in comparison to its box. On the shelf, you expect the product to be larger, like the box its housed in, but that is not true. Price wise these are a little pricey, which was another mini bummer. Online these bbs look much bigger, but again, most bbs might be similar in size and content, no matter how big they look in ads or on the internet. I really like Garnier skin care products and have used one of their special dry skin lines consisting of a cleanser, gel creme moisturizer, and daily moisturizer with spf, so I trusted Garnier to make a pretty decent bb. The packaging is super cute, although you only get 2 and a half fluid ounces. The cap and squeezey hole dispenser is really nice, but can get messy and one needs to be careful to not squeeze too much out of the tube. I have the light/medium shade. I like the fragrance, although its kinda strong- but as I've said I really like Garnier products, so this parfum was familiar to me. The product is thick, creamy and appears very pigmented. I love the smooth application too- the cream goes on so silky and smooth and I rub it in like a moisturizer. It has no drag like some TMs do with SPF. I feel like I'm using a decadent facial cream. Coverage wise, these are alright to pretty good. I have to use three hearty squeezes of product to cover my pores (my bell weather of knowing how good the coverage of a product is) and even with three dollops, redness still shows through and dark circles are only slightly minimized. The product feels so thick and looks very pigmented, but the coverage is sheer- although buildable. With some concealer and finishing powder, this product makes a good substitution/dupe for foundation. I like the subtle glow and gleam of the product and its smoothness on my face. I don't mind the dewey look, and that can be cut down with some powder. All in all this is a pretty good BB, with a few minor drawbacks. I still want to try more though, especially the more popular Asian BB creams.

Pretty Gossip c.
Mar 20, 2012
Great value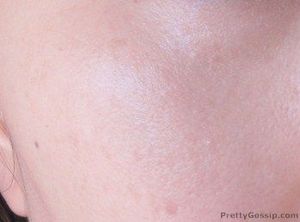 - Sheer coverage - 2 available shades tends to be on the lighter side - Thicker/moisturizing formula great for dry skin - Overall: Great product and value. Recommend for sure if you have dry skin. Formula tends to be a bit thick. - Be sure to use sunblock because Octinoxate, used in this product, protects against UVB rays and titanium dioxide (oxide) is used to protect against UVB and short UVA radiation. Unfortunately, long UVA rays are responsible for sun damage and aging. So, please be sure to apply a separate sun block with broad spectrum UVA and UVB protection. - Sensitive Eyes- 2 out of 5 times I used this product, I noticed that my eyes got watery and slightly 'bothered' for the first 5-10 minutes. Sadly, I think it's the fragrance. It's not bad enough where I would stop using the product… but just thought I'd note.

horrible for oily skin
To me this just felt like a tinted moisturizer with slighty more color. When I first apply it and set it with powder, my skin actually looked really nice and the coverage was pretty good. After about an hour, my face was a disgusting oil slick and the color began to bleed of my face. As far as smell goes, I actually like it a lot and I think it smells pretty. This product might work well for normal skin, or maybe even combo skin, but if you have oily/acne prone skin like mine then I suggest you stay away.

STRONG scent and lack of shades
I dislike how this has such a strong scent and there is not enough colors. It did not match my skin tone and I just could not handle the smell of it, I had to return it. I now use Clinique's BB Cream and I happy with it so far.

Mary Anne M.
Jul 05, 2012
Asian BBs Promise More
I obtained samples of this from an allure magazine and was excited to try it after I had heard that it was a top-selling BB cream in Thailand. I tried both shades available, and after applying one after the other, I was so disappointed that I washed it off not even 5 minutes later. (I don't think the formula is the same as the Thai Garnier BB.)
I am a little biased since I have already used traditional Asian BB creams from brands like MISSHA, HadaLabo, Skinfood, and KATE, but I'll agree with one of the reviewers, this feels very much like a "glorified tinted moisturizer"—it looks and feels nothing like the traditional Asian BB creams, and is so sheer once patted and blended that it felt like it just disappeared off my skin by the time I was done.
The one thing I disliked the most about this "BB cream" was that it was also very shiny! This is fine if you have dry skin that could use extra moisture and a dewy radiance, and you lie in more of the medium skin-tone range. And you already have blemish-free skin! But if you are like me with oily skin and a few blemishes that need a concealer, I would look into Asian BB creams instead which tend to be paler but can be mixed with deeper foundations anyway, and they have better coverage and different finishes. After all, "BB" originally meant "blemish balm."
Garnier should have just called this a tinted moisturizer instead of trying to hop on the BB bandwagon. But this seems to be common for "BB creams" sold in the American market, often lacking at least one characteristic of the traditional Asian BB cream.

This is my HG for day I want to wear less makeup. It blends out beautifully. It evens out my skintone and looks gorgeous one the skin! I've used both the normal and oily skin one but prefer to use the oily skin one in summer as it dries to a nice natural matte finish! Definitely will be repurchasing.
---