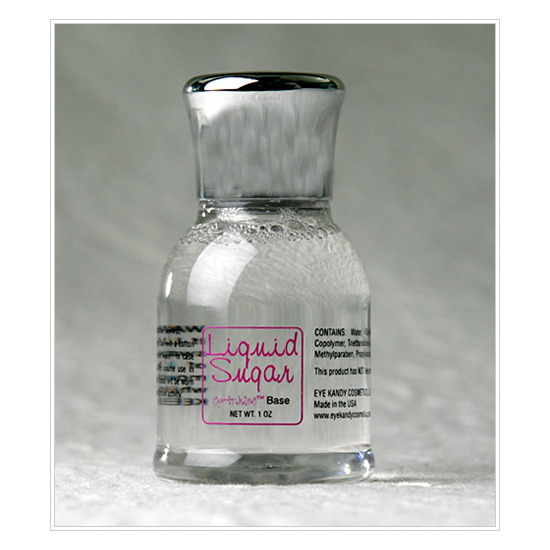 Rollover image to zoom
Reviews

Love it!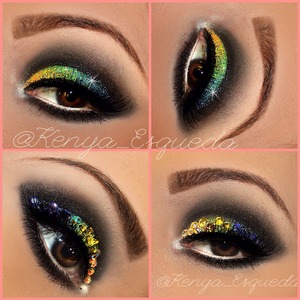 I use it all the time for my looks with glitters. Stays all day and it's easy to use. You just have to damp the brush so little as too much liquid sugar product can create the glitters to be too disperse. What I do I damp the brush then remove some excess in a paper towel then apply the glitters.

Not my favorite....
Last year at IMATS NY (2012) I purchased 3 glitters, and this came with it. It is most DEFIANTLY water based. Thats why I would skip it. When I wear glitter, I generally am placing it over shadows. The base actually can remove existing shadows if your not careful :/ Also, this might just be me, but this formula makes my eyes tear EVERY TIME!!! My opinion? Skip it.

affordable mixing medium that seals loose eyeshadows very well!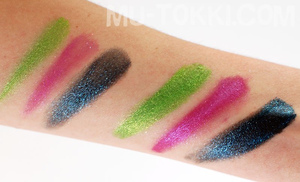 Liquid Sugar is a water based sealer that is safe for sensitive skin and contact wearers which are both big pluses for me. It is odorless, looks and feels like water and dispenses into droplets to prevent spillage. At 17$ for 1 oz, it is affordable and works really well with applying products wet for more lasting power. I don't particularly like using it with glitter, but absolutely love its staying power with loose eyeshadows. You don't need to use a lot when you apply, so it will last a while too. Since it's hard to swatch something that just looks like water, I decided to use some Sugarpill eyeshadows. In terms of pigmentation, Sugarpill totally rocks even with dry swatches, but with Liquid Sugar, they become so much brighter. Applying wet is smooth and the application dries pretty quickly. I did find that Absinthe applied with Liquid Sugar stained my skin after removal though. Attached is a photo of dry and wet swatches of Absinthe, Birthday Girl & Magpie for comparison.
---