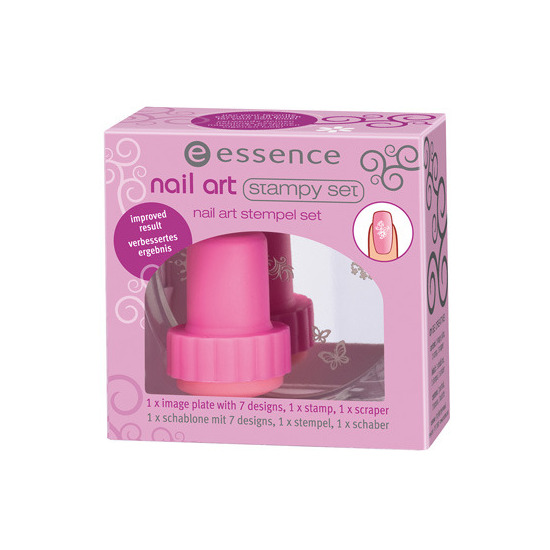 Rollover image to zoom
Reviews

poor with design
I got this quite a while ago and at first I was quite unable to manage with it it came with only 1 image plate that has only 7 designs nail polish didn't come of the plate when I was using the scraper and when i took it on the stamper it wasn't the right shape After a while I bought a konad one and tried essence again with konad special nail polishes and again it didn't work so I have to say I like konad way better than essence

Easy to do if you follow the instructions
There is the potential that the design won't stamp onto your nail properly, but I just made sure to follow the directions and press with the stamp really hard to get all the polish, and I was able to make a really cute design! I've only tried the bow, the small flowers, and the polka dots, and they turned out lovely.

I purchased this a while ago and I think it was a good buy for the price. The stamper and scraper are all fine, but I don't like the image plate very much (The design wasn't deep enough for me and it came out sheer). They do sell a lot of other ones that might be better, but the image plate from the set discouraged me from buying another one.

I think the essence stampy set is pretty good, for not a lot of money. There are a lot of image plates now, and they are all the same price and the same quality. Now there is also a special stampy polish and it works good. I think it is worth the money. But I do think the konad set is better.

cheap, doesn't work all the time
I bought this a while ago, because it was cheap and I've been wanting to try this stamping thing out for ages. But it didn't work for me as well as I hoped :(. Sometimes the design would go on my nail perfect, but most of the time you don't see anything. So I think I'm going to buy the konad set to try this out and see if this works for me better!
Francesca M.
Nov 01, 2011
I bought one of these a month ago, and I was excited to get one. When I got one I didn't expect it to be that small, but however it takes up a lot of patience and time to actually scrape the paint of the nail polish from the plate. But however I like this, just wish the scraper of the stamp is a little bigger.

Well I've heard great about it, and I was excited to get one. When I finally did, I couldn't do it, it didn't end up looking good. Sometimes it doesn't paste on the nail and I don't know why, maybe it's not deep enough or it dries too soon. There's just one image which works but it doesn't look with just any color, it has to be really dark.
---