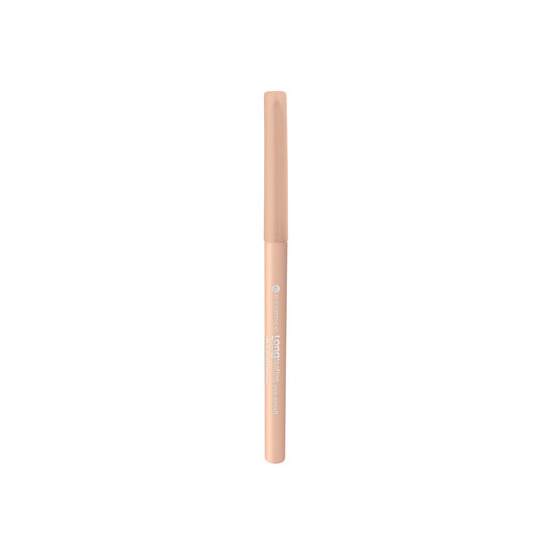 Rollover image to zoom
Reviews

Palest pink for wet line!
I like using a white pencil *on* my wet line, to make my eyes pop (and to look a little more awake in the morning). But the white has been bothering me because it looks too stark, so I looked for another option today at Ulta. And I found this $2 pencil by Essence, in "Almost Famous" which is a very light, pale pink. It's just a tad lighter than my wet line itself, so it works perfectly!

I have 3 of them : Cool down , C'est la vie and Think khakhi. 1. Cool down : nice color , i always use on my waterline when i do blue makeup, Theres no smudging ... its cool
2. Cest la vie : I also use this color on my waterline to make my eyes look awake. It would b better if it has less shimmer but it lasts so long.
3. Think Khakhi: I use this color less than the others 2, i just use this color only when i dont want my makeup look too intense.
but all of them got very good properties which are;the texture is soft so theres no worry when i use on my waterline,They last so long when They set ( takes around 15 secs) and the price is so cheap its only 3 USD in Thailand .So i love this product

Surprise Surprise!!
Was skeptical with the long lasting label with the price at first but it lasted quite well!! My shade is Have A Green (bought from Australia) and it has glitter, which surprisingly dint have much fall out! It's superrrr cheap i wish they have more shades though

I own three eye pencils from this line: 11 Go Wild,16 Coolect Chic and 09 Cool Down. I really like these. They don't smudge,they are longlasting and they just glide on. Very easy to use. I didn't expect an amazing eyeliner for the price but when I tried one I had to go back to the store and get some more. Definitely recommend.

Stephanie T.
Aug 18, 2011
when i saw this i had to try it! i needed a flesh tone colored liner for my waterline! i have a medium-medium dark skintone so white just looked too harsh on me. i heard of the stila liner in topaz but i just cant justify paying that much for a liner. so when i saw this i thought it was worth a shot! for the price its pretty good. it has a slight shimmer to it and it makes me look awake and refreshed! only thing i would change about it is that i wish it were creamier. other than that its a great product! i also have this in the emerald green color for the "pop of color" look. its gorgeous.
---