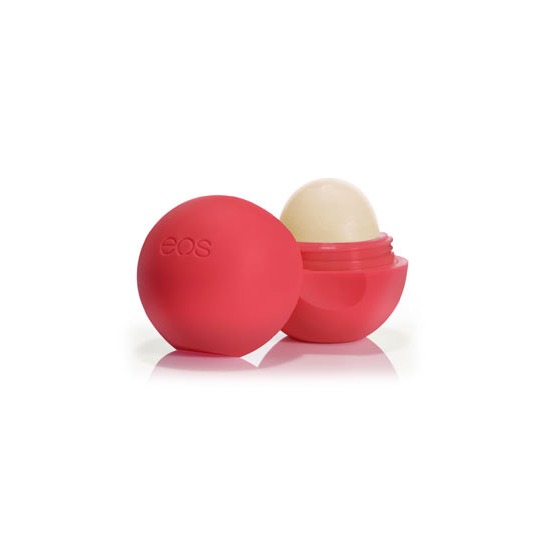 Rollover image to zoom
Reviews

I LOVE EOS lip balms. They're a great conversation starter, I've gotten my friends addicted to it, and they add fun to applying lip balm.
Price: - It really depends where you go, but they're + or - 4 USD - Very reasonable price for the amount of balm contained and the architectural shape.
Packaging: - There's more than just the Smooth Sphere lip balm in the EOS lip balm range, but this is just the most common. - It has a good, grippable, softer than rubber texture making up the outer container. - - CON: This texture can also get a little dingy, if you live a rough life. However, the packaging is very much durable and it won't affect the shape of the lip balm unlike twist-ups or the ones that need to be applied with a clean finger. - Unisex Packaging - It doesn't look girly or manly. It just looks cool.
Quality & Formula: - For those of you experiencing dryness or short lasting time with the formula, that's because it's probably been in a very cold area. I find that the balm works best when just a little bit heated up & when I say "little bit" I mean - don't put this in your microwave. -- How to heat it up? o1) You can either warm it up on the back of your CLEAN hand (once you feel the balm actually putting product on your hand and not just rubbing against it - it's good to use). o2) Use a hairdryer or your a/c for a few seconds and when you apply it, you should feel the moisturizing effect. - The formula is a bit thicker than normal Chapstick, but less than that of a lip butter. If you like that lip butter feeling, let it heat up for longer and it will go on thicker. - Each of the lip balms contain SPF 15 - There are limited edition ones that come out, but the usual sold in stores are Summer Fruit, Honeysuckle Honeydew, Lemon Drop, & Sweet Mint. I think they all smell great, but I like Sweet Mint the most. - The formula lasts longer than normal Chapstick both product wise and application.
Other pros: - It's great for kids. I gave my little cousin this and he loves it. He's in that stage where he refuses to do anything that's the slightest bit girly, but for this ... he'll make an exception. He loves showing it to his classmates.
Would I recommend it? Definitely! I've gotten almost every single flavor that's come out and my friends are addicted to it. :]

These are great if you like rubbing candles on your lips.
Seriously, I feel like I'm the only one who hates these things with a passion. I don't get why people love these. I hate these things. When I used mine, it made my lips drier, painfully so. I felt like once applied, I had to reapply because they weren't moisturized at all. Seriously the only thing going for it was the packaging. That's it.

Good stuff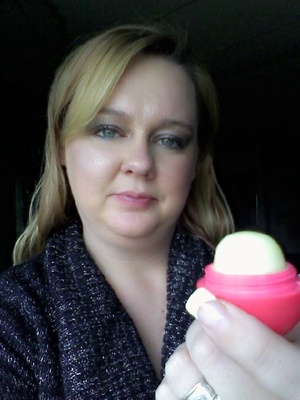 I like this lip balm because it is not greasy. It leaves a thin coat of lip balm on your lips that is so light and airy. I picked mine up at wal mart for about $3 aprx one month ago and I see it lasting me another 6 months. I love this stuff and am excited to try the other flavor that they have.

Great for dry lips!
I am addicted to EOS lip balms. I have almost all of them, and they work fantastic. The only drawback for me would be the fact that they're a bit too hydrating. It almost appears as though I'm wearing gloss, and whenever I try to apply lipstick (I've only tried this with my MAC lipsticks), it just kind of slides off. Best advice to girls who don't suffer from dry lips, use sparingly. A little goes a long way.

An Adorable, Fun Lip Balm!
I was initially draw in to the adorable packaging of this product! I purchased the sweet mint sphere which smells amazing and tastes great!! Sometimes I just take it out to sniff it (no judgement, please)! It moisturizes like any regular lip balm, so I wouldn't say that it's anything special in that regard. The flavor and novelty of it is really what makes it stand out. And though the packaging is super cute, it can be inconvenient to carry in smaller purses or clutches. Overall, it's a really fun product!

Alright...
When I first got the light blue ish one (mint I think...?) I was in love with it and I bought every colour I could find. Then I took a break from them when I bought a new baby lips (maybelline). I've started using them again recently and sadly they aren't quite as moisturizing as I remembered. I still like the applicator, and the colours but the lip balm itself is not worth the hype.

Fun, but not worth my time.
The EOS lip balm is a very interesting product! While fun to apply and to look at, this just wasn't a very reliable product for me. I purchased the minty scented/flavored balm and I will give it credit for soothing my lips. But hydrating them? Not at all. I found myself having to re apply it many many times throughout the day, which was rather annoying to me. Perhaps my lips are just a bit too dry, but I do not see myself using this product again in the future.
Not for chapped lips
After seeing numerous videos on YouTube about the EOS lip balms and having the Lemon Drop lip balm recommended to me by several people, I bought it.
I found it to be a below average lip balm that was smooth and glossy, but had no lasting power and seemed to just sit on my lips, rather than hydrate. The smell was okay and the packaging is unique.
In the end, I feel that the hype was all about the packaging because I found it to be just a slightly below average lip balm.

Not into the hype
A cool container is not enough to disguise a mediocre lip balm. These did nothing for me. I put it on, and it just sat ontop of my lips. And hour or two later, I felt the need to apply more lip balm because my lips were dried out again. Plus with the odd shape, once you get about halfway through it, the product just becomes awkward to use and apply. Cute idea, but you're better off purchasing something that actually works.

YOU CUTE LITTLE THING YOU
I've loved EOS lip balms for years now because they come in adorable packaging and are super moisturizing for my lips. Now before I rave about how miraculous these little things are, let me just say that these lip balms don't necessarily work for everyone, based on some of the reviews. However, the mistake made by many which could be why it doesn't work for them, is that a lot of people don't exfoliate their lips. There, it's that simple. Now I'm not saying exfoliating your lips before applying EOS lip balm is how the product is supposed to be used, but it certainly resolves the issue of the lip balm "sitting on top of your lips and not moisturizing them," which some reviewers claim. I have found that exfoliating my lips with a lip scrub before applying this miracle product gives it maximum effectiveness and really allows my lips to absorb the moisture. Another way to ensure success in the performance of this product is to warm it up a bit on the back of your clean hand so that the lip balm applies with a creamy texture. I apply the sweet mint EOS to my lips every night before I go to bed, and I wake up in the morning with smooth and soft lips. Let's get to packaging because let's face it, half of us bought this lip balm based on its eye-catching and absolutely adorable design. The packaging is made of recyclable plastic with a soft rubbery feel and has a screw-on cap. It has a flat bottom so it can stand on a surface without toppling over and also has a thumb indentation for easy opening and closing, but best of all... it looks like a little egg. EOS lip balms are in the shape of a sphere, which makes the product oh-so-adorable and easy to spot in the drugstore. While the packaging is super cute, my only complaint is that the spheres may be inconvenient to carry in smaller purses or pockets. The price ranges anywhere from $3-5 depending on where you find it, but it is available at most drugstores. This clear lip balm comes in many flavors, sometimes limited edition, and also the normal line which includes pomegranate raspberry, summer fruit, strawberry sorbet, medicated tangerine, lemon drop (which has spf 15), honeysuckle honeydew, sweet mint, and blueberry acai. EOS lip balms are well known for their spherical shape, but they also have smooth sticks which come in tubes in the following flavors: pomegranate raspberry, vanilla bean, and sweet mint. These lip balms are 100% natural and 95% USDA certified organic. They are gluten, paraben, and petrolatum free. They aren't tested on animals and can be recycled. Not only are these EOS lip balms good for the environment but they're great for your lips too! The lemon drop flavor contains spf 15 which is great for summer, and the medicated tangerine flavor contains methanol which deeply conditions and repairs chapped lips. Overall, these lip balms are my favorite because they apply smoothly, have good staying power, smell delicious, are good for you, moisturize your lips, aren't waxy, and make great conversation starters when you pull them out of your purse!
---