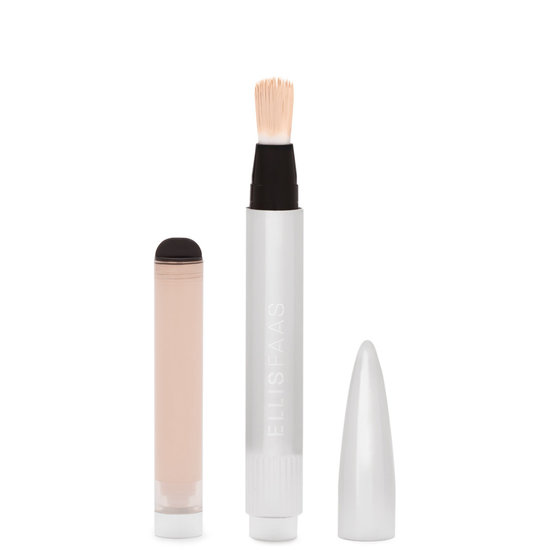 Rollover image to zoom
Reviews

Very Skin Like
I think I may actually be in love with this foundation. It's really creamy and looks like skin when applied. At first I was worried about the neutral look of the sample that Melanie sent me, but upon blending it became a bit more golden-yellow toned. But it unfortunately doesn't lean yellow enough for me, and surprisingly 107 is almost a shade too dark for me at the moment as I became visibly darker after putting it on. It might be the perfect colour in the summer though and of course the colour could be corrected with powder if I wanted to work for it since its sheer enough. The wear time is about 5 hours for me and I didn't get oily, it just sort of faded out.
If not for the weak undertones and colour, I might be able to work with it, but I think I'd have to go up one shade and 106 seems too light, wish there were a shade in between cause I really like the feel and finish of this foundation. I may still get it for the summer since it's light enough.

Team
Travel perfection
Recently, I've become obsessed with traveling light. As someone who doesn't enjoy clutter I've started to condense my make-up bag when I'm boarding a plane so I can fit all my stuff into a carryon. I don't care about the baggage fees, it's mostly the hassle of claiming your baggage. I want to spend as little time in the airport as possible! Instead of carrying an entire bottle of your favorite foundation, this little pen will dispense what you want and not break any liquids rules with the TSA. It's the exact same formula of Ellis FAAS's Skin Veil foundation. It's also a great starter if you're not fully committed to a full bottle yet! I keep this in my purse in case of touch-ups but mostly I try to save it for travels!

Ethereal.
This is one of the prettiest foundations on the skin that I've ever used. There is not a lot of coverage. You can build it to almost medium. I don't really see shimmer in this but once it is on my skin there is a pretty, youthful glow. I have combination skin and find it to wear very well. It doesn't move into my pores or fine lines. I like it enough that I feel the larger bottle is definitely worth the cost once I use all of the wand. Word of advice on using the Ellis Faas Pens. Every click you make to get it started must be done with care. If you get in a hurry or lose patience and start making multiple clicks all at once the product will catch up eventually and it will over dispense out of the brush. Be very careful. It's expensive and you won't want to waste a drop. It does come with an extra bullet of foundation which is a plus.
---