Studio High Definition Powder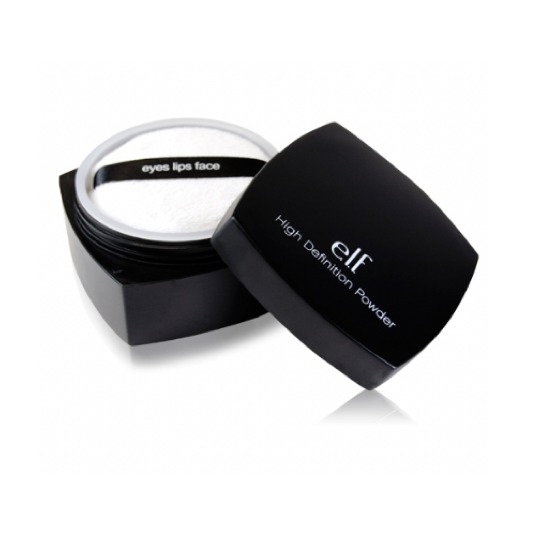 Rollover image to zoom
Reviews

Great quality and money saver!
This has been a very popular powder for the past year or so in the beauty community on blogs and in YouTube videos, and I can honestly say it's been a very popular powder in my personal beauty routines. I won't jump into it too much, as I'm sure you can find a million reviews on this product by now. I will say that this powder is smooth, translucent, perfect for setting mineral and liquid foundations, doesn't leave a white cast, doesn't reflect light during photography AND it's crazy affordable! At $6.00, you get 8 grams of product, and it lasts for what seems like forever. I've owned mine for a little over a year and it's still got a lot left. It comes with a puff applicator, which I used at first, but since you can't clean it or even buy a replacement from ELF, I just use a powder brush or short handled kabuki brush to apply it now. ELF does sell thinner puff-like pads, but they are a bit too thin for my liking - at least for this product anyways.

Violet likes DM S.
Apr 30, 2012
I am in Love...
With this powder! Bought it last Friday after reading about it here and all the great reviews. I found it at my local Target for $6 and wore it Saturday morning over my foundation. After a long day out I usually have to blot the oil off my face and apply powder but not after using this. It kept me looking fresh and polished and I could't be happier with it. I did use the puff it came with and really like it. I read on here to pierce some of the holes with a needle to prevent too much powder to come out, did it and works great. So happy I found this before the yucky summer months.

Tina Marie C.
Oct 16, 2011
Great finishing powder
I use this powder after applying foundation and it makes my skin look absolutely flawless. My skin just looks a lot smoother and more even. The powder is really fine and can get pretty messy but just a little bit of this stuff goes a long way. I do hate the white cast it leaves on my face but once it has time to set in then it looks fine. I only wish it lasted longer since I have oily skin but other than it's a really great product and very affordable.

multipurpose!
I do not use this to set my foundation because my foundation doesn't need setting (I use a beautyblender to apply Revlon 24 hour colorstay). My skin is normal and I use argan oil as a moisturizer but the foundation does not budge! I do, however, use this powder to set my lipstick! Best stuff ever! I make sure my lips are moisturized, apply lip liner, apply lipstick, dap this power on and press my lips together to make sure it really sets the lipstick in, and then apply another layer of lipstick. Long process--totally worth it in the end. I minimize touch ups and end up using less lipstick (most of mine are high end).

Soft focus effect for the face
Elf High Definition Powder is a talc-like translucent powder which helps provide a flawless finish to your make up leaving skin matte, smooth and ever so soft. If you're unfamiliar with the brand, e.l.f (Eyes Lips Face) provide great value make up with HD Powder under their Studio line costing £6. I'd bought it after hearing so many great things about it and after considering the different brands of finishing powder on offer which were around £20, decided this was definitely worth a go.
While the HD powder is designed for use when filming in high definition it's certainly not restricted to it. I did have filming in mind when I bought it looking for that 'soft focus' effect but have found myself using it over my everyday make up for a more flawless overall look and as a primer or finishing powder to help set my make up helping it last longer.
When it first arrived I was surprised by the quality of the packaging. The outer cardboard box gives it a high value image with the powder itself in a very sturdy screw lid tub with a lovely little powder puff applicator provided. To save wastage during travel there is a sticker over the sifter which isn't too difficult to remove. The sifter can also be removed so the tub can be reused. While it doesn't look as though there is much powder, it's surprising how little you need to use and with regular use over the last few months, I still have plenty left.
My worry when I first saw the powder was it was awfully white so I had visions of walking around looking like a mime but in fact, I needn't have worried. After applying my make up and giving it a few minutes to let it settle, I found the best way to apply it was to tip the tub to let some of the powder onto the puff then rub the puff over the sifter rather than the edge of the tub to ensure the excess went back into the tub. This is my main reason for opting for the puff over a brush. With a brush I find the powder tends to fly off with the brushing action whereas the puff provides good coverage without losing any of the fine dust as it's dabbed on. The results are instant. With Dimethicone/Vinyl Dimethicone Crosspolymer and silica it leaves my skin smooth, soft and matte without a noticeable colour difference.
Even though I'd have foundation, blush and bronzer on, applying this powder on top doesn't make my makeup feel heavy. The powder makes my skin very soft to the touch and although my skin can get oily on my T-Zone, this helps to control it. My cheeks on the other hand can be dry but the powder doesn't leave it feeling tight although I will always apply a moisturiser before my foundation. You can apply the powder without make up underneath but I don't tend to do this as it won't cover blemishes or give me an even complexion - I just don't have flawless skin to be able to get away with it. The other way I tend to use it is as a primer applying the powder first before powder foundation and powder blush/bronzer as this method won't work well with cream/liquids.
The powder is incredibly fine getting into all the pores and fine lines reducing their size for a more flawless finish. There is definitely a 'soft focus' effect and it does 'mask fine lines'. I wouldn't quite say it goes as far as a 'radiant complexion' though. While it works extremely well for HD filming, I've had to be careful with flash photography. With some liquid foundations (mainly my MAC Pro Longwear) I found it can build up too much of the powder so it can make me look extremely pale with the flash of the camera. This problem is limited though as I use a range of liquid foundations and found the results do differ depending on how wet they are after application. It's not been a problem in photographs using natural light.
Although I have been dabbing the puff rather than wiping it across my face, there has been some make up transfer so I will clean this every few weeks. I always make sure I remove my make up as early as I can although I did ask if it is non-comedogenic. Elf replied saying it's not a pore blocker or absorbed by the skin and I haven't had any adverse reactions - no breakouts etc. I have carried this around in my bag when travelling and there hasn't been a problem with powder flying about as the puff acts as a good barrier to prevent this but I would always try keeping it upright.
I do love this powder and think it's a fantastic price. I'm not a film star but with the increasing popularity of video cameras now producing HD content I do like to aim for that flawless finish to my make up which I can now afford to do day-to-day. It's available to buy on the e.l.f website but means paying a little extra for postage. It's worth keeping an eye on their Facebook/Twitter pages though as they do have regular promo codes offering discounts and free postage.
The High Definition powder regularly sells out and was sold out when I wanted to buy it. I added my email address so I'd receive an email when it was back in stock which only took a few days. It then took 4 working days to be delivered from the website.
e.l.f. don't test their products on animals. PAO 6 months
Its an amazing inexpensive product that works wonders on all skin types. I have dry skin so i usually like a dewy finish but when going out dancing with the girls and i want more of a matte flawless finish. It works wonders!!!! Caution use a light hand ... with this product a lil goes a long way... if you use to much u'll look like a ghost or a vampire... but hey if that's the look your going for, by all means lol

This powder is so nice because it tones down darker foundation. It helps me transition my summer foundation into fall because it eliminates any orangey-ness that occurs as I lose my tan. It helps mattify your face as well, without being too cakey. I also like to put it on later in the day to prolong my makeup into night time.

Jacquelyn Marie H.
Aug 26, 2011
Best HD powder for a GREAT steal! lol.
This setting powder is AMAAZING! and leaves the skin looking flawless. A PICTURE perfect finish. Used this for the first time at a Cotillion, for their pictures with the photographer. And they all looked glowing, skin tones matched, and they all looked airbrushed. Exactly what i need as a makeup artist on a budget<3

definitely worth the money I spent. :)
I ordered this powder not too long ago from the ELF website and I must say that it works really well. I got rid of the little pouf included with the product and instead am using a kabuki brush (which I also purchased from ELF) to apply it onto my face. I definitely recommend using a kabuki or powder brush to apply it instead of using the included pouf. This product blends all your face products you used (foundation, bronzer, blush, etc) and gives a flawless effect.
The only downside to this product is that the container feels cheap (it's lightweight plastic), which I suppose isn't that big of a deal as long as what's inside is good, which it is :) It's also a little messy, but what works for me is that I place my kabuki brush over the sifter holes, and while holding it there, turn the container upside down, then back upright, tap off the excess, and then it's ready to use.
---