 Rollover image to zoom
Reviews

It's Great! I would buy again!
I wore the purple/plum one to my mom's anniversity and i had a violet look inspired by the miss thatssociciyo and the base made is amazing...the liner didn't melt...because partly i set it with a powder and my lids didn't crease. I think that the fact that i double prime then base had a role in the life of my look. Its creamy, i love it and for $3 i will buy again! Also i think tha these have the same concept of the nyx jumbo pencils...Don't apply to much or it will crease...also i ment to click 5 stars!

I Like it...
I like the combo of a dark plum and light purple. The light purple looks super natural on my lids. I like to set it with a shimmery lilac shadow. The eyeliner is great! I Love the color! It's very smooth, but the only problem is it doesn't last long unless you use a eyeshadow to set it. Other than that, it's great! I want to try the Pearl & Glow one too. Maybe good for highlighting.

Plum Purple = Fab Love
I absolutely love this product. I have it in the plum/purple shade and I just want to own every other shade after the experience I've had. First off, the eye shadow stick is really sturdy, which is awesome, and applies easily to the lid. And once it's on, it's on!! I never have a problem with creasing (I use the ELF primer side of the concealer/highlighter duo). You get plenty of product on the shadow side.
There isn't a super whole lot of product on the liner side and, if you forget to retract it all the way back before capping it will get smashed. It's my fault I keep forgetting that, haha. But the liner is a subtly gorgeous shade of deep purple and I love using it along with my normal black eyeliner for a duo-colored look. Because I do this, I don't end up using as much of the liner, so I don't find that I run out of one side before the other.
Amazing product, amazing price!!!

Quite Impressed
I was in the market for a shadow stick that I could use as a base over shadow. I have used different shadow sticks as well as grease sticks from different companies so I was kind of skeptical about the products because they were only 3 dollars.
I am super impressed with the shadow stick of the product. It's nicely pigmented, blends nicely, and lasts long. I am sure if you have dry lids you won't have a problem with creasing on their own, but if you have oily lids then throw on a primer before. The eyeliner part of the duo isn't my favorite, but if it does word and it is pigmented. My only problem with the product is the packaging. I got a shadow stick that had a faulty cap on the eyeliner side and it does get quite annoying.
I am hoping that e.l.f expands the line and gives us different colors to choose from. This is definitely a keeper.

Best quality for less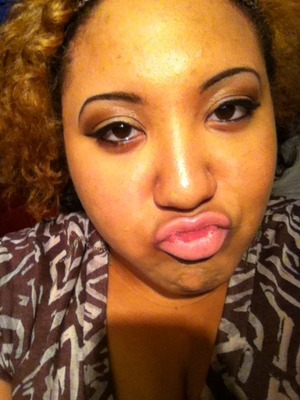 This liner sticks to my lid like glu i use i t for my water line and my lid jus like liquid liner and it gives the same look! its so many drug store liners that are good as well but they cost a arm and a leg and hand and feet lol. this is only 3 bucks and it does the same job if not better. the color is sooo pigmented i was so shock im so in love with elf cosmetics!!!

Great for highlighting!
Not only is this product super inexpensive, it is multi-functional, and is so simple to use. I use the shadow side essentially as a chunky eyeliner. I run it under my eyebrows, in the corners of my inner tear ducts, and have even smudged it on my cheeks as a great highlighter. I also tend to use the eyeliner side to line right under my bottom lash line to make my eyes appear bright and beautiful. It glides on so easily and lasts me all day. I highly recommend this product! I have it in the purple colors as well and because i have brown eyes, it works wonders in really making my eyes pop!

Love this Product!
I have been really into the smoky eye look, so this is actually a really good gift. The package comes with a shadow and an eyeliner. I really like the shadow as it is very pigmented and easy to apply on your eyes. The black also comes out really well. I like the shape of the liner pen because it is shaped like a pencil. I have used other eyeliner pen that was shaped in a blunt cube edge. This is not long lasting though. I would say it lasted for 3-4 hours.
Advantages: - 2 in 1 shadow and liner - easy to apply on - creates a smoky affect - product quantity should last a while - inexpensive
Disadvantages: - not long lasting - lack of shades
I love this product! I want to get the pearl/glow one next. I think this has potential to be big in the store since I don't think other brands have done this concept before.
Please check out for photos: http://kreamiblush.blogspot.co.uk/2012/09/review-elf-studio-eyeliner-and-shadow.html

heaven in a stick, maybe not, but it still makes me smile
I have everysingle one these. I really like them. I use the shadowstick side under my shadows in the same colors to make them pop a bit more. They don't crease for me either which is a plus because my NYX jumbo pencils always crease on me. I highly recommend these! The liner side isn't so bad either. But I usually stick my MAC liners, but these are good on the go to just drop in your purse.

Okay for the price...
I had a huge 15 products for $50 haul, and this was a surprise gift, for going over $40, I was really excited because I knew that I needed a white eyeliner. The shadow part was great as a base for bright shadows. But the eyeliner is ridiculously bad! It was dry when I first opened it, and it had almost no pigment at all!
---