Reviews

Great color selection, last long, applies smooth, not drying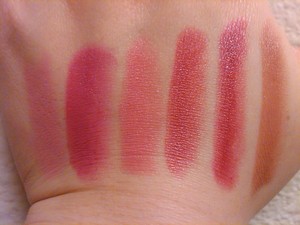 A long time ago, I bought one of these lipsticks, and ended up loving it and using it all up. Eyes Lips Face is known for their inexpensive makeup and good quality, the E.L.F. Essentials Lipsticks are a great way to expand your lipstick collection without breaking the bank. They are smooth when applying and have a matte finish - a perfect product to combine with the E.L.F. Essential Luscious Liquid Lipsticks. They come in 6 wearable shades; Classy, Gypsy, Seductive, Voodoo, Posh, Fantasy. My personal favorite is Seductive - it's a pretty natural lip color that goes with EVERY look and style! Photos and swatches below, I hope you all consider these for your next lipstick purchase :)
Swatches of all the shades worn on NW25 skin can be found on my blog: http://www.beautybykrystal.com/search/label/elf%20essentials%20lipstick

Looking for inexpensive Matte lipsticks?
OMGOSh i have every single color there is! I was looking for matte lipsticks and ran into these ELF lipsticks! they are only 1$ and it's wroth it's price! it's pigmented, and goes smoothly onto my lips(Very moisturizing!) and it doesnt have the lipstick smell! There's so many verities which I love! Definitely will be repurchasing this!

Seriously for a dollar you can't go wrong!!!
I ordered all the colors the minute ELF put these little beauty gems on their website! They are creamy, pigmented, hydrating, smell great! They would look best with a clear gloss. I think the lipsticks set to a matte finish without gloss. No, they won't stay on your lips like a long wearing lipcolor. You will need to reapply often. Posh and Fantasy are my favorites. Posh is a great wearable red with cool undertones. Fantasy is a rich mauve with brown undertones. Awesome lipsticks for an awesome price!

Love
I love these lipsticks! They are probably one of my favorite lipsticks. Something really weird happend for me. Classy used to be this light mauve pink color and recently i bought 3 different tubes and it was extremely dark and looked like seductive so i feel like it was mislabeled or something. These are cheap so it doesn't have the nicest packaging and it breaks really easy. It is creamy and sometimes the texture just doesn't feel right on my lips but once i get used to it, these are amazing. I love classy, nostalgic, and charming. Overall, I would recommend this product and try to get colors you will wear so you don't end up with a color you don't like.

Say WHAT only a dollar!!
Yes only a dollar for these lipsticks. These are really good lipsticks and are soo pigmented. These are very creamy almost to creamy because i have them melt before but for the price its not so back because you could just go get another one and not break the bank. I have tried almost all of the colors and my favorite one is captivating and flirtatious. I would say that the staying power is pretty good about a good hour or so and it doesnt dry out my lips to much!!

LOOVE! these are really great, pigmented and smooth. ,along with all of the essential products. the only downside is the packaging it is very crappy! so i recommend buying some containers to put these lipsticks in because the product in the packaging is loose. so it may get all smushed in the lid.
---