Endless Eyes Pro Mini Eye Shadow Palette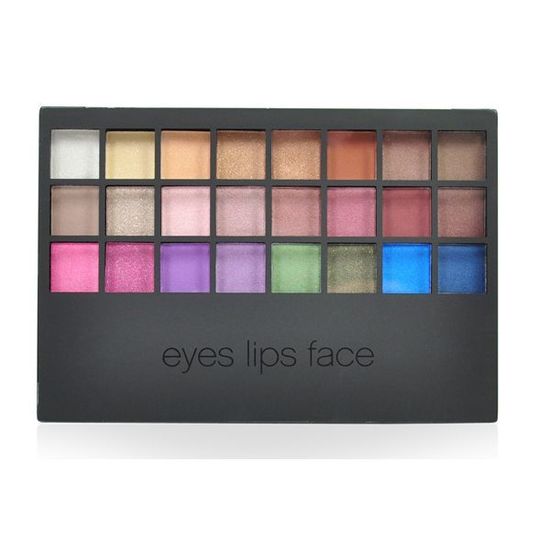 Rollover image to zoom
Reviews

My mom bought me the warm palette when I first started getting into eye shadows at the beginning of high school. The pigmentation of the colors werent really that good but hey gotta work with what you got my looks still do look flawless till this day I still have the palette and do tons of neutral smokey eyes with it!

Good product for the price
Overall, for the $5 i paid for this it was a really great palette. A couple of the shadows were really not pigmented but most of them were nicely, this is great to put in a school bag or locker for last minute things or people just starting out with makeup but I don't reach for this as much as I used to after getting the coastal scents 88 warm palette because they are of lesser quality but not by any means bad quality eyeshadows. I really like all the colors (i have the "everyday" and "brights" versions of the palette) and will probably take this traveling a lot!

$5 for the Color Selection, Maybe Not the Quality
I received the palette with cool and neutral colors as a Christmas gift a few months ago. I have also used the Endless Eyes Pro Palette that has 100 colors, but I was very disappointed with that one. This 32-color palette or Endless Eyes Mini Pro Palette, however, turns my impression around, especially for its retail price.
Unlike its larger counterpart, nearly all of the colors in this palette are much softer to the touch and are more pigmented and ergonomic. For those who have not tried out the 100-pan palette, about half of the colors required scraping work to get any pigment out of their pans. Whereas this one, I would say most of the colors are a joy to apply. The only shades that I had the most trouble applying were the darker shades that made up the right side of the palette; this is where the pigmentation and ease of use falters.
Particularly, it was the darkest neutral shades that were the most trouble applying, as these were either chalky in texture or would require scraping/scratching/scoring just to get a little pigment out of the pan. The application of the blacks and greens was also very sheer and harder to build intensity compared to the darkest blues and greens.
I myself will not be repurchasing this palette because I am in need of well-pigmented shades that don't break wallets. However, if you are on a budget and are looking for a good cool palette, I would still recommend this as most of the colors are still very good for what you pay. One work-around for this palette if you have problems applying any of the colors, especially the darker ones, is to apply them using wet-on-wet techniques and to definitely use primers and eyeshadow bases underneath these.

The Real Deal
I got mine in warm and the colors aren't super pigmented alone, but once it's used with the eyelid primer by E.L.F., it is amazing pigmentation. Either way, this pallette has colors that are easy to blend. I really like the shimmery shadows, but there are a few matte colors in there, which isn't bad. Blending shimmer with matte is what I do the most because you can always put shimmer over matte. Anywho, it's only $5, so it's not too much to lose if you don't like it.

not that pigmented.
You really do get what you pay for. The colors may look great but when you swatch it there is little to none pigmentation. Most colors you will have to build on to get desired colors. I find that the shimmery colors have more pigmentation then the matte. You can get this on their website or Target. This won't stay on all too well unless you have a good eye primer or pack on the primer.

Sojourner W.
Apr 15, 2012
Warm Palette...Only Some Pigment
I bought this palette, but instead of the one shown I got the Warm palette/Warm edition. I really like some of the eyeshadows in the palette...but others have no pigment hardly at all. This palette was only $5 so I feel like you get what you paid for. There are some beautiful blending colors for darker complexions like mine (WOC) and I think that the darker colors have the best pigmentation out the bunch. I think there is a nice range of shimmery colors (which also have really nice pigmentation) and matte colors (which have the least). Ultimately I think it's nice to have in your collection for on-the-go, travel and it's also perfect for people, like myself, who are in school. I just wish some of the eyeshadows had a better pigmentation.
Pros: - Balance of matte and shimmery - Balance of light and dark (i.e lid and crease colors) - Price - Availability (Target or online) - Pigment (in some, not all)
Cons: - Pigment (in some eyeshadows) - Not all are crease-resistant
---