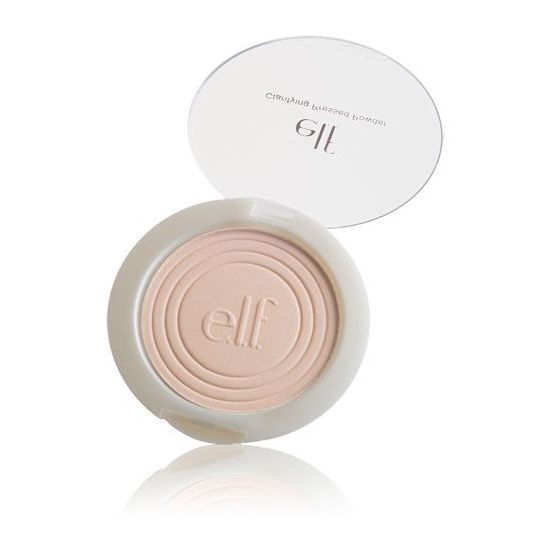 Rollover image to zoom
Reviews

MEH!
There's nothing really too special about this product. The good thing is it doesn't end up looking really flaky on your skin, even if you put on a bit too much. It has a nice consistency, and you easily pick up a lot of product with your powder brush (maybe a bit too much, might not last you long if you love this product). In general it is a decent pressed powder, but nothing too great or special. It has salicylic acid in it to help prevent acne, I have had this product for some months and I have yet to experience this product fight my acne, or even help it. That being said, I don't believe it has made me break out, I have acne prone skin, but this powder does not seem to trigger any break outs on my part. One thing that annoyed me was that they don't really have this product in that many shades, so it doesn't have a wide range of colours that you can mix and match with. Heck, you might not find this powder in your shade, I didn't. I bought Ivory, thinking this was the whitest (I am naturally pale), but instead of receiving an "Ivory" colour (honestly feel like that's a misuse of the word), I got a powder that had a more "natural" colour to it, with yellow undertones. It is this yellow undertone to the "ivory" colour that annoys me the most, it will not look good on a pale woman with rosy/pink undertones. Therefore, I use this product sparingly, using it only to set my foundation and make my skin look less oily. If used only a little, it won't look too yellow. Average product, not many shades to choose from, will probably not repurchase, unless I end up homeless and that is the only powder I will afford.

So when I first bought this powder I imagined it to be not very good because of the price, $1. Instead I was corrected, it was amazing. The powder is not very powdery it's more of a creamy powder. It spreads on easily to a brush. Has amazing coverage and doesn't look flaky if u put too much on. I suggest trying this product. Even if u don't like it you won't be wasting money because it is $1.

Favorite Powder of All Time
This is the only powder that matches my face color. I have a really bad discoloration on my face because it is so much more pale than the rest of my body and this color just blends into my neck and shoulders. I love how nice and blendable it is for the face. I do like how it gives me a lot of coverage for a powder. Most powders i have don't provide any kind of coverage but this one works greatly for me. I can say that the bad part about this is that it's small so you might need to buy a lot but that's fine because it's affordable and the packaging is not that great. The lid always falls off for some reason so just make sure to look out for that. I would recommend this product to others and hope you guys will try it out.

This product is AMAZING! It gives pretty good coverage, it's only $1, and it really does clarify your skin. I had a gigantic blemish one day, and I used this for about 3-4 days to cover it up. The next day, i woke up and the blemish was gone! The texture is very smooth, and I apply it with a powder brush for a light dusting, and the powder puff when I need fuller coverage. If the color isn't exactly matched to your skin tone, you'll most likely be fine because it adjusts to the skin well. The color I got was about 2 shades too light, and it still works great.

Amazing for Warm Skin tones.
In generally he ELF $1 line is amazing for people with warm skin tones. People that have a yellow undertone. To know what undertone you have look at the veins on your arm. If they are Greenish then you have a warm undertone :). I honestly love this powder beacause it matched my skin perfectly. It is best used right after you applied a liquid foundation so it has something necessarilly to "stick" to

So Elf is one of my favourite makeup brands and i love almost everything from them. With there Clarifying Pressed Powder Spice (tone 3) i use this to set my tinted moistrizer or just to blot with when im on the go. Its not the best powder in the world but for $1 it does the job and more. It can also be used as a transitional color when doing an eye makeup so the uses are not limited

I like this product enough to use it until it's gone but I wouldn't consider repurchasing it. I have this in a nice matte shade although I can't remember exactly what shade. It's good for days that you would like to highlight certain areas of your face with a matte shade, rather than look like a disco ball. =)
---