83 Piece Essential Makeup Collection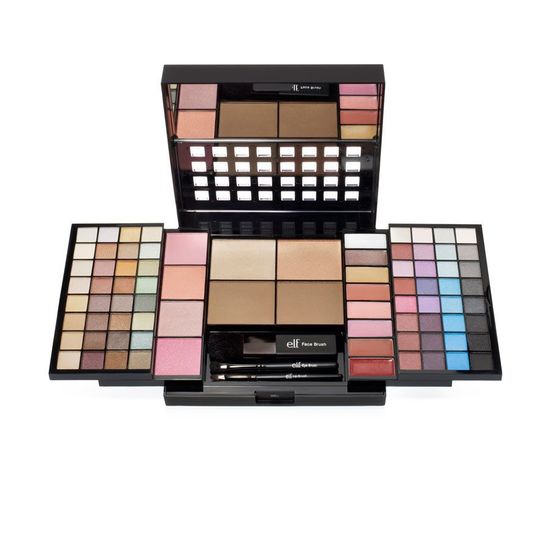 Rollover image to zoom
Reviews

Depends on you.
Some people like out of the box bright eyeshadow colors like blue or yellow...I don't so if your like me this palette wouldn't be the best decision to get,theirs lots of other palettes with more neural colors from the Elf's website.(:

Nice...
This was my first makeup kit (I am a beginner), so I didn't want to spend a lot of money. It was selling at Target for $20. I've always loved the e.l.f. brand, but I have to say that this was somewhat of a disappointment. The main reason being when I opened it some of the products-especially eyeshadow- were falling out, even mixing in with others. So now I'm going to review each of the different products separately. Eyeshadow: 2.5 I mostly was looking forward to the eyeshadows in the kit because there is such variety. The colors are very pigmented and nice. Unfortunately, they do not stay on very well. But my biggest complaint is that most of the shades are SPARKLY, even the neutral colors. Blush: 4.5 Very good and extremely pigmented, you just have to blend them in well. Lip Gloss- 3 Love the colors, not very pigmented on my lips though. Don't stay on long. And Bronzers- 3.5 The colors are SO dark. I have to use the lightest shade. They are also very pigmented- took a bit of practice to blend them in correctly. I'm not going to review the brushes the kit included because I honestly never used them. Hope this was helpful!

Great for beginners
I purchased this kit from ELF during a smoking hot sale. Spend 25 dollars on products and get the kit for 3.99. Can't exactly go wrong there. This is a good color pallet to get started with. The pigments aren't bold with the exception of the black in the bottom right corner. The black can temporarily stain your skin, even with a base and shadow primer on. The lip colors aren't very bold and do feel a bit gritty. Not a bad purchase for the price that I received it at, but I wouldn't pay full price for this kit in the future.

Millicent L.
Jan 16, 2012
Great for beginners & if you're on a budget...
This was one of my first major make-up purchases. I thought this was great when I first bought it. I was young and a beginner so I'm glad that I started out with this kit for the following reasons: not too pigmented, cheap but good quality, great variety. I refer to this as my "practice" kit. I have used this a lot over the past year or so and I still have lots of product (lip, shadows, blushes, etc.) left over (aka haven't hit pan yet). I'm glad I started with eyeshadows that weren't pigmented as other brands because I could use them, mess up, repeat as much as I wanted without wasting SO much. I wasn't yet comfortable, familiar, and into dramatic makeup yet.
Now with that said, I have come A LONG way from this kit/palette. For those who want great pigmentation off the bat, you guys might have to use a setting type of product such as the e.l.f. Studio Makeup Lock & Seal or MACs Fix+.
All in all, this kit is great for the money and for beginners.
---